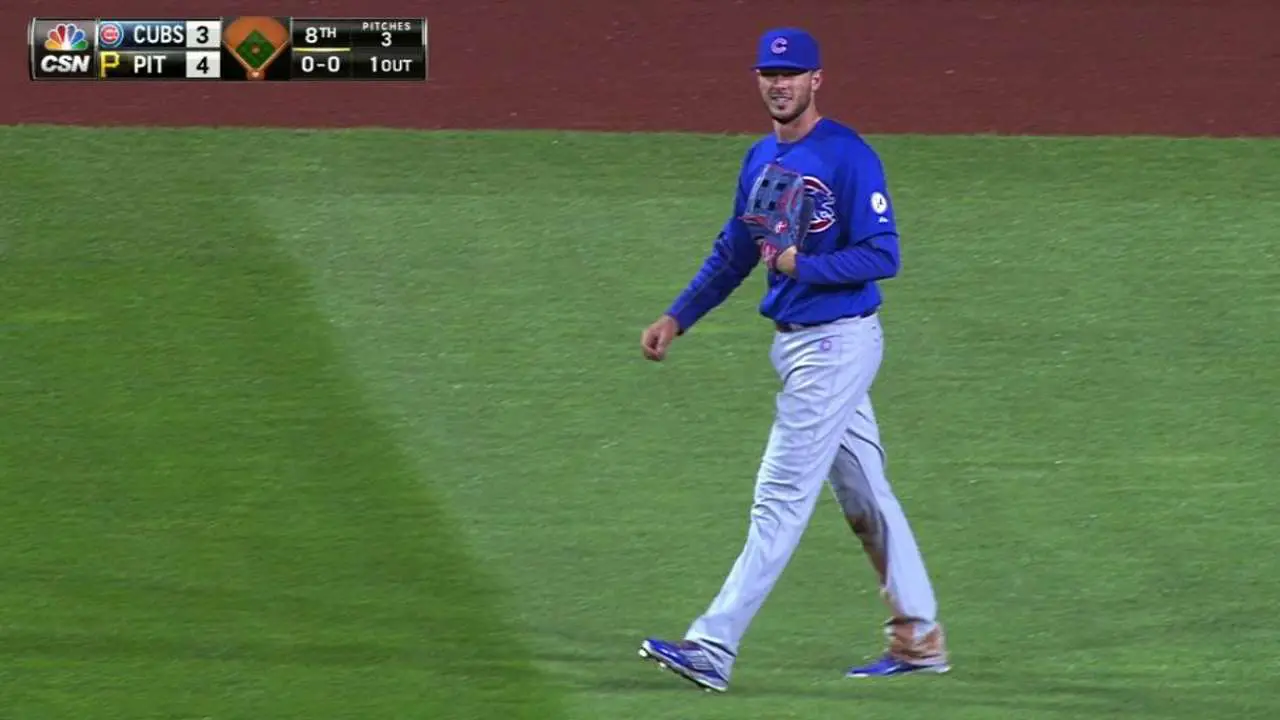 Would Cubs Seriously Consider Moving Bryant to Center on Everyday Basis?
The latest twist in the Kris Bryant story is that the Cubs have have internal conversations about moving him to center on an everyday basis. That would of course mean not trading him, even if they swing an almost unimaginable coup to bring Nolan Arenado to Chicago. Those dueling rumors were conflated Saturday afternoon as the result of some clunky phrasing by 670 The Score's Bruce Levine, but there is merit to the idea that Bryant could be moved to center.
[Cue John Fogerty]
With centerfield as a position of need and without the funds to re-acquire Nicholas Castellanos, thereby forcing Jason Heyward back to the middle, the Cubs are probably open to several possibilities. Neither of their primary options as things currently stand — Albert Almora Jr. and Ian Happ — really jumps off the page and screams for an everyday role, nor are the Cubs going to suddenly hand out their first guaranteed MLB deal of the winter to a free agent capable of taking a regular spot in the lineup.
Enter Bryant, who has played the outfield quite a bit over the course of his baseball life. Hell, his old man played there back in the day and could offer a little defensive tutelage in addition to the extensive father-son cage work the Bryants are known for.
Before we get started here, I want to acknowledge how tricky this situation is when you take all the various pieces into account. It's like a sliding-tile puzzle of M.C. Escher's Relativity, the famous lithograph with seven different stairways beholden to three separate sources of gravity. In other words, there's no straightforward solution in which one move doesn't impact several others.
The first and most obvious aspect of this whole thing is whether playing Bryant in center as anything other than a gimmick is really a viable option. I'll never forget the first time I saw him patrolling center as a big leaguer, mainly because I was watching the game with the man Bryant had replaced at third base less than a week earlier.
Bryant actually started in center the following game, then was moved to left for the first time the game after that, but ended up playing a total of just 98 innings in the outfield as a rookie. A mere 18 of those came in center, and that aforementioned start was the only one he made there that season. The balance of his playing time changed dramatically in 2016 as Kyle Schwarber's early injury left the Cubs in need of help in left.
Bryant ended up making 48 starts and played 75 times in the outfield during his MVP campaign, though he played just a single inning in center. But since being shifted out there twice for a total of six innings in 2017, he has not seen any action in the middle of the grass. So since there's no recent data and very little overall experience from which to draw many conclusions, we're gonna have fun with small samples.
If we ignore the idea that defensive metrics are far from panoptic even when given enough time to stabilize, it's at least a little interesting that Bryant's 28.3 UZR/150 in center is by far his best at any position. The -7.7 he's put up in right is actually his worst by a large margin, so that's something to consider for those who think it'd be a good idea to put him in right with Jason Heyward in center.
While we're already working with circumstantial and/or anecdotal evidence, how about the idea that Wrigley Field isn't the hardest park in the world in which to play center. A defensive player with solid instincts can play really well out there, but the relatively cozy dimensions mean a decent athlete can make up for inexperience and some poor jumps. I mean, just look at Dexter Fowler.
Prior to coming to Chicago, Fowler had never posted better than a -4.3 UZR in any full season and had averaged -8.63 over those six campaigns. Adjustments to his positioning helped, but playing at Wrigley proved to be much easier than patrolling more cavernous confines in Denver and Houston and Fowler posted -3 UZR over two years. Wouldn't you know it, he was right back to a -7.4 during his first season in St. Louis. The 0.2 he put up in 2016 marks the only time he's been positive in center over more than 377 innings played.
While it's unfair to compare a guy who's played his whole career at the position to one who's got less than three full games of experience there, the point is that center is a little more forgiving at Wrigley. That means Bryant would probably be just fine out there, especially with those long strides eating up ground and Heyward flanking him in right. Ah, but that's far from the only thing that matters here.
Even if Bryant can play competently in center, which I believe he can, the issue is whether he can play it more competently than a combination of Happ and Almora. Or, more accurately, whether the lineup is optimized by playing Bryant in center and installing David Bote as the everyday third baseman. We could take that a step further and say it depends on whether you prefer to have Bote or Happ as a regular starter.
Things really get interesting when you throw Nico Hoerner into the mix, since he could actually play either second or center. If he somehow doesn't make the roster out of spring training, it seems likely that Bote handles the right side of the infield with Bryant at third and a platoon in center. If Hoerner is up, however, he figures to play second for the most part and will move around as needed. So then we're back to Happ or Bote.
If given the ability to write out the lineup card, I'd have Happ as the primary center fielder with Bryant at third and Hoerner at second. Bote would serve as infield depth and I'd like to see him get a little run in the outfield so he could grow into something like Ben Zobrist Lite. Happ is a better fit for that from a defensive perspective, though, so maybe you prefer seeing him in that role. Regardless, I'm leaning away from Bryant in center.
If what Levine has heard is accurate, however, the Cubs may be leaning the other way. Or is this just  a little smoke as they look to obscure their intentions and drive up Bryant's perceived value? I guarantee you can find people willing to mount and die upon each and every hill presented here, along with those I wasn't willing or able to address. If you don't believe me, just stick around and check out the comments on the site or on our Facebook page.
Wait, no, it would be unconscionable for me to encourage you to wade though that latter pit of despair. My point, if there really is one, is that this situation is neither static nor obvious and there's a lot of stuff left to figure out. Like whether Bryant is even going to be around in 2020. If they don't find the right deal to move him to another team, spring training lineups should tell us whether moving him to a new position is really in the offing.