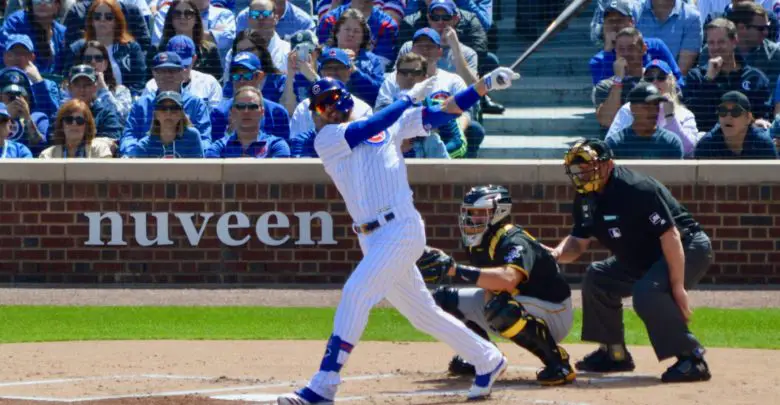 Report: D-backs Have 'Explored Options' of Trading for Kris Bryant
As always, I'll warn you right up front to have your salt shaker ready. You're probably fed up with this stuff by now, but we have a borderline unhealthy compulsion to chew over and regurgitate all the rumors that come our way and this fits the bill. The trade possibility du jour comes via John Gambadoro of Arizona Sports 98.7 FM Phoenix, who tweeted Tuesday that he has "heard some rumblings of Dbacks at least exploring a Kris Bryant trade."
Have heard some rumblings of Dbacks at least exploring a Kris Bryant trade. Could then move Escobar to 2B. Bryant makes 18.6 and is under control for this year and next. Just turned 28 he may be better option than Bradley Jr (1 year control) or Marte, who is 31.

— John Gambadoro (@Gambo987) January 14, 2020
"I can tell you they have discussed it and explored the options of trading for Kris Bryant," Gambadoro added during a conversation with Arizona Sports' Bickley & Marotta.
The Diamondbacks do have a very solid farm system with a bunch of pitchers in the upper half of their top 30 prospects, so it's possible they'd be able to match up with the Cubs on a deal. And hey, their No. 5 overall prospect is Dalton Varsho, son of Cubs legend Gary Varsho and named after the late Darren "Dutch" Daulton. A catcher for the time being, scouts believe Varsho is athletic enough to play the outfield if needed.
Sorry, that was more a matter of me getting caught up in some random Cubs nostalgia than actually proposing that the Cubs trade Bryant in order to get Varsho. Although there'd be worse locations for KB than Phoenix, which isn't terribly far from his Las Vegas home. Dammit, Evan, don't lend this more credence than it deserves.
I don't actually doubt the veracity of this report, which is simply that the Diamondbacks have talked about it internally. Taking those conversations to the Cubs would be another matter entirely, though the two teams' front offices are very familiar with one another. The most obvious tie is with Arizona assistant GM Jared Porter, who began his baseball career in 2004 as a Red Sox intern during the tenures of Theo Epstein and Jed Hoyer before later joining them in Chicago.
Porter was then lured to the Diamondbacks by GM Mike Hazen, under whom he'd worked in Boston. Hazen previously served as the Red Sox' director of player development starting in 2006 and became VP of player development and amateur scouting in 2011, Epstein's final year there. Jason "Professor" Parks went from blogging about Rangers prospects to Baseball Prospectus to a gig as a scout and special assistant with the Cubs. Now he's the Diamondbacks' director of pro scouting.
The moral of the story here is that any team worth its salt, pun very much intended, is going to explore every possible option when it comes to getting better. To that end, it makes total sense that the Diamondbacks would consider adding an MVP-caliber third baseman. Their ties to the Cubs make it even more likely that they'd be willing to at least pick up the phone and see what Epstein needs in a deal.
As for whether this thing's really got legs, I have no idea and I really don't care. You've already heard enough by now to know that there are some other pending factors that will have a great deal of influence over Bryant in particular and the third base market in general. Until that all gets sussed out, these talks are just that.