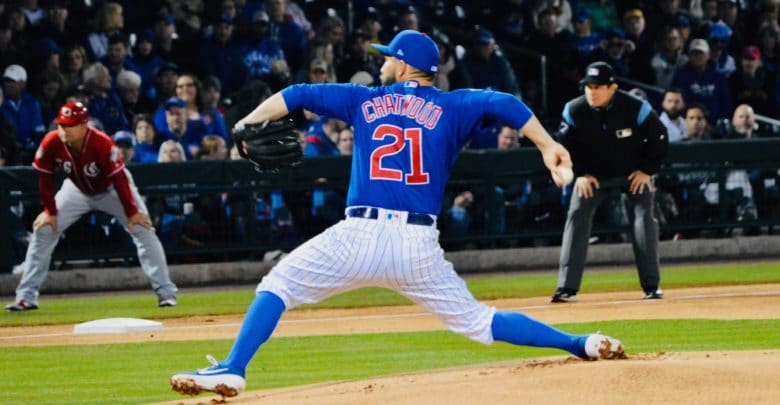 Tyler Chatwood Looks Like Cubs' Best Internal Option to Replace Cole Hamels in Rotation
In a 2020 offseason without much any action, one might observe that the Cubs seem content to roll into next season with more or less the same group that led them to a third place finish last year. That's not quite true though, is it? While many of the core position players are still in place, the bullpen has been gutted and the pitching staff as a whole is a shell of last year's unit.
It's not necessarily daunting to replace middle relievers, something the Cubs have long been content to do via the clearance bin, but losing starter Cole Hamels is a different story. Despite a significant dip in his velocity and results following an oblique injury in late June, the veteran lefty was still quite effective last year as he racked up 2.5 fWAR over just 141.2 innings pitched. Even if it's not ace-level production, it isn't guaranteed to be adequately replaced by the collection of internal options from which the Cubs
With pitchers and catchers reporting in less than a month, now is as good a time as any to start pondering the merits of those replacements. With respect to fringe contenders for the spot like Adbert Alzolay, Colin Rea, or even Jharel Cotton, this competition probably comes down to a pair of familiar faces in Alec Mills and Tyler Chatwood. There's a reasonable case to be made for both men, so let's get into them.
It's hard not to immediately compare Mills to another member of the Cubs rotation, Kyle Hendricks. Both have below average velocity and rely on generating better than expected outcomes on balls in play. Hendricks has proven to all but a curmudgeonly few that he is one of the rare pitchers that truly possesses that talent. Mills? Not so much.
Statcast has a limited sample of Mills' stuff, but what we can glean from it is not exactly inspiring. His fastball velocity comes in around the 10th percentile and the spin rates on his fastball and curve both fall at or below the 50th percentile. There's just not a whole lot there when you look at the peripherals and underlying data.
Still, the results have largely been solid in limited action at the big league level over the last two years with the Cubs. Mills has produced a 3.17 ERA over 54 innings pitched, which comes in just a bit south of his 3.62 FIP. And a 10.83 K/9 leads to a sparkling 3.61 K/BB ratio the Cubs would certainly be thrilled to see replicated over a full season.
Those numbers don't bear the weight of credence, however, and Mills has gotten considerably less sexy results over the last two seasons in Triple-A Iowa. Any excitement generated by his MLB numbers last year can be quickly tempered by looking at his 5.11 ERA and 5.00 FIP in 104 minor league innings.
The tl;dr version is that Mills' image benefits quite significantly from a small sample of major league success that obscures his production in the minors. Has he shown much to suggest that he's capable of continuing that disparity? For me, the answer is certainly no.
For all his shortcomings, Chatwood represents a more projectable rotation option for the 2020 Cubs. An unfathomably ugly 2018 campaign gave Cubs fans a particularly nasty first impression, but he was largely able to right the ship in 2019 while pitching mostly in relief with a handful of spot starts mixed in.
This isn't to say that the right-hander has undoubtedly become the pitcher the front office believed they'd signed on the belief that his heavy spin and wicked movement would play way up outside of Colorado. Chatwood's 4.34 BB/9 in 2019 was nearly half what he put up the previous season, but it still leaves a lot to be desired. There are also questions about whether his fastball velocity, which spiked to a career-high 96 mph average last season, can be maintained in a starting role.
A quieter delivery should help to keep the free passes to an acceptable level and Chatwood has shown he can be a fairly effective starter even with high walk totals. His ability to generate ground balls, particularly with his sinker and changeup, has the effect of limiting the damage associated with fly balls and even erasing some of those walks via the increased likelihood of double plays.
So what is a reasonable expectation for Chatwood? I'm not sure if I'd buy into the likelihood of his ability to replicate Hamels' production single-handedly, but can he get close? Sure. Chatwood made some changes last year, most or all of which he should be able to carry with him in a move back to the rotation. It's not a stretch to believe he could produce around 150 innings of roughly league average production, which is all you need from a fifth starter.
While I think Chatwood is the more sensible of the two most likely choices to fill out the final spot in the Cubs' rotation as it currently stands, it's worth noting that all of this could become a moot point. Trading José Quintana might be the most realistic way to get under the luxury tax threshold this offseason, but that would also leave the Cubs scrambling to fill two starting spots. Then you're looking at both Chatwood and Mills, plus a patchwork quilt of options that includes some of the names mentioned earlier.
Jed Hoyer indicated earlier in the offseason that a bullpen role was likely for Alzolay, who has never pitched as many as 121 innings in a season, so don't expect more than spot starts from him. Rea was named the Pacific Coast League's Pitcher of the Year and is on the 40-man roster, but he'll probably be limited to fill-in duty. Cotton has pitched only 27.2 total professional innings since 2017 and is a longshot to have an impact.
With a limited budget that won't allow for additional payroll, the lone possibility for external help is via trade. Or heck, maybe the Cubs can sign Carlos Zambrano to a minors deal with a spring training invite in the hopes that he can somehow recapture something close to his glory days. At least it'd make for fun Marquee viewing.