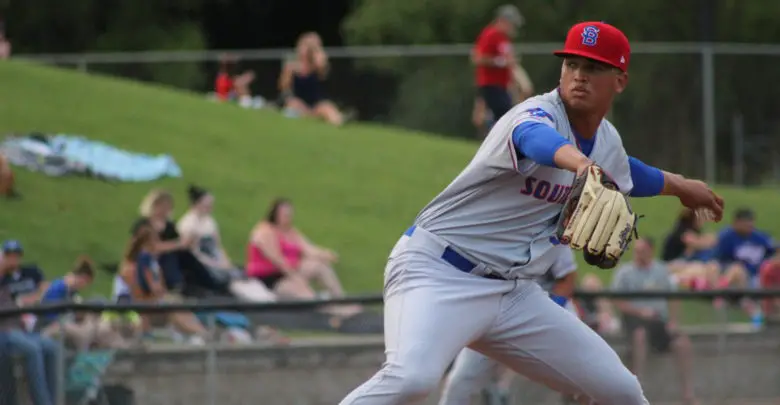 Brailyn Marquez Ranked MLB's No. 9 Lefty Pitching Prospect on Strength of 80-Grade Heater
Would you believe me if I told you that 20-year-old Brailyn Marquez has been in the Cubs organization for nearly five years? Maybe it'd help if I told you he'll be 21 at the end of the month. The Cubs signed him as an international free agent when he was still just 16 years old and already throwing in the low 90's, but he really burst onto the scene with a 14-strikeout performance last season in South Bent.
Physical maturity has helped quite a bit as Marquez developed from gangly teenager into slightly less gangly 20-something, but he's still got plenty of room to fill out that 6-foot-4, 185 pound frame. Between that and cleaning up his mechanics, he's been able to get that heater to the point where it's sitting in the upper 90's and creeping a couple ticks into triple digits.
It's the promise of that 80-grade fastball that led MLB Pipeline to rank "the hardest-throwing southpaw starter in the Minors" No. 9 among their top 10 left-handed pitching prospects. Pay no mind to the fact that recently acquired Cardinals hurler Matthew Liberatore is three spots higher, we're here to talk about Marquez and "one of the best heaters from from a lefty in quite some time."
20-year-old #Cubs southpaw Brailyn Marquez has an 80-grade fastball — one of the best heaters from a lefty in quite some time. Here he is on the brand-new 2020 Top 10 LHP Prospects list: https://t.co/eaAolBQUS9 pic.twitter.com/sZGeoTPhLg

— MLB Pipeline (@MLBPipeline) January 15, 2020
Just getting older and stronger isn't going to be enough, though, and it wasn't the primary force for Marquez's breakout season in 2019. Rather, it was the big lefty's emotional maturity and decision to put in the work on some of the little things. He stopped blowing off his pitch charting duties on days he wasn't starting and really worked on being more intentional about refining and sequence of his offerings.
It sounds weird to say that a guy who can post 102 mph on the radar gun had to be convinced to throw his fastball more, but his season really took off when he started using it more often in place of the slider with two strikes. He'll need to keep refining that breaking ball in order to limit the walks, which had dogged him until about the midway point of last season, and keep more discerning hitters from sitting dead red. That's imperative if he's to remain a starter.
More pressing when it comes to his development is a changeup that he may be throwing a little too hard to really keep righties off balance. The offspeed pitch was working better for him as the season went on, so there's reason to believe he can continue to hone it under the tutelage of the Cubs' new pitching development team. Just imagine if he's able to throw the triple-digit hitter and slurvy breaking ball, then pull the string with the change.
You're basically looking at a lefty Steven Strasburg, and I'm not being hyperbolic.
But if you're holding out hope of seeing Marquez in Chicago anytime soon, you may want to exercise a little restraint. There's an outside chance that he could be called up late in the season if he's absolutely dominated all season and is creeping toward his innings target. The Cubs could then bring him up to log some relief appearances and get a taste of the Bigs while still limiting his exposure.
A more realistic timeline sees him building up his innings from a career high of 103.2 in 2019 over another season-plus at the highest levels of the system. Maybe he's called up in 2021 to fill in or to hold down a spot down the stretch, though a more aggressive push is not out of the question as the Cubs' new development philosophy gives some pitchers a chance to eat.