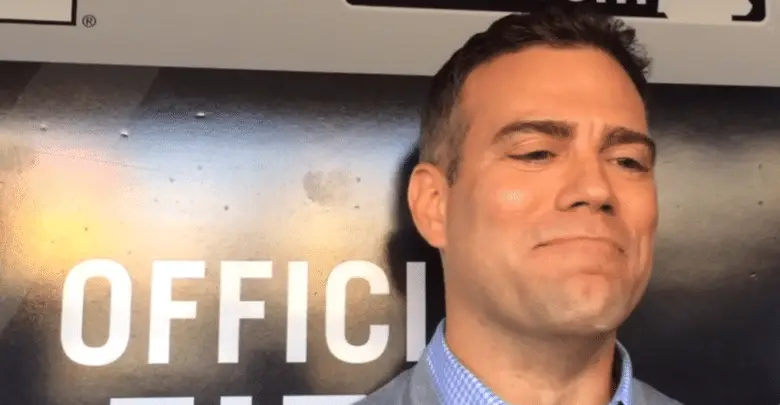 The Rundown: Twins Sign Donaldson, Bryant Rumors Should Increase, Cubs Sign Another Minors Deal, Red Sox Split with Cora
If the Cubs have any intention of trading Kris Bryant this winter, they've had to stand down until there were no viable third base options on the open market. They've also had to wait out a ruling on the grievance Bryant filed against the club in 2015 regarding service time manipulation. Josh Donaldson, the last remaining free agent third baseman, became a big falling domino when he signed with the Twins last night. That means the Nationals, Braves, and Rangers all need to look to the trade market to upgrade at the hot corner.
Things aren't as desperate in Texas because Todd Frazier recently signed there, though I would imagine they'd jump at the chance to acquire a player of Bryant's caliber at a reasonable cost. If the season started today, the Nationals would begin the defense of their championship by choosing from one of Starlin Castro, Asdrúbal Cabrera, Howie Kendrick, and rookie middle infielder Carter Kieboom to man third base. In Atlanta, the Braves' options are Johan Camargo and Austin Riley.
And then there's the Dodgers, who may just be looking to swing a trade for a marquee player, and the Diamondbacks, who have at least talked internally about acquiring Chicago's top player. And what's that I hear you whispering? Did you say the Cubs should trade Bryant to the White Sox for Yoán Moncada and Dylan Cease? Yes, you hear all kinds of crazy stuff on overnight sports radio. Oh, and don't forget the Phillies, who may be watching from afar with at least veiled interest. Philadelphia has a big, fat hole at third and their current starting option is outfielder Scott Kingery.
Trust me when I tell you that, no matter how much you hear that teams are trying to undervalue Bryant, there isn't a front office in baseball that wouldn't love to acquire him. Atlanta already knows what it might cost to complete a trade with the Cubs, as does Washington.
If you're in favor of trading Bryant, you're probably giddy with excitement at what has suddenly become a seller's market. Even though many of you would hate to see the Cardinals acquire Nolan Arenado, that would serve to increase Bryant's trade value even more. But I have to ask what the Cubs would be without their all-star third sacker.
Happy birthday, @KrisBryant_23!

The @Cubs star has been among the standard-setters at the hot corner over the last half-decade. pic.twitter.com/nElFxaEgPU

— MLB Stats (@MLBStats) January 4, 2020
If they indeed trade Bryant, it is my opinion that Theo Epstein and Jed Hoyer can't stop there. They aren't going to win a World Series, let alone a division championship, with David Bote as Bryant's everyday replacement. To me, trading baseball's top third baseman since 2015 (see graphic above) means the front office should think long and hard about also dealing some or all of the following players:
At that point the Cubs can sign Nicholas Castellanos, extend and build around Javier Báez, Anthony Rizzo, and Kyle Schwarber, keep Yu Darvish and Kyle Hendricks as rotation anchors, and still remain below the CBT threshold. If they acquire any prospects, Epstein can completely reset and enter 2021 on the cusp of a new championship window with the next wave of young organizational stars led by Brailyn Marquez, Brennen Davis, Miguel Amaya, and any other assets they acquire.
PS – In case you're wondering, I am not in favor of the Cubs acquiring Arenado. The Rockies are shopping him to defer risk tied to his 2021 opt-out clause, or, if he regresses, Arenado could obligate Colorado to honor his no trade clause. I honestly don't see anyone giving up the prospects necessary to acquire the third baseman, but if the Cardinals are willing, I'd really have no problem with that, especially if the Cubs are taking a gap year.
PPS – I think the front office absolutely has to consider trading Quintana, regardless of the Bryant situation,  because I would not be comfortable extending him a qualifying offer, and he's right on that bubble.
Cubs News & Notes
Wednesday Stove
Boston decided to cut ties with manager Alex Cora despite the ongoing investigation into sign stealing during the 2018 Red Sox season. Cora has already been named as instrumental in the charges against the Astros, where he served as bench coach in 2017. Both Cora and the Boston front office mutually agreed to split to avoid any distractions the investigations will undoubtedly carry.
Dusty Baker is one of five potential candidates who could replace Cora in Boston.
Donaldson's contract with the Twins will pay him $92 million over four years, a far cry from the $110 million the third baseman was seeking. There's an option for a fifth year that could bring the total net value of the deal to $105 million. Miguel Sanó, who hit 34 home runs in just 105 games last season, will likely move to DH, or Minnesota could trade him for pitching help.
The Twins had just finalized an agreement with Sanó on a three-year $30 million extension before announcing the Donaldson signing.
Negotiations between the Cardinals and Rockies for Arenado have advanced beyond the preliminary stage, and Colorado continues to insist on a trade package that includes both major league players and at least one prospect, per MLB.com's Jon Morosi. It is still too early to tell if there is any momentum toward a deal, however.
In the wake of fines, suspensions and other penalties levied against the Astros, it's safe to assume that the scandal will hurt the team's legacy and brand for a long time, if not forever.
Extra Innings
Darvish and Clayton Kershaw should be viewed more charitably now that MLB's findings are public, though that may not be the case.
"Darvish did the unimaginable and inexcusable, following one historically atrocious start with another ….," I wrote after the 2017 World Series. We now know it was more complicated than that, but the damage has been done: https://t.co/Y4TZFpfQZA #Dodgers #Astros

— Dylan Hernández (@dylanohernandez) January 15, 2020
They Said It
"The sign-stealing initiative was not planned or directed by baseball management. The trash-can banging was driven and executed by players, and the video decoding of signs originated, and was executed by lower-level employees working with the bench coach. I am deeply upset that I wasn't informed of any misconduct because I would have stopped it." – Jeffrey Luhnow
Wednesday Walk Up Song
SOB by Nathaniel Rateliff and the Night Sweats. This would have easily been my favorite song of the decade had the Cubs not won the World Series in 2016, but it sits at number two behind a favorite song I enjoyed all that summer. Stop by tomorrow to see which song I chose.