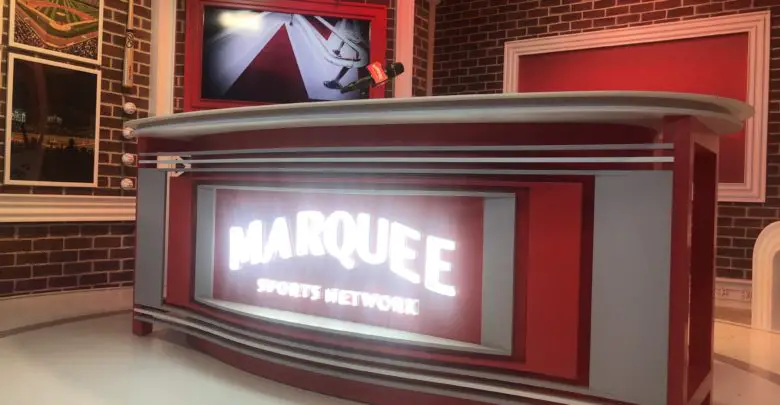 Major Marquee Network Announcements: On-Air Talent, Minor League Broadcasts, TV Carriage
The new Marquee Sports Network made several noteworthy announcements during the business operations panel at Cubs Convention Saturday afternoon. In addition to confirming the continued partnership of broadcasting legends Len Kasper and Jim Deshaies, the network revealed its complete on-air roster and additional TV carriage deals.
Many familiar faces will be joining Marquee for the 2020 season, including MLB Network personalities Mark DeRosa, Dan Plesac, and Carlos Peña. Ryan Dempster will be contributing, as will Jason Hammel and Rick Sutcliffe. Other notables names include the detail-oriented Doug Glanville and former Cubs manager Lou Piniella.
New studio host Cole Wright was with the NFL Network before joining Marquee, and former college football sideline reporter Taylor McGregor will be handling the in-game content on the field. Unfortunately missing from the list, though, seems to be Kelly Crull, who is beloved and respected by so many fans from her time with NBC Sports Chicago.
Personalities on Marquee include Len Kasper, Jim Deshaies, Mark DeRosa, Carlos Peña, Rick Sutcliffe, Doug Glanville, Ryan Dempster, Cole Wright, Taylor McGregor, Lou Piniella, Dan Plesac, and Jason Hammel. Wow. Quite the list!

— Greg Huss (@OutOfTheVines) January 18, 2020
One potentially major addition to Len and JD's booth is "periodic" full-game appearances by many of the Marquee's new hirings. It's my personal preference that Len and JD stay an exclusive duo for all 162 games, but I understand that many fans enjoy getting a different perspective now and again. Exactly what "periodic" actually means is ambiguous. Maybe Len and JD will only be joined around 10 games a year, or maybe it's many more games. We'll see…
During the 2020 #Cubs season, Len and JD will periodically be joined in the booth (full-game) by a rotating cast of people you know:

Ryan Dempster
Mark DeRosa
Lou Piniella
Dan Plesac
Doug Glanville
Jason Hammel
Carlos Peña
Rick Sutcliffe
Chris Myers@WatchMarquee

— Michael Cerami (@Michael_Cerami) January 18, 2020
Some rumors had suggested that Marquee would be televising Cubs minor league affiliate games. Those rumors were correct. Fans can expect both live and condensed versions of Cubs minor league games going forward, although we don't know the frequency of these broadcasts.
https://twitter.com/CarrieMuskat/status/1218601588404768768?s=20
Perhaps the most pressing news of the panel was the TV carriage. Cable packages provided by AT&T, DirecTV, Mediacom, and Spectrum will include Marquee. Comcast has yet to reach an agreement, but the encouraging news for Xfinity viewers is the Cubs business team feels confident that a deal will be completed before spring training. And for you folks who prefer streaming, it appears as if you can get the Network on ALL streaming services, including Hulu Live, YouTube, etc.
#Cubs Marquee Sports Network will be included on all basic cable packages for the companies included in the photos below. ⬇️

**Comcast did not agree to the same terms that these cable companies accepted.** #CubsCon2020 pic.twitter.com/zpTorRLzdC

— Eddie Garcia (@egsports05) January 18, 2020
https://twitter.com/CarrieMuskat/status/1218600008662036483?s=20
https://twitter.com/MLBastian/status/1218611435120594944?s=20
Stay tuned for more announcements as CubsCon continues.