Cubs Convention Offered Several Very Positive Takeaways from Minor Leagues
The panels at Cubs convention are focused primarily on current and former players, with prospects reserved for the auxiliary stages. That doesn't necessarily mean there isn't much information about what's going on in the minors, only that you have to be a little more intentional about finding it. Sticking around for the Down on the Farm panel that concludes the convention helps in that regard.
Heading into the weekend, I was curious about several different topics related to individual players and details on how the Cubs are changing their development process. Specifically, I wanted to know whether Marquee would be covering the draft and broadcasting games from minor league affiliates; how new hitting and pitching directors Justin Stone and Craig Breslow were changing the team's processes; and whether they'd reveal any prospect assignments for 2020
I also wanted to know how Dan Kantrovitz (VP of scouting) and Bobby Basham (director of player development) would be approaching their roles as part of this new wave of personnel and philosophy. Not all of my questions were answered, but there was still plenty to take away from the annual event.
When the Cubs first announced their own network, I wondered whether it would have a daily minors recap show or anything related to the system. On Saturday, Marquee GM Mike McCarthy announced that the network would be showing some MiLB games in an abbreviated format. A specific recap show was not announced, but the full-season affiliates produced segments for Sunday's "Lead Off Man" on WGN and I expect something similar to continue. There was also no discussion of how the network would covering the draft.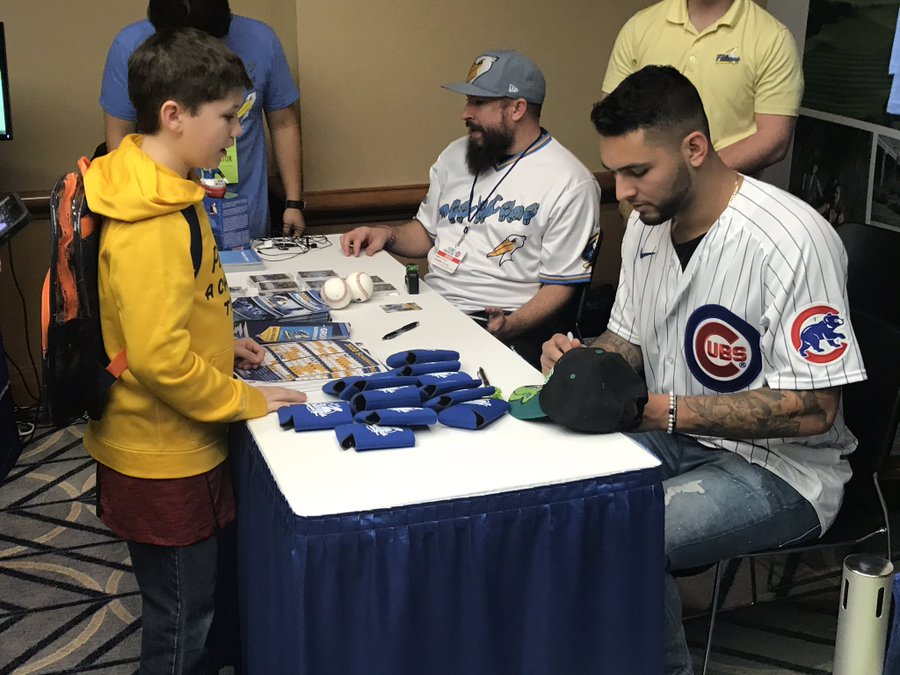 Meanwhile, Cubs Insider's Evan Altman joined Myrtle Beach Pelicans' broadcaster Noah Cloonan to interview prospects Zack Short, Tyson Miller, and Adbert Alzolay. Most of the talk revolved around plate approach, pitch grips, and adapting to new levels, but the conversations also featured pizza preferences, fashion, and tattoos.
My favorite discussion was with Alzolay, who just ran with each question and really lit up when talking about the game and his other passions. You can catch all the interviews over at CI's YouTube channel, just be warned that the audio isn't spectacular. The Pelicans should also have clips up on their Facebook page.
Sunday's final session is the only one dedicated solely to the system, so it always provides a wealth of information. Unlike recent years, Jason McLeod and Jaron Madison were not part of the panel, nor were there any prospects at the table. Instead, Basham and senior director of player development Matt Dorey provided all the answers.
Here are some highlights from the hour-long information download:
Tennessee has a new performance center. South Bend has always had one as a Cubs' affiliate and Eugene shares top-notch facilities with the University of Oregon.
Dorey was very high on Nico Hoerner, talking about how he could fill the leadoff void the Cubs have had for the last few years. It might be a bit much to put him there right away, but Ross could work him in there a little at a time. It's going to be hard to keep him off the 26 man roster.


Dorey says Hoerner could be the guy at leadoff. Has the ability and attitude to hit at top of order. Trying to maximize value of prospects through development and putting players in best position to succeed.

— Evan Altman (@DEvanAltman) January 19, 2020

Miguel Amaya drew a lot of praise for things he is doing that don't show up in the box score.
Jerrick Suiter, who was picked up in the minor-league portion of the Rule 5 Draft, looks to be a two-way player in 2020. The Cubs got some good data about him when he pitched 1.2 innings as a position guy in blowouts last year.
Brennen Davis has a ton of promise, but staying healthy is a priority and the Cubs sort of want to see him struggle a bit to find out how he reacts and adapts. Going through adversity was mentioned a couple of times as a key component of growth.
Dorey mentioned that "Winning is part of development." This has been a theme in the Theo Epstein era as the Cubs will often shuffle top prospects in the system to experience it. Dorey also said the Midwest League is the hardest title to win and that they are very proud of the players from South Bend.
Dorey also explained managerial changes in recent years. The Cubs want to put their most experienced guys in charge of some of their youngest players. That's why Buddy Bailey is at South Bend and why Jimmy Gonzalez is now back in Mesa, probably to work with Ronnier Quintero, Kevin Made, and a few other high profile international kids.
Basham said that Cole Roederer's promotion to South Bend last year may have been a little aggressive, but it helped his game grow. Roederer should be at Myrtle Beach to begin 2020.
The Cubs are still very high on Short, who Dorey called a "big league caliber shortstop" and noted that he needs to maintain his approach and not sell out for power. Short himself said Saturday that he doesn't want to completely overhaul an approach that sees him get into deep counts, but a more consistent swing will limit fouls that lead to falling behind.
Brailyn Marquez should start the season at AA, where he will be tightening up his mechanics; the Cubs don't see a "cap" on what he can do.
Justin Steele was compared to Marquez due to his two plus pitches, now it's a matter of settling down and not fighting his mechanics as much. That's really big with the changeup.
The Cubs have instituted more individualized throwing programs to better target growth, and those programs are starting earlier than before. Those plans are being tailored by Breslow, who has both the experience and technical knowledge to diversify what was previously a pretty generic plan
Alzolay, Miller, Dakota Mekkes, Wyatt Short, and Colin Rea were named as guys who can contribute.
Rea was particularly impressive in remaining confident despite the more lively MLB balls at AAA, which required the Cubs to be vigilant on the mental side lest pitchers lose confidence after seeing good pitches leave the yard too often.
We didn't get to hear much on projected assignments for most of the top players in the system, though that's not entirely unexpected. It was a little surprising that neither Stone nor Breslow were there to take questions in any major session. It would have been cool to hear more about the technology and philosophy they're implementing, especially when the former has been touted by ownership as a key to future success.
Rest assured that there will be plenty going on behind the scenes, though Marquee carrying more of the games means we'll all get to see more than ever as well. Whether it's the top prospects or some less-heralded players on whom you might want to buy low, the system is healthier than it's been in years.
I have been covering the minors for Cubs Insider since 2015, but the system kind of bottomed out in 2017 after a couple of really fun years. After a slow burn over the last two seasons, it's looking like 2020 could again bring the buzz back for fans and those who cover the minors. Greg Huss, Jimmy Nelligan, and I will be all over the happenings as many of the aforementioned prospects could be on their way to Chicago before long.