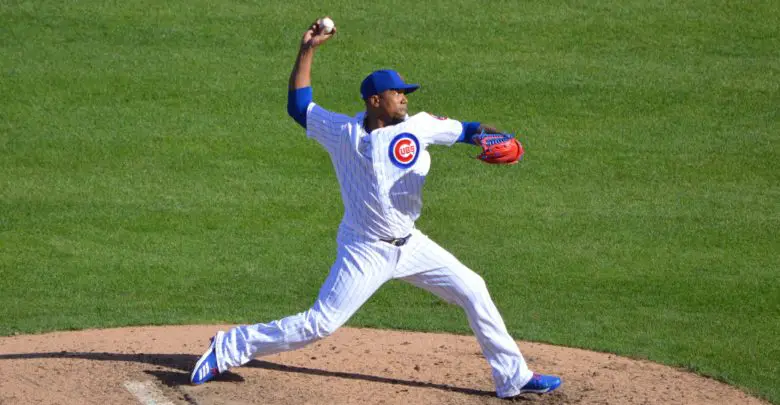 Report: Pedro Strop Has 3 Offers, Cubs Among Interested Teams
Pedro Strop was one of the most consistent and productive relievers in Cubs history, spending seven years in Chicago following a trade that included some guy who ended up winning the 2015 Cy Young. Even had Jake Arrieta not been part of that deal, Strop's 2.90 ERA with 425 strikeouts over 373 innings (10.3 K.9) meant the Cubs would have easily fleeced Baltimore by sending them Scott Feldman and Steve Clevenger.
The bloom came off Strop's rose to an extent last season, much to the delight of those who take issue with the way he wears his hat. Even his most ardent supporters took to holding their breath when the 34-year-old took the mound, not knowing whether he'd be able to make it out of the inning unscathed. Whether it was recurring issues with his hamstrings or hard contact, Strop was clearly not the same pitcher.
He's still got some gas in the tank, however, and he has a chance to be an effective reliever if he can stay healthy. As such, his market looks to be picking now that the top names are all off the board. According to Ben Nicholson-Smith of Sportsnet, Strop is weighing offers from three teams (two NL, one AL) and "will likely make a decision in the next week or so."
As relief market develops, Pedro Strop is a name to watch. Heard the 34-year-old right-hander has three offers (2 NL teams, 1 AL team) & will likely make a decision in the next week or so. Strop spent last year with Cubs, posting 4.97 ERA with 49 Ks, 20 BB in 41.2 innings #MLB

— Ben Nicholson-Smith (@bnicholsonsmith) January 19, 2020
A subsequent tweet lists the Marlins, Cubs, Rangers, and Brewers as "believed to be among the teams with some interest," though it's not known which of those have made offers. Unless there's another mystery team out there, we can deduce that the Rangers, with whom Strop began his career, are the AL team. That leaves three NL teams for two spots, which may mean the Cubs are the odd team out.
Given how reluctant they've been to guarantee any MLB money to free agents this winter, it's easy to see them being on the periphery. That's not to say that they haven't engaged in talks with Strop, who said at the end of the season that the Cubs "know this is my house here," but this has the same feel as the Nicholas Castellanos situation. By that I mean that the team may have asked Strop to wait on them to make other moves first.
While it sure seems as though Strop would rather return to the Cubs than play elsewhere, it's far from certain whether the team is willing or able to accommodate him. If Nicholson-Smith is correct on the timeline, I guess we'll find out soon enough.