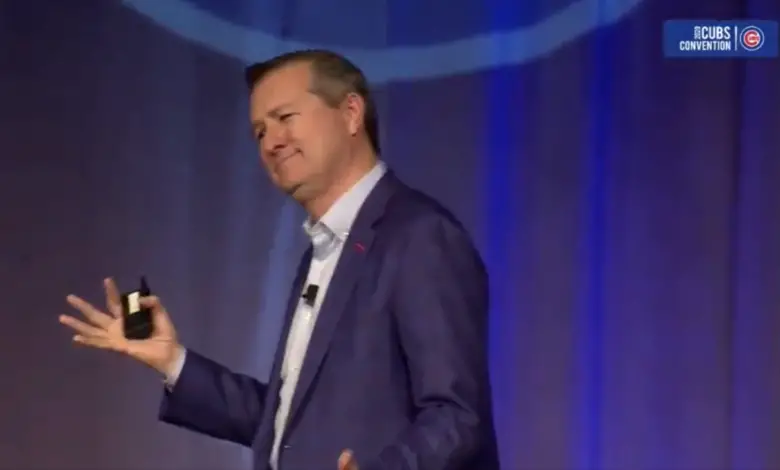 The Rundown: Cubs Not Quite Last in NL Spending, Souza Deal Official, Lots of 2B Targets
Mike Canter is dealing with health matters and I'm relying on airplane wifi, so today's column will be shorter than usual. That's probably better for everyone, since less of me is often a good thing. It's certainly the case for my 13-year-old, whose recovery from dual-stage spinal fusion in December has progressed to a more rigorous physical therapy regimen that I have the joy of overseeing.
She chose not to respond when asked if she was glad she wouldn't see me again until Saturday, which is more demure than she could have been. Or, for that matter, than what a good deal of my "fans" would be if told I was taking a break. In any case, let's get on with what passes for Cubs news these days.
Jeff Passan of ESPN reported Tuesday that the Cubs had reached an agreement with three-time former Brewer Jeremy Jeffress. It's a major league deal for the righty reliever, who will earn at least $850,000 with the potential for $200,000 more. The 32-year-old Jeffress has lost a couple ticks on his fastball, but he's got experience and keeps the ball in the park for the most part.
This move is just the Cubs' second fully guaranteed MLB deal of the offseason and helps to solidify a bullpen based on bulk. More on that later today. The first deal to which the Cubs officially agreed was with veteran outfielder Steven Souza Jr., who passed his physical and will be guaranteed $1 million with another $2 million in potential roster and performance bonuses. Not exactly a banner offseason, even by the standards of smaller market teams.
The possibility remains that the Cubs will add another second baseman, though financial concerns are likely to be a major determinant in that search. Bruce Levine of 670 The Score reported Monday that the team still had interest in Scooter Gennett, who had big seasons with the Reds in 2017 and '18. That could signal a desire to keep Nico Hoerner in the minors for a while yet and leaves open the possibility of Hoerner getting more time in center.
At the risk of sounding like I'm trying to justify the abject lack of noticeable improvement to the roster, it's at least interesting to connect dots between various positions. Whether it's the 'pen or their positional depth, there are several spots at which the Cubs have no definitive answers yet.
Cubs News and Notes
In addition to Gennett, Levine mentioned Brock Holt, Jason Kipnis and Brian Dozier as names the Cubs could consider. Holt has been brought up several times here at CI, or at least by me personally on Twitter, as a good fit.
Between Jeffress, Souza, and Ryan Tepera (split deal), the Cubs have added a whopping $2.5 million to the payroll so far. That's a far cry from Cincinnati's $164 million, but it's ahead of the Pirates and Rockies for lowest in the NL. In fairness, the financials of those teams' deals have not been announced.
Tyson Miller has been mentioned by the Cubs as someone who could have an impact this season. The Cubs saw fit to add the righty to the 40-man roster even after a rough go of it at Triple-A last year, but he learned from his failures and is working to improve accordingly.
Back to finances quickly: The Cubs' payroll currently projects to around $210.5 million at this point, which means they'll need to trim at least $2.5 million to avoid a CBT overage. And they have to remain under at this point, since it would be an unconscionably bad error in judgement to go over by just a little bit. The luxury tax itself isn't the prohibitive factor here, it's the losses of revenue-sharing rebates and payouts for going over in consecutive seasons. So if they were going to go over the CBT at all, they should have gone big. That means trades are coming by the deadline, since it's their year-end payroll figure that determines tax status.
MLB News and Notes
Dusty Baker is the leading candidate to manage to he Astros this season. Bob Nightengale of USA Today reported that it's a done deal, though other outlets have stayed away from anything definitive.
The Reds should be really happy they signed Mike Moustakas, because Eugenio Suárez recently underwent surgery to clean up cartilage in his shoulder as the result of an injury apparently suffered in his swimming pool. The third baseman will be limited in camp, but is still expected to be ready early in the season.
Former Cubs reliever Tony Barnette announced his retirement via Instagram.
Some other relatively inconsequential moves were announced Tuesday, but I'm waiting on a Lyft and feeling less than stellar.
They Said It
That's the kind of shot we have to take, and that's the kind of shot every team has to take on capturing that lightning in a bottle," Hoyer said. "Buying really high on relievers and signing them after they have a breakout year is really expensive and really difficult and doesn't have a great success rate. We try to find those guys that we can catch lightning in a bottle, and that's been a big part of our strategy. – Jed Hoyer
Wednesday Walk Up Song
It's a Small World — When in Disney, even if it's for business, you've got to go with the Mouse. Let's hope some of the happiness transfers through osmosis.
Ed. note: Mike has been a huge part of CI over the last however long he's been writing this column and he's probably the writer people most look forward to reading. A lot of that is because he's really made this column his own and he lets his unvarnished personality shine through. That isn't an easy thing for a writer to do and I think readers recognize that. I always dread taking his place because it just ends up disappointing people, myself included. Get back quickly, Mike.