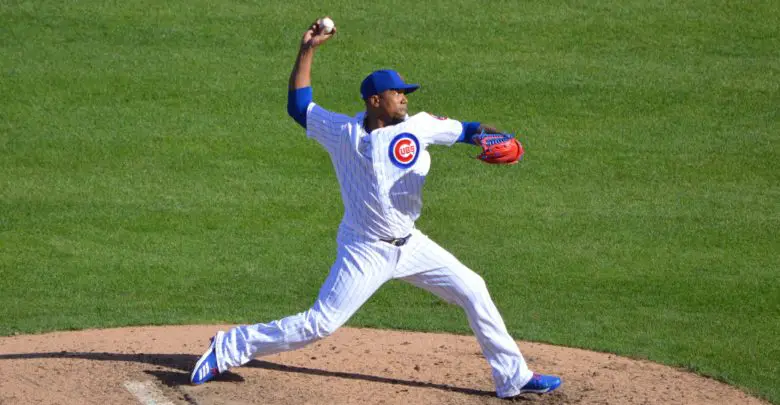 Pedro Strop Becomes Latest Former Cub to Join Reds, Inking $1.825M Deal
Pedro Strop, one of the best relievers in Cubs franchise history, has agreed to join Nicholas Castellanos on the Reds with a one-year, $1.825 million deal. If you're keeping score at home, that's just $250,000 less than the Cubs have given out in MLB guarantees this offseason. The contract has another $1.5 million in incentives for games pitched and finished, though some of the thresholds may be difficult to reach.
Héctor Gómez, a Dominican sports journalist, was first to report Strop's connection to the Reds and subsequently broke news of the agreement and the incentives. Strop will need to pitch at least 75 games to max this out, which isn't going to be easy since he last exceeded 69 games in 2015.
Pedro Strop Deal's Performance Bonuses:

– $25,000 for 45 games pitched
– $50,000 for each 50, 55 and 60 games pitched.
– $100,000 for each 65, 70 and 75 games pitched.
– $200,000 for 40 games finished
– $250,000 for each 45, 50, 55 and 60 games finished.@z101digital @ZDeportes https://t.co/5idqv79771

— Héctor Gómez (@hgomez27) January 30, 2020
I know the general response to this on Facebook will be various iterations of "good riddance," but Strop still has the potential to have an impact in the bullpen. Maybe not in his traditional high-leverage role, but as more of a middle-inning guy who is also a clubhouse leader. That could have been big for the Cubs, who have assembled a collection of relatively untested pitchers.
You don't normally think of relievers as leaders, but Strop was exactly that for both the staff and some of the position players. When Javy Báez threw his bat up in disgust after popping out against the Pirates late in a game in 2018, it was Strop who took him aside and talked to him about the optics of his antics. The righty reliever commanded the respect of everyone else on the roster, something that will be much harder to replace than his actual performance.
While I wish Strop nothing but the best in Cincy, I do kinda hope the meatballs who hated his hat or his pitching get to revel in him giving up homers to the Cubs this season. Actually, though, you know what? Part of me also hopes he returns to form and sticks it to them.