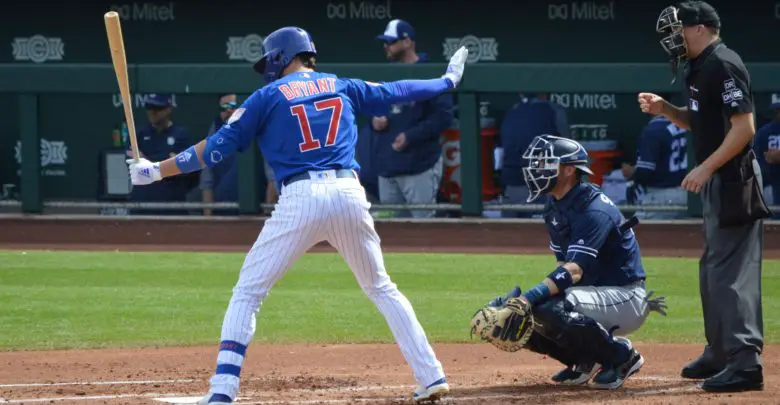 The Rundown: Bryant-Arenado Trade Talks Surface, Hottovy Excited About Bullpen Additions, Dusty Lands in Houston
"I said it before: I played with a little chip on my shoulder this year. It's good to play that way sometimes." – Kris Bryant, November 16, 2015
Kris Bryant was the NL Rookie of the Year in 2015 and likely played the entire season in subdued disappointment because he believed his employers manipulated his service time. The grievance he filed in December of that year is proof that, at the very least, baseball needed to be made aware of the types of shenanigans team executives employ to maximize service time. He has now lost that grievance and has been heavily involved in trade rumors since the Cubs were officially eliminated from the playoffs last September.
The Cubs did nothing to explicitly violate the rules of the current collective bargaining agreement, though one could say the team's actions were ethically immoral. As for Bryant, he isn't upset with the decision and harbors no ill will toward the team. Oddly, a number of Cubs fans don't appreciate what Bryant means to the Cubs. That rhetoric is usually something that comes carrying a few misinformed details:
Bryant is overrated and is just not that good;
He isn't worth the money he is paid now or will command in free agency;
Trading the third baseman will bring a "haul" in return; and
The Cubs need to trade Bryant now rather than risk getting nothing when he leaves in free agency.
If that logic doesn't quite add up in your mind, you're not alone. If you are of the constituency that believes the third baseman is only slightly better than average, and overpaid to boot, how can you expect the Cubs to get back a haul of players and/or prospects by trading him?
Going back to 2015, Bryant finished that campaign with an OPS+ of 135, finished 11th in the vote for NL MVP while slashing .275/.369/.858, and made the NL All-Star team. In fact, in his five years with Chicago, the third baseman has a career OPS+ of 136. To put it into perspective, Mookie Betts and Francisco Lindor, two players that have been similarly rumored to be traded this winter, sit at 134 and 119 respectively for their careers. Other than his injury-shortened 2018 season, Bryant has been remarkably consistent.
Uh Jesse Rogers just dropped on the radio that the Cubs and Rockies have discussed a 1-for-1 deal, Kris Bryant for Nolan Arenado, with Rockies picking up some salary

— FullCountTommy (@FullCountTommy) January 29, 2020
If, like ownership, you want to see the Cubs get below the $208 million CBT threshold, perhaps trading the all-star third baseman and his $18.6 million salary seems like the obvious move. But how do you replace that production at third base? Unless you find a way to poach Nolan Arenado and some salary relief from the Rockies, something that has actually been discussed (podcast) per Jesse Rogers, you do not.
In a perfect world, the Cubs and Bryant would come to an agreement on a contract extension. As far as trading the third baseman, I am of the belief that some fans would be truly okay if the Cubs shot themselves in the foot just to have a few headlines to talk about.
Cubs News & Notes
Apropos of Nothing
You may not be excited about this, but I can hardly contain myself.
The Jesus is coming… https://t.co/5ScMUpSko3

— WXRT Chicago (@93XRT) January 29, 2020
Thursday Stove
Major League Baseball has a credibility problem and it has only worsened under the watch of commissioner Rob Manfred.
Bickering over MLB's proposal to cut 42 farm teams escalated Wednesday with the exchange of acrimonious letters by the commissioner's office and the governing body of the minor leagues.
Congress is proposing a resolution that would stop MLB from eliminating those franchises from its system.
Hiring Dusty Baker to manage their team was a big step in the right direction for the Astros.
The Brewers have signed relief pitcher David Phelps, who finished last season with the Cubs.
Recently retired Chicago Bears offensive lineman Kyle Long thinks about his potential White Sox career almost every day. Long still very much believes he could be a solid pitcher if he picked the sport back up, saying that if he has Tommy John surgery now, he would be able to "throw 100 [mph]."
Extra Innings
This may be one of the worst takes ever.
Chicago @Cubs will protect fans too stupid or sluggish to avoid foul balls by extending nets https://t.co/IdtSji0QM4 pic.twitter.com/RZUaUYEZPi

— Kent Sterling (@KentSterling) January 28, 2020
They Said It
"It's going to be a whole lot different, this team without [Bryant]. But we'll see what happens. If that happens, we'll see who's coming [back], who's not. Hopefully we keep Kris here his entire career. … If [a trade] happens, I don't know what is going to be the reaction of the fans — and the players, to be honest." – Javier Baez
"I love it because I want all of [the relievers]. It's exciting. You watch a pitch and you see maybe [a reliever is] not using a pitch quite like we'd use it or maybe not having the breaking ball break like we'd want it to. And then you think, 'It'd be awesome to get this guy in the lab and do this,' or, 'It'd be great if this guy pitched inside more.'" – Tommy Hottovy
Thursday Walk Up Song
Just Dropped In (To See What Condition My Condition Is In) by Kenny Rogers and the First Edition. The Dude abides.