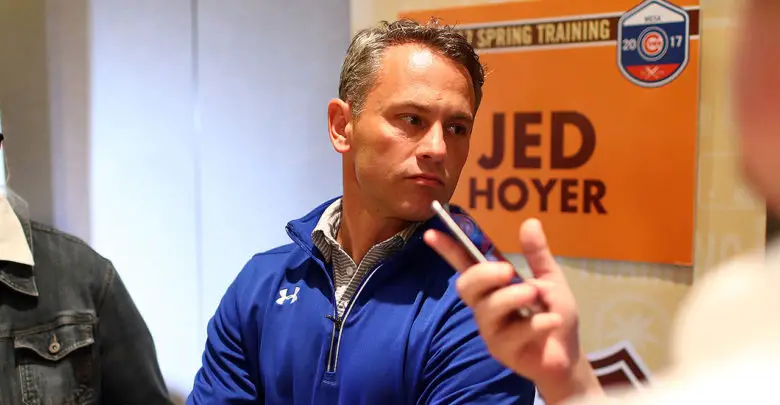 Cubs 'Threading That Needle' in Winter of Contradicting Activity
In an offseason that has seen the Cubs agree to a pair of guaranteed MLB deals worth a total of $1.85 million, the biggest win they've gotten was in Kris Bryant's grievance case. At the same time, the delayed decision on their star's contractual control may have prevented them from being active with other moves. A more cynical person might call that poetic justice or comeuppance, but we'll just call it bad timing for the sake of ease.
Whatever the case, the Cubs haven't actually been sitting on their thumbs to the extent that their general inactivity would make it seem from the outside. In fact, GM Jed Hoyer told Cubs Convention attendees that "in some ways, this is the most active winter we've ever had." Ah yes, and several players will soon arrive at Mesa in the best shape of their lives. Hoyer's not necessarily blowing smoke, but the work the front office has put in on the phone lines and with minor-league deals isn't going to slake fans' thirst for real action.
"It's fair to say there hasn't been a lot of activity yet," Hoyer told ESPN's Jesse Rogers in a more recent sit-down. "We've been incredibly active making calls and exploring options. As we talk here, we haven't been active as we usually are."
Okay, that makes sense. By which I mean it makes as much sense as possible given Hoyer's ability to say a lot without revealing much. And that's not a knock, since anyone who's read me long enough knows I can toss a word salad with the best of them. But in this winter of our discontent, during which only the absent sun has made the Cubs look active by comparison, the overall lack of anything concrete means we've all been forced to interpret things for ourselves.
That's particularly true of the financial situation, talk of which Tom Ricketts got started early by telling Mully & Haugh that "you can't really buy teams." He hinted strongly at limiting payroll to a significant extent, though it was hard to imagine at the time that enough of a reduction would be made to get the team under the competitive balance tax threshold. After all, that would mean spending about $30 million less than in 2019 by further trimming what was lost due to attrition from free agency and/or retirement.
The Cubs chairman further downplayed the notion that spending on new players was helpful when he told Patrick Mooney in January that "there's no magic free agent out there." True though that may be in a literal sense, you can't even find a hack pulling hankies from his sleeve at birthday parties when you wait until a month before spring training to sign anyone. Based on everything they've said and done, it appeared quite obvious to those outside the (not quite as) Friendly Confines that the front office was under orders to get under $208 million.
Perhaps the idea of an actual edict is inaccurate, as David Kaplan reported based on information from sources, but there's at least a tacit understanding that spending now could mean further restrictions in the future like the ones we've seen over the past two seasons. I know many will bristle at the notion that a $237 million payroll is indicative of austerity, but you have to remember that Brad Brach and Daniel Descalso were the club's biggest offseason signings. Even had they performed near expectations, neither would have been splashy.
Craig Kimbrel's late arrival was only made possible by money freed up from Ben Zobrist's placement on the restricted list, which meant he wasn't being paid. While the Cubs always maintain a little payroll flexibility for mid-season acquisitions, it's typically in the form of a trade for a player who may only be around for a couple of months. That was the case with Nicholas Castellanos, who sparkled brightly before fading away to Cincinnati.
Whether they want to call it "serving multiple masters" or "threading the needle" or [insert idiom here], the Cubs have made it very clear that they either can't or don't want to spend into the luxury tax for 2020. Kaplan indicated that ownership is indeed prepared to operate above the threshold again should the team remain in playoff contention, but therein lies the catch-22 that has hamstrung the front office all winter.
They didn't have the available funds to go out and sign impact free agents, yet they still have too much of the core remaining to engage in a full tear-down. As a result, the Cubs have remained in neutral as they attempt to navigate an offseason in which various opposing forces have worked against them. The result is that they haven't affected meaningful change outside of the off-field personnel, though Hoyer seems confident in what they've built. Or not built.
"Our discussions have always been around threading that needle, as Theo alluded to," Hoyer explained to Rogers. "It's important to keep an eye on the future. There are times in your life cycle [as a team] you are really aggressive in trying to maximize your opportunity in that moment. We've done that over the last five years but there are other moments it's important to keep your eye on your future.
"But when you have as much talent that we have on our roster, it is one eye on the future, but we're not blind to how much talent we have. This roster can win with this talent."
I mean, he's not necessarily wrong there. He's not right, either. It's just that the whole thing about threading the needle has been made even more difficult by doing it while riding in the back of a pickup truck driving over an old gravel road. Or maybe you prefer a more Biblical example, which would have them trying to get a camel through the eye of that needle. Either way, it doesn't appear they'll be ready to sew any NL Central Champions patches onto those new Nike jerseys by the start of the season.
Should things break the right way, however, it's possible that a division in which only the Reds have spent big could still be there for the taking. If the Cubs remain in contention by July, maybe they swing a trade to really make a push. If they're not near the top of the division, they'll almost certainly make deals to shed salary and prepare for 2021. That could mean moving Bryant, if he's still there, but also José Quintana, Tyler Chatwood, and any other pitchers who've got value and enough pro-rated salary left to ensure the avoidance of CBT hits.
Hoyer had a lot more to say on a variety of other topics, so check out the full interview for those thoughts. As for the Cubs' plans, I suppose we really don't know much more now than we did last week or back in December. While you can obviously decide for yourselves whether that's good or bad, at least we can't say they didn't tell us what was going to happen.