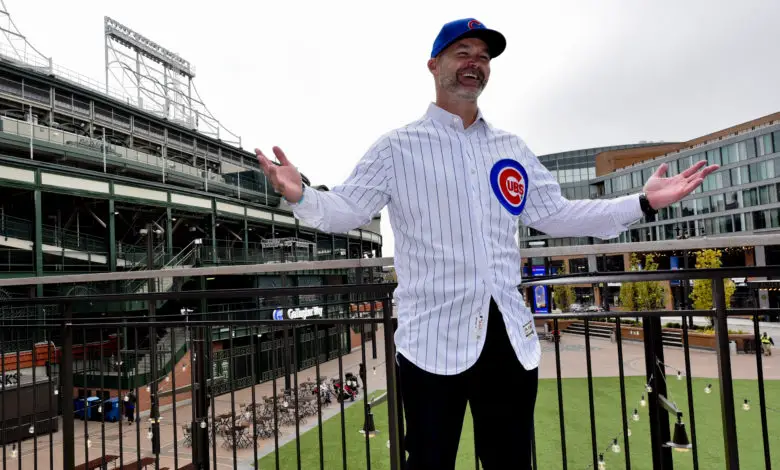 4 Simple Ways David Ross Can Improve Cubs Immediately
The one big change the Cubs have made in what was an otherwise listless winter came at the manager position. Fan and media favorite Joe Maddon was replaced by similarly adored former catcher David Ross. Many have dismissed the hire as just a celebrity pick to soothe what has become a decidedly salty fanbase, but just because it's the easy conclusion to leap to doesn't mean it's the correct one.
With all due respect to Maddon, who led the Cubs to the World Series title (people forget that), some of his decisions the last two seasons have been questionable at best. The Cubs stumbled down the stretch in each of his past two seasons, the latter of which saw several player-driven initiatives implemented to counteract Maddon's more hands-off approach. Add to that the reported issues between manager and front office and the need for a change became clear.
Similar problems between Manager David and the Cubs baseball ops team are unlikely, especially at this early stage of his career. Ross served as a special assistant to the front office while working in the ESPN broadcast booth, thus gaining a different perspective on the game than he'd gotten as a player. Though it actually irked a few other organizations that feared Ross would leverage his media access to help his MLB employer, the experience granted him insight into how the Cubs and other teams operate from the top down.
The Cubs have spoken for the last two offseasons about having more of an edge or a sense of urgency, qualities Ross brought to the clubhouse as a backup catcher who was just as quick to get in teammates' faces as he was to bump cups with them. At the same time, however, the Cubs have talked about avoiding the winner's trap of just doing what worked in the past. Wait, isn't hiring Ross and getting the band back together a shining example of falling into that trap?
Maybe. But the organization believes greater benefits are likely to emerge from a more symbiotic relationship between manager and front office. Even without a major overhaul in player personnel or massive breakouts from current players, and with the full understanding that a manger only has so much direct influence, there are at least four areas in which Ross can affect real change right away.
The most immediate of those comes in the leadoff spot, where Maddon liked to tinker and go with his gut with great frequency. Albert Almora Jr.'s .271 OBP wasn't indicative of an ideal table-setter, but he got 68 plate appearances at the top of the order. He reached base at a .221 clip over that stretch, though it jumped to .244 in 45 PAs against left-handed pitchers. Similarly, Jason Heyward was allowed to languish in the leadoff role throughout August, posting a .252 OBP that lagged 121 points behind his mark in all other spots in the order last season.
Rather than moving a slumping hitter up to No. 1 for the express purpose of jump-starting his bat, Ross will likely follow the numbers more closely and opt for a hitter more suited to the role. Just who that will be is yet to be determined, as Jed Hoyer admitted during Cubs Convention that the entire organization remains perplexed by the inability to find a consistent leadoff hitter. Outside of Anthony Rizzo, the Greatest Leadoff Hitter of All Time, cases could be made for Kris Bryant, Willson Contreras, Ian Happ, Kyle Schwarber, and even Nico Hoerner.
Perhaps it's a matter of playing the matchups and platooning various hitters, a strategy Ross can and should use in other spots as well.
That brings us to the second area in which the new skipper can improve the lineup: Putting Heyward in better position to succeed. He is a decent hitter against right-handers and an excellent defensive right fielder, but his .648 career OPS against lefties needs to be massaged a bit. Maddon continued to use Heyward against southpaws last season despite a .553 OPS that lagged woefully behind his .831 against righties. Expect to see playing time dictated more by performance than feel.
Bullpen usage, criticism of which caused Maddon to bristle last season, is yet another area in which we should see a more targeted approach in 2020. Though some of his bullpen deployment was based on necessity, Maddon made some curious decisions with Steve Cishek, Carl Edwards Jr., and others in high-leverage situations. Most notably, Derek Holland was used far more frequently against righties than lefties even though Theo Epstein said he'd been picked up as a LOOGY. Not that his results were much better either way.
More viable options such as Rowan Wick and Kyle Ryan were denied those high-leverage roles until much later in the season. With allowance for the fact that untested relievers need to earn their stripes, would the Cubs have been able to steal a few more wins if Maddon had focused on current results instead of past performances? Bullpens are always volatile and Ross will be working with a patchwork group this season, but running more of a meritocracy may yield better results.
The final aspect of potential improvement is harder to quantify. Maddon was excellent when it came to easing the pressure of trying to end a championship drought because his style helped to alleviate much of the stress that had done in previous Cubs teams. After breaking the title curse, however, his laid back approach seemed to lose it's effectiveness. As mentioned above, the players themselves had to clamor for more mandatory batting practice and a greater degree of structure in lineups and practice habits.
As Epstein continued to pepper his press conferences with words like "accountability" and "urgency," the not-so-subtle dig at his manager's philosophy was hard to miss. Maddon is arguably the best manager in Cubs history and his accomplishments over five years in Chicago are impossible to deny, but sometimes a team just needs a new voice. Or an old one in this case.
"I think the biggest change from Joe to David will be…I know Joe was super relaxed, very laid back, kinda let the players set their own way," Kyle Schwarber told 670 The Score's Julie and Maggie Show at Cubs Convention. "I think David's gonna come in and he's got it on his mind what he wants to do and I think things are gonna be a little more structured. He's gonna demand a higher amount of respect.
"Not that Joe didn't, but I think there's gonna be a little more structure in everything we're going to be doing on a day-to-day basis."