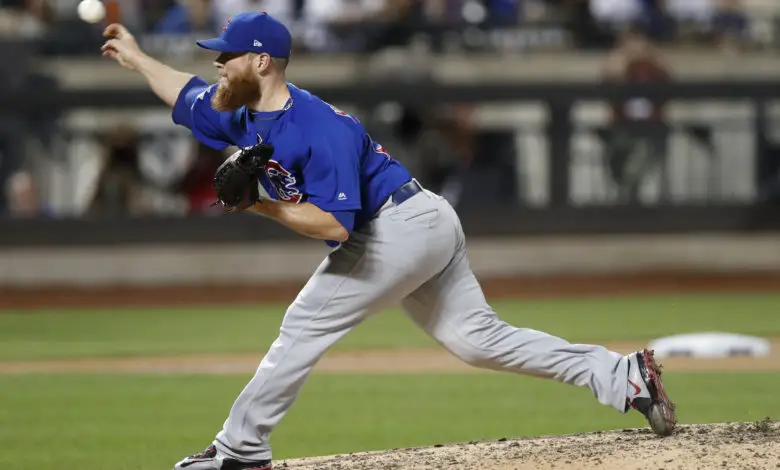 New PECOTA Projections Love Craig Kimbrel to Rebound, Jon Lester…Not So Much
Remember last year when PECOTA projected the Cubs to be mediocre and everyone, including the players, got all huffy about it? If only we could go back to a time when it was possible to get pissed about thinking the Cubs wouldn't be good. Man, those sure were the days. It's unlikely there'll be similar backlash when the projected team standings are released, but we can have a little fun with individual player projections in the meantime.
PECOTA, which stands for Player Empirical Comparison and Optimization Test Algorithm, is a forecasting system employed by Baseball Prospectus for the purpose of predicting player and team performance. Rather than dropping all the information at once, BP is pushing it in phases this year. Pitchers and hitters came out Thursday morning (annual subscription required), a "cutting-edge new fantasy baseball product" will come Friday, then team standings are on Monday.
As you may have deduced from the headline, I've chosen to take a look at the Cubs' pitching projections first. More specifically, I'm looking at one pitcher who's projected to bounce back and another who definitely isn't. I wanted to touch on some others as well, but there's only so much value in churning through the hypothetical production of an entire staff.
For the sake of ease, I've included a handy-dandy chart including all the pitchers we'll discuss here and many more we won't. There are several others I've chosen to omit, either for the sake of shrinking the chart or because this is subscription-based data and it'd be unscrupulous of me to simply drop the whole spreadsheet in here.
Before I get into the Cubs, though, I wanted to make note of something I found very interesting regarding a player who was part of the blockbuster Mookie Betts trade. Though the specifics of the deal are now in flux due to a medical review of righty pitching prospect Brusdar Graterol, the Twins may end up making out really well when it's all said and done. They sent Graterol to the Red Sox by way of the Dodgers in exchange for swingman Kenta Maeda, who PECOTA projects to rank 15th among all pitchers with 3.46 WARP in 2020.
That's higher than either Kyle Hendricks or Yu Darvish, the top two Cubs starters by a wide margin, though that's not really what's interesting about PECOTA's view of Manager David's team. Coming in third on the staff is Craig Kimbrel, who projects to earn 38 saves and post a 1.42 WARP that ranks fifth among closers. His 14.0 K/9 is likewise fifth among all pitchers and would be pretty well in line with his career 14.61 mark.
The 4.4 BB/9 and 1.15 WHIP are less exciting and sit well above Kimbrel's past averages, though both represent improvements over last year and would give the Cubs a very competent option at the end of the game. For a bullpen that is going to need a lot of things to go right, having a healthy and productive Kimbrel anchoring the 9th inning would be huge.
On the other side of the staff, however, is an aging Jon Lester whose 0.04 WARP ranks just behind righty prospect Riley Thompson. Lester is actually 569th overall as a result of some really mediocre numbers that include a mere 143 innings pitched. More than his actual production, the notion that Lester may be bound for the glue factory after years as a workhorse is very troubling.
The situation becomes even more dire when you consider that Hendricks is projected to pace the rotation with 170 innings, followed by Darvish at 150, then Lester and José Quintana at 143 apiece. Tyler Chatwood is expected to pick up another 125 innings over 19 starts, with Alec Mills, Jharel Cotton, and Adbert Alzolay combining for 254 innings over 10 starts apiece.
There are just so many question marks, but that latter trio picking up the slack from a potentially shaky rotation would be huge for the Cubs. Mills in particular figures to be very valuable as at least a part-time starter and could even assume Cole Hamels' role in lieu of Chatwood. It's at least a little surprising that Mills wasn't projected for more starts and innings, though it's more of a shock that he's got the fourth-highest WARP on the staff.
Beyond that, the low-cost bullpen options figure to pay off really well for the Cubs and should continue to do so for years to come. It'll be another year before the farm system produces impact pitching prospects for the big league team, but we should start to see the results of a new developmental philosophy this season. I know that may feel like wishful thinking to some of you out there, but it's a helluva lot better than being depressed about unknowns as we near spring training report dates.