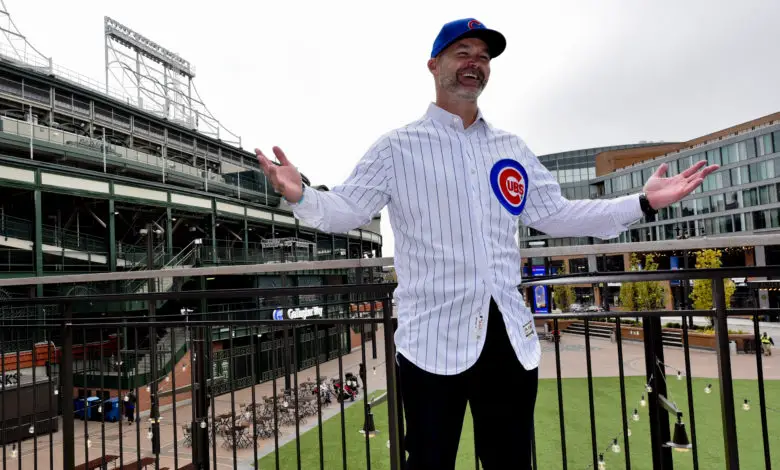 The Rundown: Position Battles Loom at Start of Camp, Ross Raring to Go, Betts and Price Traded to Dodgers
Camp starts tomorrow, got your bags packed?
When I lived in Chicago, I used to rush home from work on the day that pitchers and catchers reported just so I could watch the local sports segments to see grown men playing catch because the sound of a baseball popping into a mitt always meant winter was essentially over. It's not like that for me anymore and the eight inches of snow we got in Milwaukee yesterday is living testament that spring is still not quite here, nor will it be for quite some time. But baseball is back and all's right with the world.
Spring Training, it's a beautiful thing. #ReadyForBaseball pic.twitter.com/FMhvOfhF9B

— MLB Network (@MLBNetwork) February 3, 2020
These days I'm more interested in the second and third weeks of Cactus League baseball. That's when position battles really start to come to a head, but it also signals that Opening Day is only about two weeks away. The Cubs start spring training baseball on February 22 and start the regular season in Milwaukee on March 26. That gives all the second baseman and center fielders just over a month to win jobs. It would be a shock if Ian Happ doesn't open the season as the team's starting center fielder, and one of Nico Hoerner or David Bote should get the most reps at the keystone.
The only other intriguing battle will be which of Tyler Chatwood or Alec Mills gets the nod as the Cubs' fifth starter. Of course, all bets are off if Theo Epstein swings a major deal between now and the start of the season. At this point, that type of trade seems highly unlikely.
In the meantime, season five of Better Call Saul debuts February 23, so there is at least that diversion from all the superfluous Kris Bryant trade talk.
Cubs News & Notes
Monday Stove
The Dodgers and Red Sox have finally completed their Mookie Betts trade. David Price will join Betts in Los Angeles and outfielder Alex Verdugo, shortstop prospect Jeter Downs, and minor league catcher Connor Wong will head to Boston. The Dodgers won 106 games last year and they are now 6-8 games better after the trade. They still need bullpen help if you are thinking about how they can possible be beat in a five- or seven-game series.
Boston has agreed to pay half of the remaining $96 million on Price's contract to complete the trade.
In a separate trade, the Dodgers and Twins have completed a trade that will send Kenta Maeda to Minnesota for minor league pitcher Brusdar Graterol and $10 million cash. Graterol was previously slated to go to the Red Sox in the three-team iteration of the trade.
Meanwhile, the trade that sent outfielder Joc Pederson of the Dodgers to the Angels has been called off.
The Dodgers still hope to trade Pederson, as they now have a surplus of starting outfielders.
Pitchers, catchers, and cheaters will report to spring training this week.
Jessica Mendoza has stepped down from her role as Mets advisor. Mendoza has also been removed from her role as analyst in the ESPN Sunday Night Baseball broadcast booth.
The Gazetta Di Parma, Italy's oldest newspaper, recently reported that the former All-Star outfielder Manny Ramirez is in negotiations to play for Parma Baseball Club, one of the most successful teams in the Serie A1 Italian league. Manny also seems willing to forgo being paid in money, instead asking for cars, an Italian villa, and free air travel.
On Deck
I'll provide health updates every Monday so I don't get too repetitive. On February 26 I will be designated a MELD score. The score, which is calculated regularly, will range from 6-40 based on various labs, and is designed to determine how advanced the liver damage is. MELD is as important to me as OPS+ is to fans of baseball. Thanks again to everyone who has contributed to or shared my GoFundMe campaign. It has already helped a great deal.
As far as what may have caused the damage, I've never been an excessive drinker or drug user, so it is just a combination of random bad luck and genetics.
Extra Innings
I was hoping the Cubs would do more offseason features for their YouTube channel this winter. Maybe these types of player summaries will be a Marquee feature.
They Said It
"I just want to get back to the things I've seen on the winning teams I've been around. Knowing these guys and where their hearts are at, I think just that attention to detail will create such a culture and bring these guys back together. It's easy in today's game, with all the information, to get kind of on your own plan and do your own routine. We all have our own individual workouts in the offseason, our own personal trainers, and how we take care of our body and how we go about our individual cage work. I want to bring a lot of that back together, doing it as a unit." – David Ross
"[Ross] would be the right guy no matter what because of his knowledge of the game, his leadership skill set, the way he can talk to guys and communicate." – Anthony Rizzo
Monday Walk Up Song
Dirt Road by Dustin Lynch. Lynch was a Jivewired discovery from Tulsa a few years ago and I'm very excited to see he's become one of country music's newest stars. I used to converse with him a great deal on Facebook and I'm so happy for this young man. I really need to take another trip to Tulsa, too. It's one of the most underrated music scenes in the country.