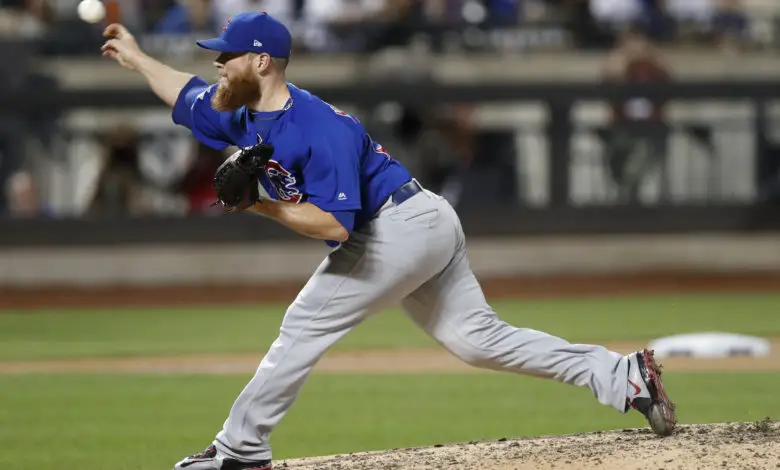 Craig Kimbrel Working to Stay Healthy, Answer Questions After 'Terrible' Campaign
Unlike in the movies, throwing to a plywood silhouette of a batter in your barn isn't actually a good way to get prepared for the season. Nor is sitting out for four months because teams don't want to forfeit a draft pick to sign you. Thus went the opening act in Craig Kimbrel's 2019 campaign, a halting performance that saw him post a 6.53 ERA that was nearly 1.5 runs below his FIP. For the less metrically inclined among you, just know that's terrible.
"Terrible is kind of an understatement for what I felt like I did last year," Kimbrel said Thursday. "Going into this year, I just need to get back to doing my job, getting on the mound and saving games. Time will tell. A lot of questions will be answered."
One of those questions is whether he'll be able to stay healthy after a balky right knee hurt his command and messed with his kinetic chain. It's possible the additional mass acquired over the course of his extended offseason, evident in a backside that could have inspired a Sir Mix-a-Lot cover, threw things off a little bit and resulted in more pressure on his drive leg. Or maybe it was the effort he put into his lifting wore him down late.
Kimbrel altered his workout regimen this time around, first taking time to let his body heal up fully and then trying to maintain his leg strength with lower impact cardio. Getting back to a normal schedule and gradually easing into his throwing program and live action should help as well.
"I'm sure [spring training]'s gonna help a lot, but I've still gotta focus on doing my job and doing all the small things to get to where I need to be to compete at the level that I expect myself to compete at," Kimbrel explained. "And so far, everything's started off pretty well.
"I kinda knew what I was going through as I had my ups and downs last year. I mean, at the time I knew what I was struggling with and what I wasn't getting to. Right now it's just putting that all together and making sure that I'm on top of everything and keeping my body healthy and be the best me I can be.
That's awfully close to best-shape-of-his-life talk, but we'll allow it because he's talking more about maintenance than metamorphosis. And besides, Kimbrel was in damn good shape last season. This is more a matter of being in different shape and being able to anchor the back end of a bullpen that has seen more turnover than Jay Cutler in the red zone. Even if Brandon Morrow makes his long-awaited return and some inexperienced pitchers step up, the Cubs need their closer.
Not only that, they need their closer to not allow a home run every 10.67 batters faced and to get a little closer to his career walk rate. That won't just prevent opponents' scores, it'll probably prevent scores of Cubs fans from having to replace the televisions they threw household objects at with greater accuracy that Kimbrel displayed last season. Or something like that.
It's going to take some time before fans are comfortable watching him pitch without holding their breath, but Kimbrel is confident that'll change soon enough.
"I have no doubt in my mind that I'm going to get on the field and I'm going to do my job this year and put last year behind us."