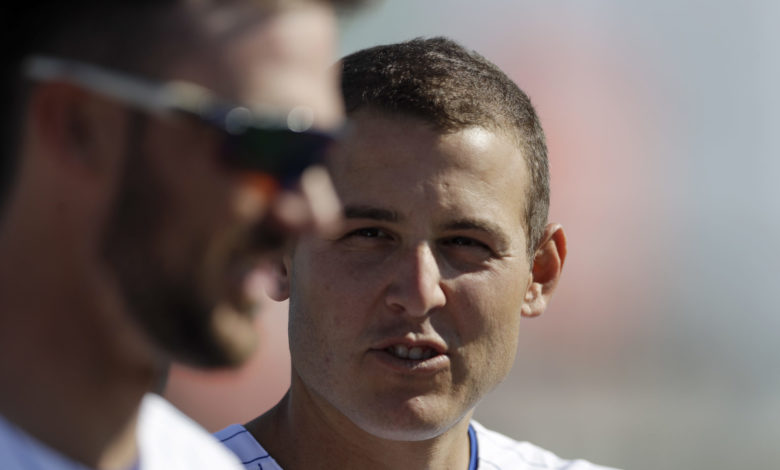 David Ross Envisions Bryzzo as One-Two Punch Atop 'Dynamic Lineup'
The big news of the day out of Cubs camp was Kris Bryant embracing the idea of taking over as the everyday leadoff hitter this season. It's actually not that big a transition, since he's been a de facto leadoff hitter out of the two spot the last couple of seasons. He also excelled in that role at the University of San Diego, earning the Golden Spikes award as college baseball's best player in his junior season. The psychological adjustment shouldn't be difficult for a guy whose versatility has been on display from the start of his MLB career, especially when he's got the entire spring to prepare.
It takes a certain kind of mentality to bat at the top of the order, a split personality that's part prima donna and part backup singer. If Bryant's behavior Wednesday afternoon was any indication, he's got the first part down pat. Dude was feeling himself so much, he parked in Tom Ricketts' spot at Sloan Park.
https://t.co/U77tJ3Li3H pic.twitter.com/T7NuE6v1C6

— Evan Altman (@DEvanAltman) February 19, 2020
In all seriousness, Bryant does appear to be carrying himself with an even greater air of confidence than you'd expect from a Rookie of the Year and MVP winner. Not only is he about to be a father, he got a chance to set the record straight on a few persistent rumors before presumably getting a little assurance regarding his future with the team. And even if you're not into all that positive mental attitude stuff, he's literally standing taller in the box.
None of that has been lost on David Ross, who wasted no time beating around the bush when it came to his thoughts on roster construction. And in a refreshing change, he opted against an overly intellectualized soliloquy to explain his thinking. It's no secret that the Cubs have struggled to find someone to lead the order and this is no time to be experimenting with lesser hitters in the hope that one of them will suddenly blossom.
How to address the lead-off spot:

Joe Maddon:

Almora for 15 games (27 wRC+)
Descalso for 12 games (62 wRC+)
Heyward for 47 games (47 wRC+)

David Ross, literally his 2nd day on the job:

Guys…this isn't hard. I'm just putting our best hitter there.

— FullCountTommy (@FullCountTommy) February 19, 2020
"That's my job, is to commit to things," Ross told reporters. "[Bryant]'s on board. I'm on board. It's something I've been thinking about long and hard. I'm excited about it. I don't know about you guys, but I'm super excited about it. I would hate to be on the other side and look at that big boy step in the box to lead things off and what he can do."
Strap on, step in, start up. As many have been quick to point out, Bryant isn't an ideal leadoff hitter in the traditional sense. Given a more classic lineup with more reliable depth, you'd love to have a hitter of his caliber batting lower in the order to create more runs. But the thing is, you've got to have at least one hitter you trust even more than Bryant to lead things off. You willing to name that guy?
Okay, I'll give you Anthony Rizzo, the only hitter this side of Dexter Fowler to handle the one-hole with any degree of competence over the last five seasons. But if you're going with him at the top, you're still moving a slugger out of the heart of the order while also swapping out Bryant's elite ability to go first to third. Hell, KB scored from second on an infield groundout last season.
So while Ross was clear that Rizzo won't be the leadoff hitter, he offered a coy "maybe" when asked about having Bryzzo back-to-back.
"You want to put those at-bats as close to the top," Ross explained. "And then you start to think about some sluggers behind those two at the top. …If we start talking about it and thinking about it, we've got that set. You know what I mean? It just feels like a dynamic lineup as it starts playing out."
That righty-lefty setup isn't just coincidence, either, as Manager David values the ability to alternate handedness to the degree that it makes sense. As such, it's easy to see Javy Báez, Kyle Schwarber, and Willson Contreras forming the heart of the order, with Ian Happ, Jason Heyward, and whoever wins the second base job rounding things out.
My guess for that last spot is a platoon of Jason Kipnis and David Bote, so alternate those two based on the pitcher. Steven Souza Jr. figures to get most of the plate appearances in right against lefty pitchers to buoy Heyward's offensive production, then you work in the other bench bats as needed. There's obviously going to be some noise in there over the course of the season, but it sounds like Ross is going to keep things as quiet as possible at the top.
"It's really easy to change the lineup in my seat but I think that screams panic when you start to change," Ross said. "(Bryant) is one of the best players in baseball. Putting him at the top of the order and how he goes about his business, I want representing our team every night."