Javy Báez Taking Impeccable Baseball Fashion to Next Level at Spring Training
Everyone knows that when you look good, you feel good, so don't estimate the importance of fashion in baseball. Athletes who pay close attention to on-the-field aesthetics are likely to be the most detail-oriented people in their sport. Well, unless it's the dude who shows up to the LA Fitness court in a full Michael Jordan replica uniform. But when it's Javy Báez showing up to spring training rocking new apparel and accessories, it's best to pay attention.
Let's first look at Javy's beautiful bright red Nike trainers, which, hard as it is to see from the video below, are embroidered with "CHI." And we can't ignore the shades resting firmly atop of Javy's fresh fade, even after he cuts loose the kind of windmill swing that would have Don Quixote soiling his trousers.
Good morning! Javy is here. pic.twitter.com/zJrfFnuB1U

— Chicago Cubs (@Cubs) February 14, 2020
https://twitter.com/MLBastian/status/1228367095030677506?s=20
We now move on to El Mago's batting gloves, two pairs of which he has showcased so far this spring. The first set pays respect to Javy's homeland of Puerto Rico, and the second is saturated in Cubs blue with minimalist JB9 embroidery.
Tweet de apreciación a la felicidad de Javy Báez en Spring Training ☺️⚾️ pic.twitter.com/IHCZmvMhdz

— Séptima Entrada (@septimaentrada_) February 16, 2020
@Cubs @javy23baez looking stronger and leaner in 2020. #az108365 #javybaez #chicagocubs #SpringTraining2020 #mlb #elmago #sloanpark pic.twitter.com/Tf1v6b5xNl

— AZ⚾️108-365⚾️ Photography (@AZ108365) February 16, 2020
He's also used two separate gloves in the field, the first of which is bright Cubbie blue with offset light blue lacing. The other is a camel color, better for snagging humpback liners, with Cubs blue lacing. Just impeccable taste. Also, pay close attention to Javy's red Nike spikes with blue lacing in the images tweet below. Are you kidding me?
https://twitter.com/MLBastian/status/1229466129933926401?s=20
#Javy Baez plays catch prior to taking infield practice on Field 4 at #Cubs #SpringTraining2020 pic.twitter.com/MWjLsnb5Nb

— John Antonoff (@baseballinfocus) February 14, 2020
Last but certainly not least is Javy's understated jewelry, a change from what he's sported in the past. Perhaps Javy is just dialing it back because it's spring, since going with a chunky Jesus piece on thick Cuban links this early is a recipe for a neck strain. Instead, he's going with much smaller chain with what looks to be a small child pendant. I'm guessing this necklace represents Javy's young son and budding baller Adrián Javier (AJ) Báez Márquez.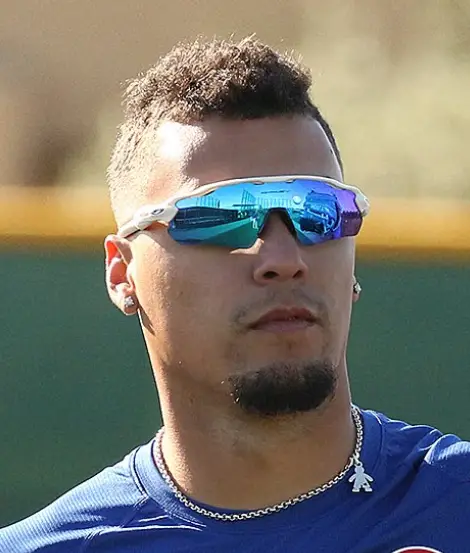 Last but not least is more of Javy's training attire. You can see in the video below from his Instagram that he was using a tied white headband during his batting practice.
https://www.instagram.com/p/B8pUItdJF3Y/?utm_source=ig_web_copy_link
Thank you, Javy, for displaying top-notch baseball fashion. Take notes, kids, this is what looking good looks like. Of course, it helps when you have the talent to lead the world in outs above average and opposite field home runs while also pimping a bespoke look that few could ever hope to match.