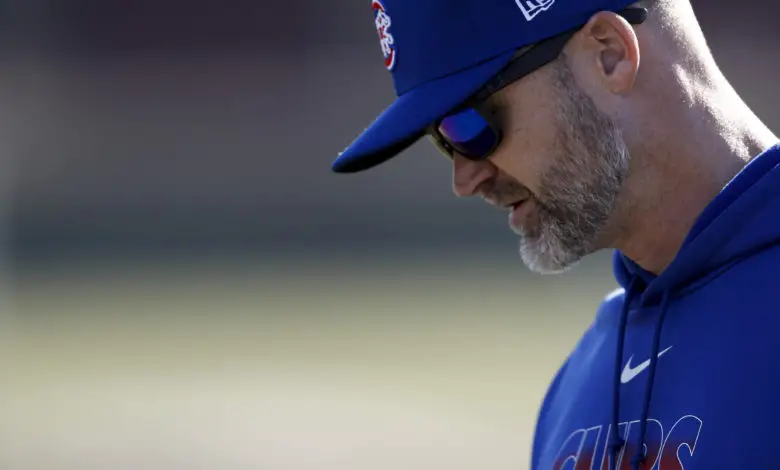 David Ross Undecided on Where He'll Bat Pitchers in Lineup
Kris Bryant and Anthony Rizzo will form a one-two punch at the top of the lineup, starting with Saturday's late opener, that much we already know for certain. But you only lead off a game once, so the next level of strategy is ensuring that those hitters have more opportunities to drive in runs when they come up for subsequent plate appearances. As we have seen from the Cubs in the past, that could mean batting the pitcher eighth.
Or, as was the case in roughly 86% of their games last season, it'll mean keeping the starter in the more traditional ninth spot. David Ross told reporters Thursday that he probably won't have a set configuration, but will instead opt for a strategy that takes into account all manner of data to determine the best fit for a given game. Some of that might even include the preferences of the boppers at the top of the order.
"I actually liked the pitcher hitting ninth, just because if there's a guy on, he bunts him over and there's a guy for me in scoring position," Rizzo said. "I didn't mind it eighth, either. It's just that whole dynamic of the pitcher bunting him over. If there's a double and no outs, he bunts him over to third, that's an easier opportunity."
Okay, so it sounds like Rizzo's on board with whatever. But what's all this bunting business? We're talking about about Manger David here, not Ned Flippin' Yost.
"Hitting the batter eighth, it makes sense in some context, right?" Ross asked. "Like, if you're trying to get somebody on base in front of KB, there's a lot that goes into that. But I've also been a guy who's seen that eight-hole come up in the 1st inning with a big rally going, and it can kill it."
I think he actually meant to say "pitcher" as part of that rhetorical question, since a) everyone who hits is a batter and b) batting the pitcher eighth means have an actual position player ninth. Either way, I'm not sure fear of killing a 1st-inning rally is reason enough to push the pitcher back one spot in the order. What's more, Jon Lester is more than capable of holding his own with the stick and could probably bat cleanup if need be.
Well, maybe that's getting a little too carried away, but the lefty has turned into a much better hitter since coming over to the Senior Circuit. Tyler Chatwood, who's being penciled in as the fifth starter, is another pitcher who rakes. A lot of it is probably going to come down to who the Cubs are facing that day and what results they generate as the season goes along.
"Yeah, there's thoughts on all that," Ross explained. "I'll get with R&D a lot with matchup setup, pitcher versus certain hitters, and gather that information and then make that decision on a game-to-game basis."
Now that I think about it a little more, batting Lester ninth would probably be the worst option in terms of setting the table for Bryzzo. They can't drive in runs if he's already done it, so moving him up a spot will at least preserve a few more RBI opportunities for the guys at the top.