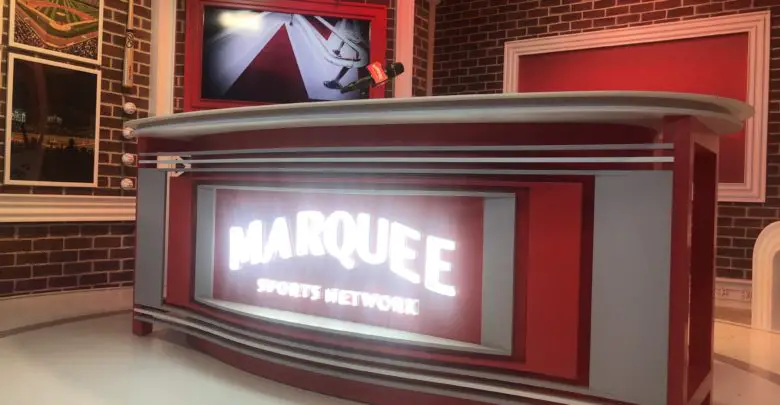 Here's Where you Can Watch Marquee Sports Network When It Launches Saturday
Marquee Sports Network, the exclusive television home of the Chicago Cubs, will launch on Saturday across multiple carriers. Though several carriage deals remain in limbo as of press time, it's expected that Marquee will eventually work something out with Comcast, YouTube TV, and others. You could be waiting until well into the regular season on the former, though, as sources have told Cubs Insider the negotiations could drag into May.
For those who do have access, the network goes on the air at 1pm CT with Marquee Debut, a show featuring a preview of future programming, a look at inside access to the team, and a tribute to WGN. Hosted by Cole Wright, Ryan Dempster and others, the one-hour program serves as a run-up to the Cubs' opening spring training game against the Oakland Athletics in Mesa, Arizona.
Following the game, Marquee will air More Than Mr. Cub: The Life of Ernie Banks, a "Cubumentary" produced by MLB Network that includes new interviews, revisits the moments that made Ernie Banks a Hall of Famer while examining the Cubs legend as a player and a man.
The programming schedule is subject to change if weather forces a different start time for the Cubs' spring training opener versus the Athletics. Expect them to bang the game like an Astros trash can and go with alternate programming, as the current forecast for Mesa calls for at least a 95% chance of rain from 6-11am and then at least 60% through 3pm.
"In Marquee Sports Network, Cubs fans are getting what they deserve, a network as dedicated to the team as they are," said Mike McCarthy, Marquee's general manager. "Right out of the box, viewers have the opportunity to get to know Marquee Sports Network with Marquee Debut, and then it's on to baseball as we broadcast live the Cubs first spring training game. The game is followed by a documentary we are quite proud of on Ernie Banks; all in all our first day—and all our days—will offer robust programming for Cubs fans."
During its first weekend, the network will also air Best of Cubs YouTube, a collection of the most viewed content and engaging features from the Cubs' popular YouTube Channel; Cubs Countdown: All-Time Games, which will highlight and remember historic Cubs games as voted on by fans; Best of 2020 Cubs Convention, a recap of notable moments from this year's fan event; Cubs 162, an all-access series that goes behind the scenes and documents the inner workings of the team, both on and off the field; and Cubs Legends: Kerry Wood "20," an in-depth look at Kerry Wood's epic 20 strikeout game.
As announced earlier in the week, Marquee will initially be available only in the Cubs' regional broadcast territory. That means those of you living out of market will have access to live game broadcasts only through MLB.tv or the MLB Extra Innings package from your provider of choice. Crane Kenney, Cubs president of business operations, said that they hope to eventually have Marquee content available out of market in the same manner as the Yankees' YES Network, but that those plans are not set at this point.
Likewise, there will be no stand-alone streaming option for Marquee since those rights are governed by MLB. In an effort to protect local broadcast arrangements, no to mention the unimpeachable sanctity of MLB.tv, the league won't allow teams to host their own over-the-top service. You know, because Cubs fans in Arizona are totally settling for Diamondbacks games in order to satisfy their baseball jones.
Like, what a crazy idea it would be for a sport lamenting its eroding fanbase to make it easy for fans both new and old to access content in the manner they prefer. MLB's thought to this point is that a team like the Cubs or Yankees with a strong national following would hurt the interests of smaller-market teams should the regional broadcast maps be eliminated. I'll leave it to you to decide how foolish that is in this day and age.
Anyway, you can check out the full Marquee channel lineup in below to find out where you'll be able to watch. Or maybe where you won't be able to watch. I opted not to include the myriad Metronet options, but it appears to be on either 21 or 23 depending on your location.