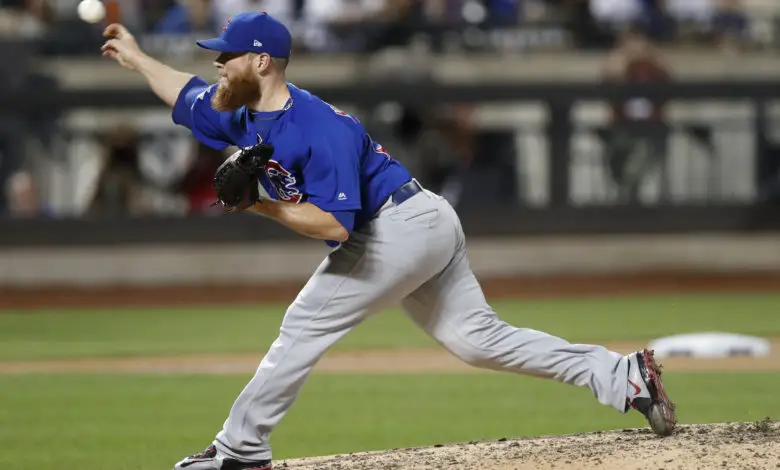 The Rundown: Cubs Bullpen Must Be Force, Nats Allegedly Turned Down Bryant Trade Options, Big Papi Calls Mike Fiers 'Snitch'
Did you know the Cubs scored 10-plus runs more than any other team last season? Their Pythagorean record was 90-72 because of run differential, but their record in games decided by one or two runs tanked that in reality. In those games, Chicago was a miserable 26-44 (.371), including a stretch at the end of the season where they lost six consecutive games to the Reds and Cardinals by two runs or less.
So as much as the talk about lineup changes is exciting and could help reverse those trends this year, the Cubs are really going to need their bullpen to be more of a force at the end of games. Figuring out which relievers go north with the team may be one of the toughest decisions David Ross has to make this spring. Veterans Pedro Strop, Steve Cishek, and Brandon Kintzler all departed via free agency this winter, replaced by a number of low-cost, high-upside pitchers on minor league deals.
Craig Kimbrel is probably the only reliever considered a true lead-pipe lock to make the team, though Kyle Ryan would have to absolutely implode to lose his job. Jeremy Jeffress has a major league deal and is looking for a bounceback performance in 2020, and Trevor Megill is a Rule 5 acquisition who must make the 26-man roster or be offered back to the Padres for $50,000.
I'm sure that Ross and the front office are hoping Brad Wieck and Rowan Wick earn bullpen spots during the next month.
https://twitter.com/MLBastian/status/1228102689021497344
Making the squad out of camp is no guarantee of a permanent roster spot, though. Expect the Cubs to shuffle relievers back and forth to Iowa as situations dictate. Historically, middle relief has been the most volatile position during the Theo Epstein-Jed Hoyer regime.
One reliever who could be a surprise addition is Brandon Morrow. Cubs relievers really struggled in high-leverage situations last season, and a healthy Morrow would give the team one of the more dependable setup guys in the league.
Cubs News & Notes
MLB Spring Training Notes
Meet human vacuum Sis Bates, the shortstop of your dreams. Twitter is littered with the University of Washington senior's highlight reels.
For Seattle outfielder Mitch Haniger, one pitch has led to three surgeries and months of missed time. Haniger will miss the start of the season, but the Mariners are hopeful he can return in June.
The Yankees have shut down starter Luis Severino due to forearm tightness.
Staying healthy might be the biggest challenge of 2020 for the Yankees.
Retired Red Sox DH David Ortiz is not happy with Mike Fiers. Big Papi called the whistleblower out and labeled him a "snitch" for exposing the Astros' sign stealing scandal.
Jonathan Lucroy said A's pitchers were changing their signs on every pitch when they played Houston.
The projections for the Rockies aren't very good this year, so Colorado players have come to camp with a bit of a chip on their shoulders.
News Reds second baseman Mike Moustakas thinks Cincinnati is a legitimate contender this year.
Former Dodgers starters Kenta Maeda and Rich Hill believe the Twins will be a team to contend with as well.
St. Louis starter Adam Wainwright wants one more shot to pitch in the World Series and believes the Cardinals have a good chance of winning the National League title in 2020.
Extra Innings
A special on Ernie Banks narrated by Michael Wilbon is a great way to kick off Marquee programming, at least I think so.
"He changed the shortstop position."

Don't miss the premiere – "Marquee Sports Network Films Presents – More than Mr. Cub: The Life of Ernie Banks," airing Saturday at 5 p.m. pic.twitter.com/qYLULSE0U0

— Marquee Sports Network (@WatchMarquee) February 20, 2020
They Said It
"Do I think we're an 84-win team from a talent standpoint last year? No, there's more in the tank. We have to play cleaner baseball, and I do think our bullpen struggled in high leverage situations. If that doesn't clean up, that will be a challenge. This team is more talented than an 84-win team. But we are who we are." – Jed Hoyer
"I'm a big speedy guy. Rizz [Anthony Rizzo] is not — not. He's high-stepping to first base. I always give him crap about that." – Kris Bryant
Friday Walk Up Song
I'm Writing a Novel by Father John Misty. Not today, this is one of the shortest articles I've penned in a long while.