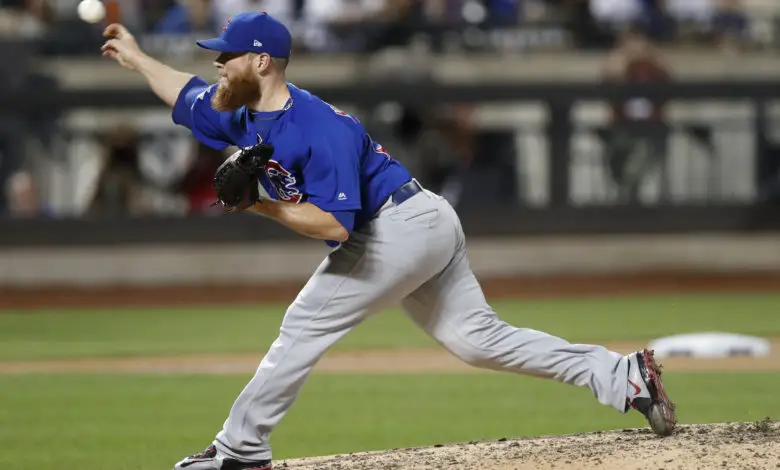 Craig Kimbrel Easing into Conservative Throwing Program, Brandon Morrow Shelved After Tweaking Chest
You're going to get a look at a lot of different relievers as the Cubs open their spring slate, which is the natural result of a Costco bullpen based largely on inexpensive bulk. That means few regulars early on as David Ross and pitching coach Tommy Hottovy get more live looks at fringe relievers to answer outstanding questions. It also means no Craig Kimbrel, who has yet to throw so much as a pitch in live batting practice at Sloan Park.
That shouldn't be cause for alarm, not that anything I say here will stop you from worrying if you're already disposed to it. Rather, the Cubs are easing Kimbrel into the spring following a season in which he didn't have one at all. After sitting out the first several months of the season when the draft pick penalty assigned to him by turning down a qualifying offer from the Red Sox kept teams away, Kimbrel joined the Cubs in June and had an abbreviated ramp-up in the minors.
He came in looking as though his offseason lifting program consisted almost exclusively of squats, which, combined with the lack of live pitching, may have led to persistent knee issues down the stretch. Kimbrel has altered his training routine to protect his knees and promote better health overall as he ages, but the Cubs are also taking steps to ensure his continued health.
"Craig will be on his own program," said Ross. "Guys are throwing sides in different areas just for our different purposes. Tommy kind of plans all that stuff out. But yeah, it'll be a little bit before you see Craig probably in a game."
Wait, was he talking about a timeframe for his closer or Marquee's availability on DirecTV across the Cubs' broadcast territory. Either way, this doesn't signal a setback for a guy who's been plying his trade in the 9th inning for this long.
"It doesn't matter," Kimbrel explained. "I kind of structure to it to where I'm throwing every so many days, just so my body gets used to recovering and coming back and throwing again. That's what spring training is, to get the body ready and get used to be doing what I'm going to be doing for six months."
Sounds pretty standard. If there was any reason for concern, it came by connecting dots when Ross related Kimbrel's throwing program to that of Brandon Morrow. The former closer hasn't pitched since the first half of 2018 and is hoping to rejoin the Cubs after signing a minor league deal this winter. He arrived at camp early, reportedly at full strength, but the team revealed Saturday that he has been shut down for at least a few days with a mild right chest strain.
No timetable has been established for Morrow to resume throwing, which is basically his default at this point. The only good side of this, if it's even fair to label it such, is that Morrow isn't guaranteed anything and wasn't being counted on to help the 'pen. Even so, it's a buzzkill for everyone involved and you have to hope it really is just an insignificant tweak the Cubs are being overly cautious with given the circumstances.
We should hear a little more about both pitchers over the next few days, with Kimbrel possibly throwing BP at some point next week. In the meantime, take a few moments to enjoy the parade of lesser known pitchers you're going to see is these early games. Who knows, a couple of them might surprise you.
---
Update: The Cubs announced that Kimbrel will indeed throw live BP on Monday, and Hottovy clarified the idea that Kimbrel is on his own program. As indicated above, the goal is to get plenty of live looks for the pitchers who aren't sure things.
"We have a lot of guys fighting for spots in the bullpen that we have to get innings with early," Hottovy told MLB.com's Jordan Bastian. "Kimbrel's not one of those guys."
The pitching coach said they worked backwards from Opening Day and set a target of eight appearances against live hitters in spring training. That essentially means two outings per week, with the first perhaps coming a few days to a week after that BP session.
https://twitter.com/MLBastian/status/1231677365719195648?s=20