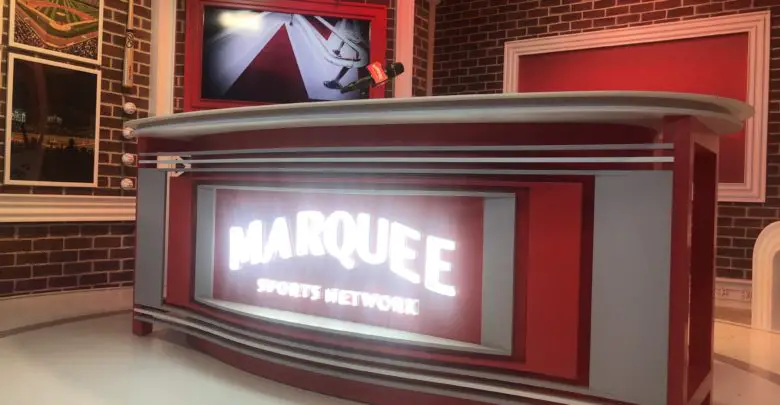 Marquee Could Forfeit Estimated $100M Sans Comcast, Sinclair's Stock Continues to Plummet
If you're a Cubs fan who thinks Comcast will feel pressure to add Marquee Sports Network to its lineup as the season approaches, a recent report from Bloomberg's Gerry Smith should have you thinking otherwise. Unless you're a Sinclair shareholder, in which case you've known for months that things weren't looking good for the regional sports network market.
Ever since SBGI stock closed at an all-time high of $61.18 on the strength of finalizing the purchase of YES and 21 other FOX RSNs, shares have plummeted to $23.44 as of Thursday.
That's a drop of nearly 15% from two days ago, with potential to fall even further in the wake of YouTube TV's announcement that it has ended negotiations with Sinclair. The popular streaming service will drop those aforementioned RSN's as of February 29. Crane Kenney, the Cubs' president of business operations, had already indicated earlier in the day that a carriage agreement between Marquee — also a Sinclair property — and YouTube was a long shot, but it now appears to be completely dead in the water.
Losing out on a potential carriage partner can't be a good feeling for a startup network that needs broad carriage in order to turn a profit. And when the Cubs share ownership of that network, they're as much on the hook as Sinclair. Marquee agreed to pay an average of $132 million per year for the rights to broadcast Cubs, which is reportedly more than double what the team took in under the terms of the previous patchwork arrangement.
But wait, doesn't that just mean the Cubs are paying themselves? Somebody smarter than me will need to answer that one, but the moral of the story is that Marquee will need to generate a helluva lot of revenue in order to turn a profit.
According to Smith, failing to get a deal with Comcast across the plate could result in the forfeiture of around $100 million in carriage fees each year. That's based on an estimated 1.56 million subscribers at a cost of $5 per month, though that number represents just the Chicago area. Add in the rest of Comcast's customers throughout Indiana, Iowa, and the rest of the Cubs' broadcast market and you're talking millions more in lost revenue.
Kenney expressed hope that a deal could get done prior to Opening Day, a sentiment echoed by Comcast spokesman Jack Segal in a statement to Cubs Insider earlier this week. But as Bloomberg Intelligence analyst Geetha Ranganathan explained to Smith, the cable giant negotiating lower carriage terms could force Marquee to "dramatically trim its revenue outlook." As dire as that sounds and as easy as it is to envision, folks at the network are still bullish on the future.
"I know this: I wouldn't want to be in the carriage business in Chicago if I didn't have Cubs games to offer," Marquee general manager Mike McCarthy said recently. "So I remain confident this will get settled sooner than later."
It had better get done sooner because there's a point at which fans are going to either turn away or turn their ire toward the team. Well, more toward the team. Not that Comcast deserves a pass in any way, but the Cubs and Marquee created a new channel whose unspectacular launch has left millions of fans across the Midwest in the dark. Regardless of which side you want to blame, the fact of the matter is that the situation is markedly less than ideal for Cubs fans.
This all would have been different if Marquee had been launched five years ago, but circumstances made that impossible. In the time since the WGN Superstation stopped carrying sports and the Cubs entered in to a series of broadcast arrangements that had them working with something like four or five different local stations, the pay-TV market has shifted dramatically. There are so many more options for content delivery now, whether that's television providers or services like Disney+ and Netflix.
All the while, regional sports networks have ratcheted up their carriage fees as they seek to make up for exorbitant broadcast rights packages. And it's not like we're talking about a static number of RSNs, as we've seen with the Cubs and Marquee. Believe it or not, NBC Sports Chicago still exists and still charges a carriage fee. Carriers can keep adding channels ad infinitum, but each new network increases the cost that must be passed on to subscribers.
Therein lies the problem, since Marquee and other RSNs need to ensure the most possible revenue by getting the broadest possible carriage. Being an a la carte option would mean having to charge a much higher fee to each subscriber who wants the channel, but spreading the cost to thousands upon thousands of people who couldn't care less about the channel means keeping the cost lower for those who do. Make sense?
Yeah, you're right, none of this does. Here's to hoping Marquee gets Comcast on board soon, and at a decent fee, since getting haggled out of a few bucks per subscriber could ruin the notion that "much larger" revenue would be "available immediately next year." Or to put it in more popular parlance, a lesser deal could tire on the wheelbarrow full of cash Marquee was supposed to be dumping into the Cubs' budget.