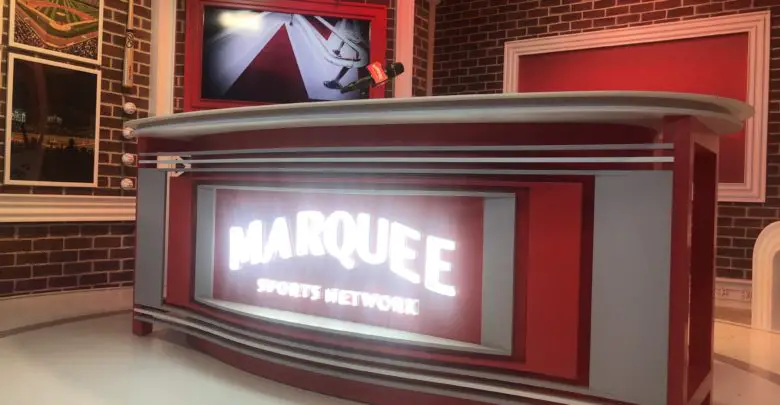 Marquee Sports Network Hopeful for Comcast Deal by Opening Day, YouTube TV Agreement 'Less Certain'
Plus notes on out-of-market growth, payroll impact
Marquee Sports Network has been the talk of spring among Cubs fans, and not always in a good way. Actually, most of the conversation has been tinged with either anxiety or outright vitriol due to the new station's limited footprint. Crane Kenney, the Cubs' president of business operations, joined 670 The Score's Mully & Haugh Show to discuss the hurdles Marquee has faced and to lay out what's next as negotiations continue.
Ed. note: As is the case with these lengthy posts, I've got tl;dr bullets at the end.
More specifically, the next big step involves adding Comcast's Xfinity service to a growing stable of partners that now numbers in the 40's. It was announced Wednesday that Marquee had reached a deal with WOW!, Chicagoland's fourth-largest cable provider, to carry the network as of March 13. But that still leaves roughly half the households in Chicago unserved.
"You are starting to get to the point where you're not sure what Comcast is waiting for," Kenney said. "But obviously, [we] keep working on it and look forward to getting them up before Opening Day of the regular season, for sure."
That mirrors what a Comcast executive shared with Cubs Insider earlier in the week, though neither side seems particularly willing to budge in spite of the shared optimism. Kenney noted that the ratings for Marquee's first live game broadcast were on par with the Bulls game despite such light carriage, which was as much a point of pride as a message to Comcast that the network is doing just fine, thank you very much.
But Xfinity isn't the only provider in the city by any means, with DISH Network as a primary option and various streaming services comprising a growing segment of the viewing public. Kenney didn't sound bullish on those relationships, though, echoing what we've shared here before about DISH's direction. And since DISH owns Sling, well…
"Sling is connected to DISH, Sling is DISH's streaming service," Kenney explained. "And I gotta tell you, that's a tough one because DISH seems to have decided that they're not going to be a full-service — I'll call them a cable company, we know they're a satellite business. But they dropped the Bulls and the Blackhawks and they're not carrying regional sports networks.
"So will they pick Marquee up, and so will Sling have Marquee? I think that's a tough one. So far it seems that they have pivoted away from sports and they're going to be one of the outliers who carries other programming but no sports in general."
The frustration with Marquee's availability isn't confined to those carriers that haven't yet reached carriage agreements. Subscribers to Hulu+Live were put off when they found out the streaming provider might not have the channel until the regular season. Tens of thousands of DirecTV subscribers who were in the market and had the correct package were getting error codes and received little help from uninformed customer service personnel.
If you're still experiencing issues with DirecTV, try refreshing your software via the app. And remember, you must reside in an area considered local to the Cubs. If you're several states away or in one of the little pockets here or there in Illinois and Indiana, you will not have access to Marquee yet.
As of post time, subscribers to Spectrum and any of the AT&T family of providers — there are many others as well — are still unable to stream via the Marquee app because they can't authenticate. That's not as big an issue as not having access at all, but it's pretty difficult to blow off work to watch the Cubs on your phone when you can't, you know, watch the Cubs on your phone.
"We reach deals, as we did just yesterday with WOW!, and at that point our signal becomes unencrypted and they are able to air it," Kenney said. "And it's then up to the provider to authenticate their subs (subscribers) and put the programming on their system. We know they're all working hard at it. Hulu Live did not get it up in time for Saturday and we know they're working on it now because they're hearing from their subs."
"We're talking to them daily to encourage them to move that along because we're hearing from our fans, but it is outside our control."
Many current and prospective cord-cutters have been vocal about waiting on YouTube TV, since that has become the preferred streaming service on the market to this point. Decisions have been put on hold due to the Hulu issues mentioned above, but it might be time to start making a move based on what Kenney shared about ongoing negotiations.
"YouTube is also a different one in terms of their strategic position and what's the demographic of their subscribers," Kenney said. "So I think it's hard to predict what they're gonna do. … I would put YouTube in the camp of more of an unknown than some of the others we have.
"Ultimately we'll have about 80 carriers, we've got over 40 now. The traditional linear cable companies like Comcast, it's much more straightforward, the conversation. They're sports consumers and really you're negotiating over price and some other carriage terms.
"So I would be a little less certain on [YouTube] than I am on Comcast and some of the others."
While that might just be a targeted strategic move to put pressure on YouTube, it feels as though there's very little traction on that front. CI has reached out to the video-content behemoth, but there has been no response yet.
As if all the questions from those within the Cubs' market weren't enough, there's been significant grousing, rightfully so, from fans around the country who can't get Marquee no matter what providers carry it. That may just be temporary, as the people responsible for Marquee wanted to get it up and running for games before pushing out beyond the territory like YES or MASN.
Just remember that fans who live beyond the bounds of the market will still need to have MLB.tv or MLB Extra Innings or order to watch games. Until MLB changes its blackout guidelines, the Cubs can't serve live games beyond their MLB-defined region.
"Certainly if we had our way, we would be able to take our games throughout the country, but the league confines us to our home television territory," Kenney explained. "That's the only place we can bring our games. That's not the case with our, what we'll call 'shoulder programming,' the non-game programming. We will be allowed to take that outside the market if there's an appetite for it.
"So I think that's our intention. Our goal, though, was to first get the full linear channel off the ground here in our market, serve our fans with the games themselves in a first-class way. We are turning our attention to…places outside our home television territory."
Make sense? Excellent. Oh, one more thing: How soon will the additional revenue from Marquee start hitting the baseball operations budget?
"I think a year from now we should feel really good about where this thing has landed," Kenney said.
The biz boss was careful to qualify any statements about revenue with caveats about Marquee being a startup and needing to recoup the initial capital investment the Cubs made, so it's not like the payroll will balloon to $300 million next season. Then there's the matter of locking in broad carriage, which is the only way to ensure maximum cash flow. All that said, it's probably going to be a couple of years before this thing is really cranking.
Of course, getting under the competitive balance tax threshold and resetting any repeater penalties associated with it should mean opening up the spending next winter in a big way. Except maybe don't hold your breath on that.
This clarifies a lot of what's going on around Marquee, but I know it's still a complicated matter for a lot of you. As such, please feel free to ask questions here or over at Twitter if that's more of your jam.
---
Tl;dr bullets:
Negotiations with Comcast are the priority right now

Opening Day not out of question
Not sure what the problem is, terms are reasonable to other providers

DISH is probably not getting Marquee unless something changes

As part of DISH, Sling probably won't have Marquee

YouTube TV is a target, but the progress hasn't been good
Authentication through AT&T, Spectrum and more is a carrier thing
The hope is to offer Marquee out of market in the near future

Still just an in market play right now
Do not believe a carrier rep who tells you there's a nationwide outage (that's Evan talking)
If you are not in the Cubs' territory, you can't get Marquee, period

Revenue bump won't be felt until next year
---
Update: YouTube TV published a thread of tweets Thursday afternoon explaining their loss of Sinclair-owned television properties, including several FOX regional sports networks. Among those is YES, the Yankees' version of Marquee, so it doesn't look good for any negotiations in the immediate future.
We purchase rights from Sinclair to distribute content to you. Despite our best efforts, we've been unable to reach an agreement with Sinclair. As a result, we will no longer offer FOX Regional Sports Networks, including YES Network, beginning February 29th.

— YouTube TV (@YouTubeTV) February 27, 2020
Thank you for your membership as we strive to build the best possible streaming experience for you. You will receive an email today if you're impacted by this change.

— YouTube TV (@YouTubeTV) February 27, 2020