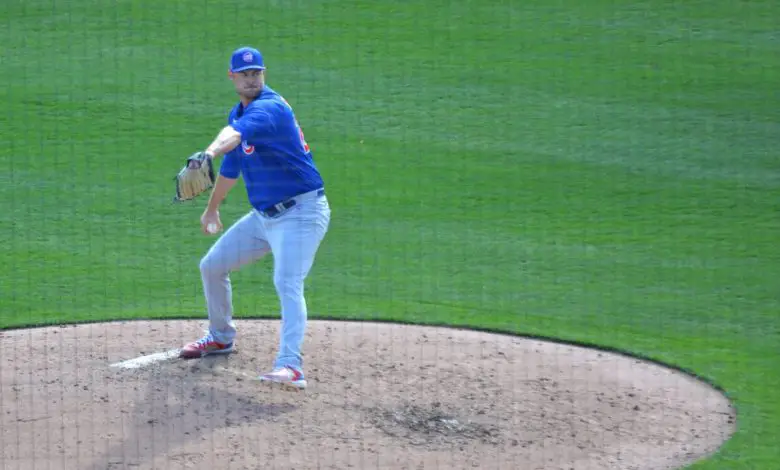 Trevor Megill's Lab-Created Curve Exemplifies Cubs' Evolving Development Philosophy
Towering righty Trevor Megill joined the Cubs in December by way of the Padres as a Rule 5 pick, which means he got the rare distinction from among his low-cost offseason relief pickups of being assigned directly to the 26-man roster. It also means he's got to stay on that roster throughout the season at the risk of being offered back to his former team. All of which is to say that the Cubs have a strong desire for Megill to stick in Chicago.
That's not a sure bet for a guy who's never pitched in the majors and has a combined total of 83.2 innings pitched at or above Double-A. At the same time, his fastball can touch upper 90's and he's posted big strikeout numbers while limiting walks to a great degree over four minor-league campaigns. It's a little curious that the Padres would have exposed him to the Rule 5 Draft at all, but the Cubs clearly saw something they could work with.
A lot of that was his 6-foot-8 frame, even more was the high-end velocity that was in such short supply in last year's bullpen mix. The Cubs have prioritized hard throwers who can miss bats, and Megill fills the bill in that regard. But as Sahadev Sharma covered in great depth for The Athletic ($), the Cubs felt the big righty could be even better after a little time in their infamous Pitch Lab.
At the risk of denigrating the real work that goes on behind the scenes, my incredibly rudimentary distillation of it is that they teach hard-throwing pitchers how to throw a spike-curve (also known as a knuckle-curve). It worked for Rowan Wick and Brad Wieck alike last season, helping them to better control their breaking pitches en route to breakout performances.
Ed. note: Kyle Ryan didn't benefit from a new curveball grip, but the lab helped with his release point and perhaps a slight shift on the pitching rubber.
Interestingly enough, Wieck is also an exceptionally tall pitcher who the Padres more or less gave up on as a result of command issues. A lefty who pitches to reverse splits, he was ticketed for a spot in the bullpen before undergoing a procedure to correct an irregular heartbeat. Even with the expectation that he'll make a full recovery, the late start on spring training may keep him from the 26-man roster for a while.
Though he's not a serious candidate to break camp with the big club, 40-man addition Tyson Miller has adopted a spike grip on his curve as well. Yu Darvish's new curveball wasn't a product of the Pitch Lab, but his move to the spike grip — which he just decided to start throwing in competition after learning it from Craig Kimbrel and trying it out in a pregame bullpen — took him to a new level of control and made him the Cubs' (almost) unquestioned ace down the stretch.
Despite their individual differences, the aforementioned pitchers share the common trait of having big fastballs, which could very well be a factor in determining who should try to convert their grip. Well, that and getting meh results with a more traditional curve. Rather than the standard hook that requires a pitcher come a little more over the top and snap their wrist to create heavy topspin, the knuckle-curve is thrown more like a four-seamer and relies mainly upon the grip to create spin.
In addition to fostering more repeatable mechanics, moving to a spike grip allows pitchers to throw the curve a little harder than normal. As pitching coach Tommy Hottovy explained to MLB.com's Jordan Bastian last season, eliminating the index finger from touching the seams improves the consistency of the pressure point on the ball. When thrown properly, it generates more spin, movement and velocity.
Megill's explanation of his reluctant acceptance of the Cubs' suggestion to move to the new grip had Hottovy's fingerprints all over it. Except for the index finger, of course, through depends on exactly how Megill is throwing. If he's truly "spiking" the ball, the tip of his pointer will still be in contact with the leather of the ball. A true knuckle-curve sees a pitcher tucking his fingertip under and putting his top knuckle on the ball, but the effect is the same.
More than the altered physical mechanics, what really stood out to me was Sharma's description of how the Cubs presented the idea of the new grip to Megill. There's obviously a great deal of data that members of the team's infrastructure are privy to, most of which isn't going to be helpful to someone who doesn't have the proper context required to internalize and implement it. What's more, a data deluge could even be as deleterious as it is alliterative.
That's always one of the main gripes of old-school devotees who see the accelerated application of advanced analytics as forcing players to drink from a fire hose. But that's not how this stuff works, not unless an organization has its collective head up its assonance. The teams that can best convert data to performance are those that can make their findings relatable to the athletes in their charge. As much as anything, that is what Craig Breslow has been tasked with as the Cubs' director of pitching.
Megill said the Cubs were able to explain these often complex ideas to him "perfectly" and "in the language I can understand and really digest." Not every player has to understand all these concepts, they just need to be willing to take to the coaching and be willing to adjust when needed. But for Megill, the data from his one session in the Pitch Lab allowed him to understand why the spike curve could help him.
Though this isn't necessarily a novel concept, it serves as another sterling example of how the Cubs are changing the way they view and practice player development. Being more aggressive, particularly with pitchers, isn't just a matter of pushing them harder or removing limitations on their growth. It's about creating bespoke plans to meet each player's specific needs and then ensuring that each player be spoken to as a means of ensuring buy-in.
That was the case with Scott Effross, a righty who plateaued at Double-A Tennessee and was asked to adopt a sidearm motion. He was placed on the IL for two months while he relearned how to throw, but he's been shoving ever since. The Cubs actually saw the first signs of an eventual need for Effross to change well before, but knew they needed the timing to be right before approaching him about it.
"Obviously it was a little — not disconcerting — but it was a little hard to hear [and] kinda scary to think about learning something new from what I'd been doing for my entire life," Effross told Cubs Insider. "But after they explained it to me and told me why they personally wanted me to do this and thought that I'd be able to do it, I was all aboard."
Then there's Jerrick Suiter, a former outfielder who was plucked from the Pirates organization in the minor-league portion of the Rule 5 Draft. After seeing him throw just a few pitches in mop-up duty, the Cubs felt his big arm and big-league hammer made him the perfect candidate to transition to the mound. That's not as simple as just giving him a smaller glove and changing his practice habits, it's a matter of supporting him properly as his path diverges.
"I think with anyone, you want to make sure you keep them healthy because it's a transition and there's a slow build-up," Basham explained to CI. "Start them in the place where they can succeed right away or there's a little bit less pressure under the lights and then, because they're probably a little more advanced because they've been position players, once they get their feet under them you can let them run."
Back to Megill, who's still working to develop that new curve into a truly viable pitch. If he can maintain or even slightly dial up the fastball that's touching 96-97 mph already, he's got the foundation of a legitimate bullpen arm. He told Sharma that his slider is harder and sharper than before, so really getting a handle on that second breaking pitch would help him be more balanced against hitters from both sides.
And if that happens, maybe we can change the antiquated curveball nickname from Uncle Charlie to Slippin' Jimmy. Apologies to those who won't get the Better Call Saul reference, but I couldn't resist.