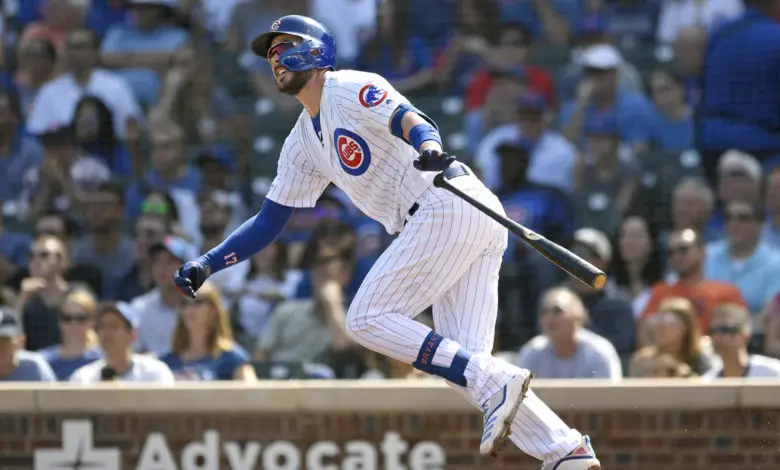 David Ross Very Clear About Kris Bryant Being Everyday 3B, Will Still Get OF Reps
One of the more interesting Kris Bryant rumors this winter was that the Cubs were considering him as the everyday center fielder, a novel concept that isn't too far removed from having him bat leadoff. At the time, the report from 670 The Score's Bruce Levine was conflated with a potential pursuit of Nolan Arenado that would see the Cubs shifting Bryant to the outfield to accommodate the defensive wizard.
Alas, nothing of the sort ever really got off the ground and both players remain with their teams and in familiar positions. Bryant is likely to get some outfield work throughout the season, though, especially if the Cubs proceed with a roster filled with utility players.
"I'm gonna play that by ear," David Ross said when asked about Bryant playing the outfield. "Right now I'm just trying to get his reps at third base, he's our primary third baseman. He will move around, I'll get him some reps in the outfield. He wants some of that, we've discussed that a lot.
"For those most part, you'll see him shuffle around maybe for some defensive reasons at times, but you can plan on him being the everyday third baseman."
Ross quelling idea of regular OF time for Bryant pic.twitter.com/YOtzX8i0uj

— Gordon Wittenmyer (@GDubMLB) February 29, 2020
Before you go filing this in the "No Sh#%" file, consider how the last few seasons have seen players moved around under the guise of keeping them fresh. Maybe that's the case to an extent, but there's something to be said for continuity. In Bryant's case, adjusting to a new role atop the order might mean maintaining a wee bit more positional structure.
Or maybe not, since his career 138 wRC+ and .898 OPS in 532 plate appearances as an outfielder are nearly identical to the 139 and .901 over 2,493 PAs at third base. Gee, it's almost as though he's pretty consistent and will be able to adjust no matter the situation.
"Actually, it feels really good," Bryant said Friday of the leadoff move. "I mean, I kinda like that first at-bat of the game. You know, the crowd's loud, everybody's into it even in spring training. It's been pretty good, so I'm glad that [David Ross] told me before the games started so I can kinda get used to it."
And when you figure that Bryant's biggest priority, fatherhood, will take precedence over anything that happens on the field, he probably couldn't care less where Ross plays him.
"Honestly, I think this is what I've been put on this earth to do, is to be a dad," Bryant gushed. "Obviously I play baseball pretty good, but I'm just so excited [for] this new journey with my wife and my family and everybody's so excited."