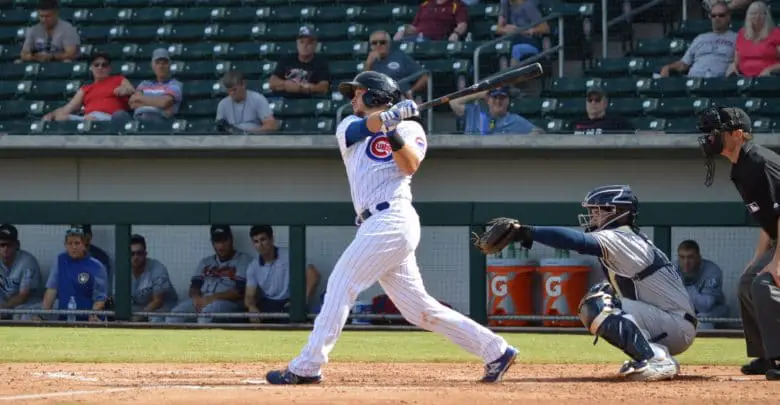 Prospect Update: PJ Higgins Playing His Way Up the Ladder This Spring
One of the early highlights of Cubs spring training has been the play of catcher PJ Higgins. We have written plenty about Higgins the past four summers, so his emergence does not come as a total surprise. The Cubs selected the versatile defender in the 12th round of the 2015 draft and he's pretty much been a one-level-a-year guy ever since.
Higgins played a mix of second and third base in college at Old Dominion, then did the same his first year as a Cub at Mesa and Eugene before entering the catcher conversion program that fall in instructs. He quickly displayed a good pop time and began to develop the ability to call a good game at South Bend and Myrtle Beach.
He's been outstanding at each stop along the way, showcasing the ability to hit for average and to get on base. Though he did struggle in 2017 at Myrtle Beach, he hit .289 with a .381 OBP to start the 2018 season and was promoted to Tennessee later in the year.
Here is #Cubs PJ Higgins hitting the cycle from four different angles (HR, 2B, 3B, 1B). pic.twitter.com/6ZuGW1H5Oi

— John T Eshleman (@2080_John) September 2, 2018
He did well enough at the plate last year at Double-A (.276/.338) to get a short look at Triple-A Iowa late in the season. His versatility and solid bat made him a candidate for the 40-man last fall and I was surprised that he was not picked by another team when the Cubs opted not to protect him.
Out in Mesa with the big club this spring, Higgins is showing off his skills from both at and behind the plate. He's throwing out attempted base-stealers, hitting for average (.357 in 14 ABs) and even showing a little power.
P.J. Higgins continues a catcher-driven spring. pic.twitter.com/ChY0fb14T8

— Marquee Sports Network (@WatchMarquee) February 26, 2020
Higgins can play catcher and three infield positions, and he can play them well. He provides quality defense and can spray the ball around the field with occasional power. All things considered, he's almost the perfect candidate for the newly created 26th roster spot. There's just one problem: As mentioned above, he's not even on the 40-man.
His odds of making the Opening Day roster are not great, he could be that third catcher David Ross is considering. Based on the way Higgins' spring is going, that decision is going to come sooner rather than later. He may not break camp with the big club in three weeks, but he's definitely put himself on the radar as a potential full-in later in the year.