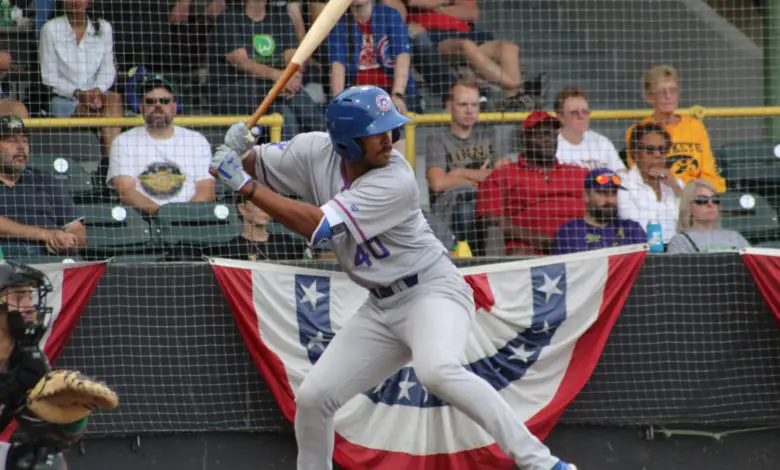 Keith Law's Top 20 Cubs Prospect List a Bit Strange Because It's Somewhat Standard
Wednesday will be a big one for all you farm system devotees, as Keith Law and MLB Pipeline both drop their top Cubs prospect lists. It has been a busy week for Mr. Law, who earlier ranked the Cubs 28th ($) among all farm systems in baseball. That's not too surprising since Law only included two Cubs among his top 100 prospects. Most other talent publications have the Cubs 6-9 spots higher, which is a little nicer.
But if you've been following Law's work for a while, you know he's always a bit different from everyone else. That's kind of his thing. Sometimes it works, sometimes it doesn't.
His organizational lists for ESPN Insider used to be a mixture of high-ceiling guys and at least one sleeper prospect thrown in to keep an eye on for the coming year. Last year's list included a couple head-scratchers, including Matt Swarmer, who was actually coming off a dominant year at Myrtle Beach and Tennessee. 
Right now, though, it's all about Law's latest top 20 Cubs prospect list ($), which was released Wednesday morning at The Athletic. The first thing you notice is that his rankings have expanded from 10 to 20, though we already knew that from his previous teases.
Coming in at No. 1 is Brennen Davis, followed by Brailyn Marquez, both of which were obvious based on the results of the top 100. Miguel Amaya and Nico Hoerner fell in line just as you'd expect, although Law did make some comments about Amaya's defense being "adequate."
The rest of the top 10 — these are in no particular order — consists of Adbert Alzolay, Riley Thompson, Cory Abbott, Kohl Franklin, Ryan Jensen, and Cole Roederer. There were several new faces between 11-20 and I was excited to see Chris Morel in that group along with my breakout pick for this year, pitcher Chris Clarke.
Several 2019 draft picks like Michael McAvene and Chase Strumpf also are present. Continuing the trend established in other lists, catcher Ethan Hearn and pitcher Yovanny Cruz made the cut.
There's usually one big bomb of a surprise in Law's top 10, but that wasn't the case this time. The only truly unexpected inclusion was that of pitcher Hunter Bigge, a two-way player at Harvard who is all-in on pitching now. He can straight-up pump the gas and has room to grow now that he's narrowed his focus.
Hunter Bigge with a gas delivery. pic.twitter.com/JUzeoooxaj

— Itsacon (@thats_so_cub) August 12, 2019
Calling Kohl Franklin a sleeper was a bit strange, since he might be the most talked-about pitching prospect after Marquez here at Cubs Insider. Then again, our target is just one organization and not the entire league.
There were a few expected names missing, like Tyson Miller, Richard Gallardo, and Ronnier Quintero. Some might even quibble about Zack Short not making the list despite being on the 40-man. Beyond those and a few other little notes, there is nothing in Law's list that causes me to take a different look at the system.
Even the most thorough lists that best agree with our own evaluations don't tell the whole story, so now it's time to see how the individuals — whether named or not — perform in 2020. The Cubs have three top-90 picks in the draft and are slated to land top shortstop Cristian Hernandez in international free agency, so the system will improve almost by default this summer.
By the Numbers Breakdown

8 Hitters, 12 Pitchers

Iowa – Hoerner, Abbott, Alzolay, De La Cruz

Tennessee – Marquez, Amaya, Keegan Thompson, Steele

Myrtle Beach – Davis, Roederer, Morel, Jensen, McAvene, R. Thompson, Bigge

South Bend – Franklin, Strumpf, Cruz, Clarke

Short-season – Hearn