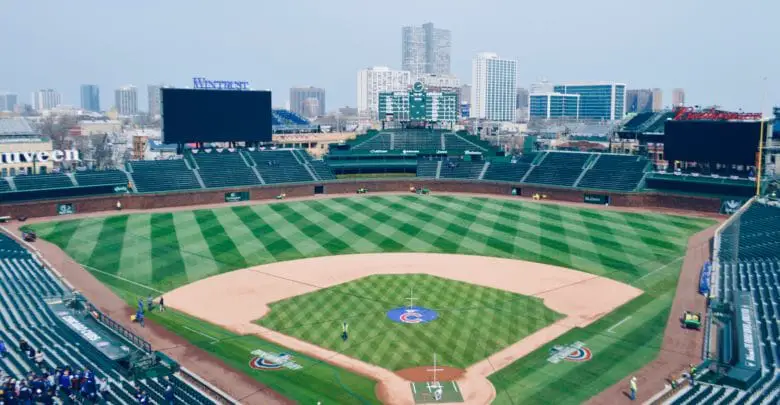 Implausible as It Sounds, Some MLB Execs Believe 162-Game Schedule Still Possible
Major League Baseball is on an indefinite hiatus as much of the country shuts down in order to "flatten the curve" of COVID-19's spread in the US. Exactly when everything will come back online can't be accurately predicted just yet, but MLB players and team staff were allowed to head home or back to their clubs' cities as spring training camps were officially shut down Friday.
While most of the Cubs' coaching staff took advantage of the shore leave, many of the players were expected to remain in the Mesa area through March to work out and fulfill the remainder of their spring rental agreements. At that point, they could all reconvene in Chicago or could just find new arrangements near Sloan Park to continue informal workouts in preparation for the resumption of spring training.
Given the abrupt stoppage with two weeks of camp still remaining, it's assumed that baseball will need another ramp-up period in order to be ready for the regular season. At the very earliest, that would mean starting camps back up on what should have been Opening Day on March 26. That seems overly ambitious, though, so we're probably looking at something like a full month off before restarting in mid-April.
That timeline squares quite nicely with the decision by Illinois governor J.B. Pritzker to ban all large-venue sporting events until at least May 1. Every team owner in the state has agreed to comply, and it's likely that target date will spread across the sport. As Jeff Passan reported Friday on ESPN, "the expectation at this point among almost everybody [in MLB] is that we're not going to see baseball until May."
That make sense, right? I mean, it'd be weird to get the schedule started again and force the Cubs and White Sox to play two whole weeks on the road to start an abbreviated season. Then you look at the Mariners, who play in the most heavily-impacted region of the country to this point, and you have to assume they're looking at May as a really optimistic goal. And that's before we even see how this all develops.
But in spite of what appears to be a common understanding about starting the season roughly five weeks late, some team executives still believe there's a way to play all 162 games. With all due respect to the individuals holding those beliefs, they're born of either ignorance or a set of talking points oblivious to the fact that people hearing them would see them as BS from the start. Maybe I should afford more benefit of the doubt and say that wishful thinking is the main culprit here.
Scott Reifert, White Sox senior VP of communications, told NBC Sports Chicago's Adam Hoge that the "long-range plan" is still to play a full season of games. Red Sox president Sam Kennedy shared those same thoughts with ESPN's Joon Lee, saying the "current thinking is regular season games on the front end of schedule will be added on to the back end." Kennedy did add that the situation is still fluid, so there's that.
#WhiteSox SVP of Communications Scott Reifert just said the long range plan is to still play 162 games this season.

— Adam Hoge (@AdamHoge) March 13, 2020
https://twitter.com/joonlee/status/1238567815843545088?s=20
This is all well and good in the event that the season is only pushed back by a couple of weeks, but that seems like pie in the sky right now. If these execs share the expectation of May 1, it's ludicrous for them to also believe they can pack 30+ games into the remaining time. To do so during the standard bounds of the season would mean eliminating off-days and playing scads of double-headers. Tacking the missed games onto the end of the current schedule would mean stretching the regular season into November and potentially pushing the playoffs into December.
As cool as the novelty of those plans might sound on the surface — for the record, I think they both sound like ass — it would be a logistical nightmare to make everything work. Beyond that, cutting rest days and stretching outdoor games in cold-weather cities that late into the calendar could be disastrous. I mean, the Yankees and Twins are among the favorites in the AL this season. Ain't no way they want to be bundled up like Randy Parker while trying to play legitimate baseball.
The sooner baseball realizes that playing a 130-game (or less) schedule is best for everyone involved, the better. And who knows, maybe they already understand that and are projecting an air of confidence that all is well. Good thing you and I aren't falling for it, huh? They've actually got an opportunity here to spin this as something really great for the sport, but we've seen enough from MLB's leadership to know they can't market it worth a damn.
Think about it: Baseball has a chance to capitalize on the sports world's pent-up hunger by being the only game in town throughout most of the summer. That's true every season, but even more this year as there will be no March Madness or College World Series to satiate people in the early going. With no big appetizers available, people will be ravenous by late June.
Even if the NBA and NHL stretch a little longer depending on how things play out there, you're looking at their conclusions by the end of July. Sticking with an abbreviated schedule would allow MLB to keep things fresh by avoiding fatigue in fans and players alike. It also keeps baseball from overlapping too heavily with the meat of the NFL season, which is something that can't be overlooked.
At the risk of evoking some of Rob Manfred's pet projects, this is absolutely a case in which pace of play factors heavily. The MLB season can get tedious for even its most ardent fans, so now is not the time to be worried so much about the bottom line that rash decisions are made in the interest of gate receipts. Run with a lean schedule and play up the excitement of a season that should be more exciting as division battles are more closely contested.
I have little faith in baseball's powers that be to do the right thing in their interest of the game, but maybe a few of them are bored enough to read this and come to their senses.