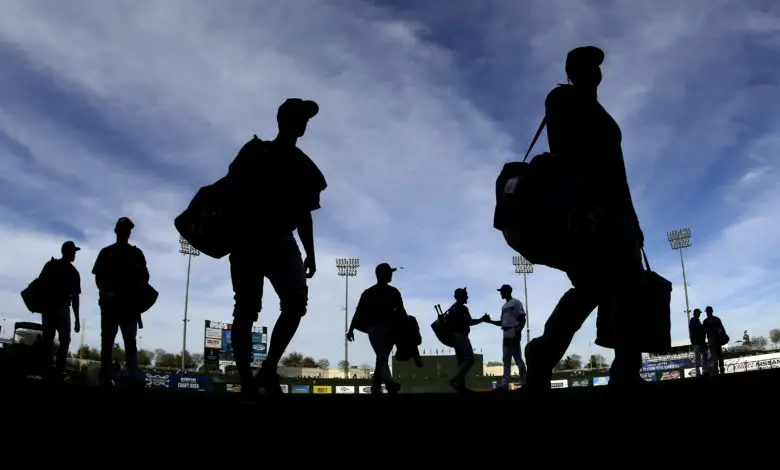 The Rundown: No Minimizing Global Pandemic Effect on Baseball, Cubs Will Take Care of Ballpark Employees, Sunday Baseball Notes
I am really struggling to understand those who think that baseball should not have shut down due to the ongoing pandemic. While food banks and blood drives have closed globally for fear of spreading the novel coronavirus, a large percentage of baseball fans remain genuinely pissed that the start of the 2020 season has been delayed.
Relax, maybe you need to find another outlet. At most, the self-quarantine imposed by Rob Manfred and baseball's owners is exactly the type of social distancing this country needs to stop the spread of COVID-19. At the very least, it shows an abundance of caution at a time when not enough is known about the virus to risk getting players, their families, and fans sick. Leadership in sports has never been more important.
NBC/WSJ poll says 60% of Americans think the worst is yet to come with COVID-19. Who are the other 40%?

— Brian Stelter (@brianstelter) March 15, 2020
It's not a sign of weakness or hysteria to be concerned for those who are less fortunate or capable. I'm not worried about dying from COVID-19, but I understand how I can help to mitigate its spread to those who are at greater risk.

— Evan Altman (@DEvanAltman) March 15, 2020
I take it very personally that people say the virus only affects older individuals or those with compromised immune systems, two categories which apply to me. I don't want to die because you can't make it through a day without a Cubs-Giants spring training game. I'm sure I speak for millions in that respect.
Are you willing to send your children to school or out to play? Are you one of those individuals who has contributed to massive, unnecessary panic buying? Do you spend your time mindlessly posting under-researched facts to social media to justify your stance that this is not as bad as the media makes it seem? Yes I've heard it all before. Tell me again how many people die from influenza versus COVID-19.
The bottom line is that people have more protection against seasonal flu than they do this new virus. To break it down into terms that might help you better understand, the current pandemic is what the world might look like if the flu vaccine did not exist. The mortality rate for respiratory failure is 40-45%, a number which has not changed significantly over the past century. Those are strong enough odds that global governments have decided not to take chances. Sports had no choice but to follow suit.
The current higher death rate of coronavirus (2-3%) vs. flu (0.1%) is one reason billionaire global-health philanthropist Bill Gates recently warned in an article in the New England Journal of Medicine that "Covid-19 has started behaving a lot like the once-in-a-century pathogen we've been worried about." We certainly hope it's not that bad, and that the percentages come down as more people are tested, but why take chances?
It's a normal reaction to feel stunned and bummed that baseball has suspended the start of the season. That said, it should not be your primary concern. I'm guilty at times as well and would love to go back to writing "normal" baseball columns, but I can't do that just yet. Most fans don't care about win projections, Rob Manfred's apparent disdain for baseball, or cheating scandals right now. Let's turn our focus to getting globally healthy again so that we can have those types of conversations in the near future.
Cubs News & Notes
Odds & Sods
It's not too difficult to find baseball to tide you over for the near future.
Did you know there are a ton of *full* MLB games you can watch for free on YouTube? @AndrewSimonMLB, @JayCat11, @MannyOnMLB & I picked out 1 classic game for each of the 30 teams.

Here are links to those, plus links to MANY more games for you to watch!https://t.co/X0FtIcIqmM

— Sarah Langs (@SlangsOnSports) March 15, 2020
Updates On Nine
On Deck
Do you now what social distancing means and what measures you should take to help contain the spread of COVID-19?
Extra Innings
Every time you do a good deed, you shine the light of hope a little further into the dark.
With events canceled & so much closed, I asked @PBS to stream BASEBALL for free so we can participate in the national pastime together. Watch at the link below or on any streaming device. And please look out for those with greater needs. Play ball. @MLB https://t.co/WaQLSpeYkF pic.twitter.com/QYp1XE0SLC

— Ken Burns (@KenBurns) March 15, 2020
Apropos of Nothing
Can anybody spare a square? Asking for a friend.
They Said It
"It's best to treat this as if it's January. It's obviously optional. We're encouraging players to go home if that's  of interest to them. If players are here, we obviously want to treat them well. But we expect the number will dwindle as the calendar turns."– Theo Epstein
"While our hope is to play baseball at Wrigley Field soon, we will continue to work in close coordination with Major League Baseball, as well as with Illinois Gov. J.B. Pritzker and Chicago Mayor Lori Lightfoot and their administrations to ensure that we make the best decisions to protect public health and safety." – Tom Ricketts
"At the end of the day, we are family. And sometimes family contaminates family — whether it's the flu or a stomach bug or something as serious as this." – David Ross
Sunday Walk Up Song
Wired For Sound by Cliff Richard
What went wrong? First of all, I am declaring this the worst pop song ever made, and that should end the discussion right there. But adding roller blades, pastel spandex body suits, and some of the most horrible video and sound enhancements ever pushes this effort beyond special.
How does it play today? This is the song that will make your kids lose all respect for you if they hear you singing along. That said, Cliff is no stranger to bad songs and videos, as this one also clearly indicates.