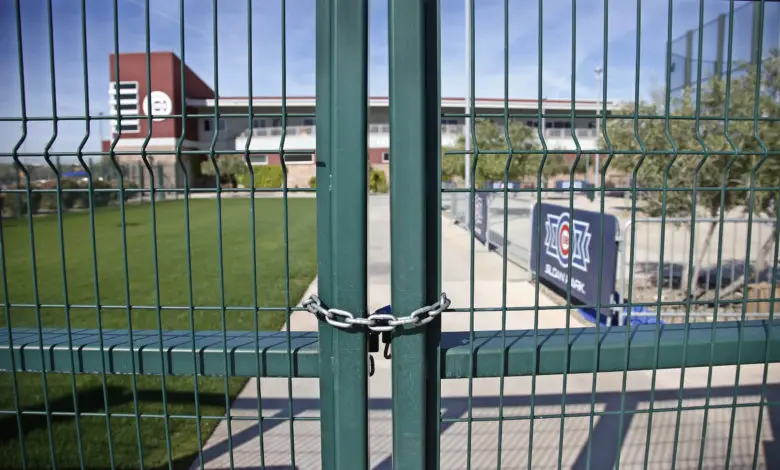 MLB Could Opt for NCAA Tourney-Style Playoffs, Move All-Star Game to Postseason
Since I know you've all long since given up on the idea that MLB will have any sort of "normal" season in 2020, if they have one at all, I'm not going to bore you with any explanations of it. But because you're almost assuredly a Cubs fan if you're reading this, I'll direct your attention to the notion that the Cubs' chances of making the playoffs are higher the more games are played.
That's operating under the assumption that ZiPS' computer projections are correct about David Ross having the best team in the NL Central on paper. Or digitally, as it were. Since chaos increases as the season's length decreases, there's a greater chance for another team to make a run. The same is true in every division, which is why the Cubs actually have a better chance of winning the World Series at the end of a shorter season.
However, that could all be thrown out the window if Major League Baseball opts to cap a severely truncated season with an NCAA-style championship tourney. While the specific structure is purely fantastical at this point — I'd love to see it set up like the Little League World Series, with pool play and a double-elimination tournament — it would certainly be a way to manufacture the kind of hype MLB has lacked in recent years.
After all, necessity is the mother of ingenuity and there may come a point at which the reality of a three-month regular season requires a unique postseason solution. Even if teams are able to return to action in June, it'll probably take four weeks of a rebooted spring training to be ready. Now you're talking July before games start back up.
"I think baseball would be open to a number of ideas, depending on how much timeframe they have," Buster Olney told ESPN's Get Up. "And let's face it, it would be all about trying to make the best of a bad situation. So if it means a 60-game season, if it means a 90-game season, a 100-game season, everybody would understand within the sport that the integrity of a 162-game season, that's out the window for this year.
"I think baseball's going to be flexible in how it deals with this."
Any kind of drastic change to the way the game is played will have to be agreed upon by both the league and the players union, though you have to imagine both sides are very motivated to get something going. Service time issues are reportedly proving to be a stumbling block in negotiations at this point, so that probably needs to be worked out before anything comes into focus.
Even if players aren't as amenable to the idea of a bigger tourney-style playoff structure, they're probably willing to do whatever it takes if Opening Day falls in July or later.
"While I think it'd be fun, I don't think players are going to be for that," former All-Star Mark Teixeira said of the tourney idea. "I mean, listen, if you start the season in June, you could have 100 games and you could have a normal season, right. If you start the season in July or August, you're gonna have to get very creative.
"And I think players right now are trying to be optimistic, saying 'Let's try to get back by June 1 maybe and have a 100-game season and then a regular postseason.' I think you start getting in a lot of trouble when you start talking about playing games in November and December."
I know, right, nothing good has ever come out of playing a baseball game on, say, November 2. Tex is obviously talking about playing much deeper into autumn, which might still be possible if MLB figured out a way to go with neutral-site games at indoor stadiums to mitigate the threat of inclement weather.
Other ways to avoid playing too late into the calendar include cutting off-days and scheduling more doubleheaders, both of which would require union approval and relaxed roster rules. There's also the near certainty that the All-Star Game will be cancelled or moved to later in the season. According to Tim Brown and Hannah Keyser of Yahoo Sports, the Midsummer Classic could be played between the league championship series and World Series just like the NFL does with the Pro Bowl.
As we've seen from the joke of an exhibition played each winter ahead of the Super Bowl, however, such a setup might turn the All-Star Game into a total farce. Not only would it eliminate players from the two teams vying for the title, but it might also result in other players bowing out to get an early start on the offseason. If it comes to that, just select teams for the purposes of incentive clauses and don't bother playing it at all.
There will be a lot more to come on these and other matters as the shutdown wears on, so we'll have plenty more to debate over the coming weeks.