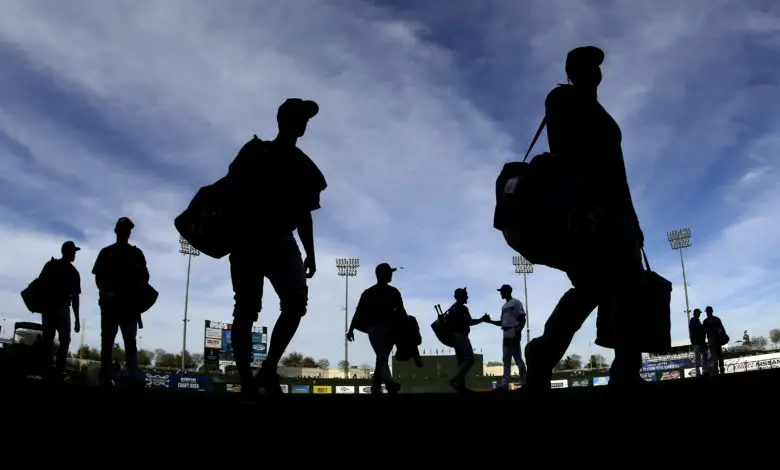 Roster Size, Spring Training Duration, Several Other Specifics Still TBD as Part of Baseball's 2020 Deal
Major League Baseball and the players union agreed Thursday to a deal on how the 2020 season will proceed, which primarily means the players got what they wanted on the service time front. While they did achieve a very small win by ensuring that a draft will take place, the potential to have it shortened to just five rounds really hurts the amateurs seeking to join the professional ranks this summer.
What's more, the max bonus for undrafted players has gone from $125,000 to $20,000 and signing bonuses for drafted players are frozen for the next two years. It's better than nothing, but this is a huge coup for a group of owners that has openly sought to contract up to 42 minor league teams as a cost-cutting measure. Slimming the draft down feels like a very strategic play by the league to set up the real endgame, while players were more concerned with service time.
And let's be honest, the union is naturally going to look out for its current members rather than those who might be joining its ranks over the next few years. Still, they need to be the stewards of their sport moving forward, since it's pretty obvious the commissioner's office is not going to be.
Ken Rosenthal has all the details of the agreement ($) over at The Athletic, including a breakdown of the $170 million owners will be advancing to players over the next two months. The key point there  is that the money won't be owed back in the event of the season's cancellation, something the players wanted to ensure rather than face the possibility of seeing salaries suspended entirely in the name of national emergency.
Players also agreed to accept prorated salaries without the right to sue for additional money as a function of what is sure to be a shortened season. That one makes sense all the way around, though both players and owners understandably want to play as many games as possible. One way to do that is to extend the regular season into October, which has been agreed upon, affording for more than a month of addition time over the original schedule.
Pushing that late into the calendar might mean having to play at least some postseason games at neutral sites, which is part of the new agreement. It might also mean a revamped playoff structure, another point on which the two sides have an understanding. The union gets final approval of the scheduling, which makes sense because of the potential for more doubleheaders and wonky travel issues.
As you may recall, the union negotiated the current CBA with a goal of providing as much comfort as possible for the players. That meant getting more off days, less coast-to-coast travel, etc., all in exchange for concessions on various financial matters they either overlooked or didn't quite grasp at the time.
Among other issues that haven't been fully determined are roster sizes and the duration of a rebooted spring training. It'l probably take four weeks to truly ramp back up into game shape, especially for pitchers, but that also means cutting valuable time out of the allotted dates for the regular season. Getting the season — and, more importantly, revenue streams — going again will require the proper balance of common sense and urgency.
One way to ease the transition is with expanded rosters, which would allow teams to account for pitchers who aren't fully stretched out and the potential for fewer scheduled days off. There's also the unfortunate reality of increased injuries from going too hard too fast. How much rosters will expand and for how long has not yet been determined and probably won't be until we know for certain when teams can resume organized activities.
The final note on this bigger agreement is the seemingly insignificant notion that transactions will be frozen once it's officially ratified. But that, along with the certainty of roster expansion, begs an interesting question about the competitive balance tax. On one hand, it seems reasonable that the $208 million threshold would simply be prorated according to the number of games. After all, that's what players are doing with their own salaries.
However, that is complicated by having more guaranteed contracts added to the mix, even for a short time, and by the matter of performance bonuses. Arbitration rules have been relaxed to ensure that players aren't hurt by putting up paltry counting stats in a short season, but what about those who earn bonuses for reaching certain milestones for plate appearances or innings pitched? Those incentives aren't typically monstrous, but they would factor heavily against a decreased CBT threshold.
Suspending tax penalties would be huge for a team like the Cubs, who have spent the past two winters not spending in free agency as they look to avoid losses on the back end as repeat offenders. It's not as though any team can really complain about it, since there was no way to have known in December that this was coming, but having what is essentially an "uncapped" year could have serious ramifications for the trade deadline.
Wait, what about the deadline? Is it still on July 31? That's another issue that will need to be worked out, especially since it could theoretically come just 40% or less into the season. If teams can indeed operate free from fear of penalties, we could see some very interesting deals involving players entering their final year or two of free agency.
There's also the idea that resetting their penalty status could put the Cubs in position to negotiate some of the extensions that have been shelved for the time being. With a new CBA coming after 2021 and the assumption that they should have money coming in from Marquee by then, there's really no excuse for the Cubs not to lock their stars up long-term. Ah, but let's not discount the excuse of an uncertain financial future brought on by the shortened season.
For as much clarity as we've gotten over the last day or two, baseball continues to swim in murky water when it comes to some of the business issues that truly drive the sport. While some of those may be figured out already and we just don't know it, it's likely we won't truly grasp the downstream ramifications of this season until well into 2021 and maybe beyond.
---
Update: There will apparently be no changes to the CBT threshold, per Alex Speier of the Boston Globe, so it'll all just proceed based on what would have been the case in a normal season. That could really hose the Cubs, especially if they're not able to make any moves to get under the threshold. But it also ignores the idea of performance bonuses, which aren't guaranteed. Are those simply ignored?
In MLB/MLBPA agreement, Luxury tax threshold, per industry source, remains unchanged for 2020 ($208M). Payroll for CBT purposes is being determined based on their Paragraph 2 salaries for 2020 in their contracts — not prorated (reduced) salaries.

— Alex Speier (@alexspeier) March 27, 2020
An issue that had already been at the forefront for many teams, leading the Red Sox to trade Mookie Betts and David Price to the Dodgers, may become ever more complicated. I'm very interested to find out more about this.