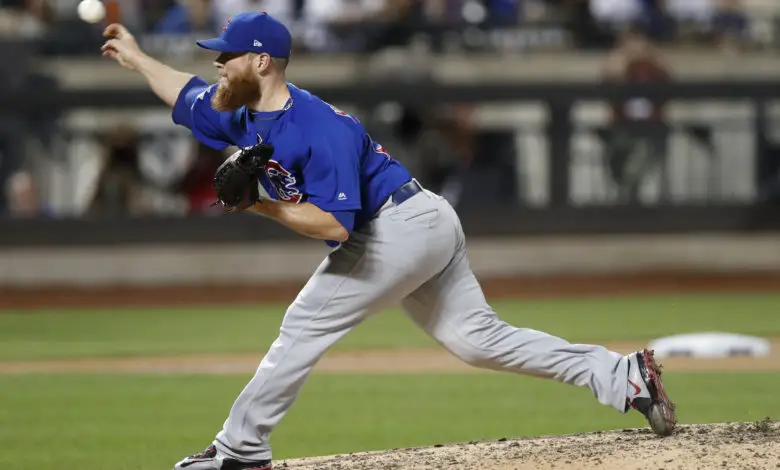 Chicago Cubs Score and Recap (Simulated Game 10): Cubs 9, Pirates 7 – Bryant Rakes, Kimbrel Shuts Door on Late Rally
The Chicago Cubs (5-5) got another win, but the Pittsburgh Pirates (4-6) just wouldn't go away. The Cubs took an early lead on Pittsburgh starter Steven Brault and, although the bullpen had its problems, Craig Kimbrel was able to close out a simulated victory by a score of 9-7, via MLB The Show 20.
Kris Bryant got going early, leading off the game with a single and scoring on a hit off the bat of catcher Willson Contreras. A sacrifice fly by outfielder Steven Souza Jr. pushed the score to 2-0 in the 1st. Ian Happ hit an RBI double in the 2nd to make it 3-0, then Bryant hit a sacrifice fly to push the score to 4-0.
Brault's day was ended in the 3rd by Happ, who drove home Contreras and Souza with a base hit. The Pirates left-hander went just 2 2/3 innings, allowing six runs – all earned – on six hits and three walks. Meanwhile, Tyler Chatwood cruised through the first three innings for the Cubs. He allowed a run in the 3rd inning to bring the score to 6-1, but it was unearned due to an error by Anthony Rizzo.
The Pirates started to really crawl back in the 4th when outfielder Gregory Polanco led off the inning with a solo homer. Catcher Jacob Stallings walked and eventually came around to score to make it 6-3. Chatwood was only able to complete four innings due to an elevated pitch count, allowing three runs (two earned) on four hits, four walks, and just two strikeouts.
Chicago pushed the lead to 8-3 in the 5th, thanks to RBI singles from Almora and Bryant. The star third baseman finished the game 2-for-2 with three walks and two RBI, reaching base five times and continuing his hot streak to begin the simulated season. It looked as though the Cubs were headed toward an easy win, but Pittsburgh was just getting into the bullpen.
Alec Mills took over after Chatwood and pitched well overall, but he did allow a solo homer to Polanco in the 6th. Rizzo got the run back in the top of the 7th with an RBI single to make it 9-4, which is where it would remain heading into the 8th. Enigmatic right-hander Dillon Maples came in to pitch and the rally was ready to begin.
Maples allowed a one-out double to Jarrod Dyson and then walked the next two batters to load the bases. David Ross pulled Maples to have left-hander Kyle Ryan face Adam Frazier, but it didn't go as the rookie manager would have liked. Frazier hit a huge double into left-center to plate all three runners and suddenly the Pirates were only down 9-7.
But that's as close as they would get. Ryan was able to complete the inning without allowing any more runs, then Kimbrel was able to lock it down in the 9th despite a little excitement. He struck out pinch-hitter Erik Gonzalez to end the game with the tying run standing at first base.
Key Players:
Bryant – 2-for-2, 3 BB, 2 RBI
Contreras – 2-for-4, BB, RBI
Almora – 3-for-3, 2B, 2 BB, RBI
Happ – 2-for-5, 2B, 3 RBI
Frazier – 1-for-2, 2 BB, 3 RBI
Newman – 2-for-3, 2 BB, HR, RBI, 3 R
Polanco – 1-for-4, BB, HR, RBI
Winning Pitcher – Mills (1-0)
Losing Pitcher – Brault (0-1)
Save – Kimbrel (3)
Home Runs – Newman (1), Polanco (1)