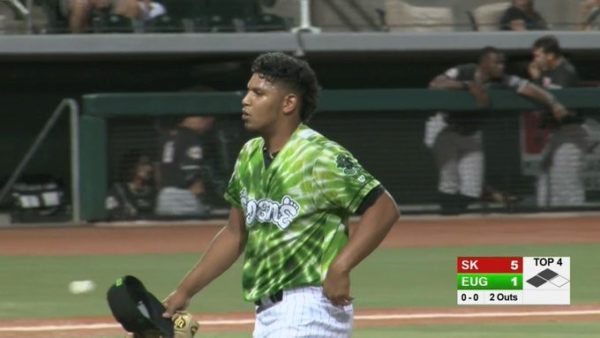 Cubs Have New Wave of Teenage Prospects to Unleash Once Season Resumes
The Cubs have acquired a lot of young players over the past two summers through the draft and international free agency. And by young players, I mean kids who are 16-18 years old. Several of these teenagers flashed in the Dominican and Arizona Rookie Leagues, but success at the lowest levels of pro ball isn't necessarily predictive of big things to come down the road.
It is, however, a good jumping-off point and an indication that some of them could make a little noise after presumably starting the season in extended spring training. Things really start to get interesting following potential assignments to Mesa, Eugene, or even South Bend.
When Richard Gallardo signed in the summer of 2018, he was a lanky kid who threw in the low 90's with plus command of his curve and changeup. By the time he made his way to Eugene late last August, he was touching 95 and looked like he had added 20 pounds. Gallardo will be 18 for all of the 2020 season and should start back at Eugene, but could make it to South Bend by August if things go well.
Richard Gallardo's curveball. pic.twitter.com/WwLVBygjlw

— Itsacon (@thats_so_cub) August 29, 2019
The Cubs originally signed Manuel Espinoza out of Mexico in 2017, but the young right-hander's contract was delayed by Major League Baseball due to a scandal involving Mexican clubs skimming bonuses and giving kickbacks. Once his contract was deemed legal, Espinoza debuted last summer in Arizona with a 2.49 ERA over 47 innings. The 19-year-old should be at Eugene to start the 2020 season and might be polished enough to make it to South Bend at some point this year.
Ed. note: Was Jim Bowden serving as an advisor to the Mexican League?
Ethan Hearn was taken in the sixth round of the 2019 draft and given an overslot bonus of almost $1 million, which is basically second round money. His debut at Mesa last summer was a bit uneven, as he showed decent power with a whole lot of swing and miss. How well he takes to instruction and learns to cut down on his strikeouts, will determine his starting spot. Being back at Mesa doesn't spell doom, but it wouldn't be a good sign.
The Cubs took three high school pitchers — DJ Herz, Tyler Schlaffer, and Porter Hodge — in the first 13 rounds of the draft, the first time they'd gone that big on prep pitchers since the Carson Sands, Justin Steele, Dylan Cease picks in 2014. Based upon their age, one would think all three are bound for Eugene after extended spring training. I would not be surprised to see one of them make it to South Bend after the All-Star break or the draft takes place (if the draft takes place at all).
"Hit your spots" pic.twitter.com/SYKygJ08AT

— Dj® (@DavidjohnHerz) August 2, 2019
Top international free agents Ronnier Quintero and Kevin Made were reportedly in Mesa before coronavirus shut the season down, and both should be in the Arizona Rookie League at 17 years old. How fast they go from there is anybody's guess, but any sort of promotion this season is highly unlikely. If they're advanced enough next year, they could skip Eugene start in South Bend.
Yohendrick Pinango shined last summer in the Dominican, hitting .358 with a .427 OBP and a wRC+ of 145 as a 17-year-old. The lefty-hitting outfielder from Venezuela should be in Mesa to begin the year and could even get a taste of short-season ball at Eugene toward the end of the year.
At 6-foot-4 and 235 pounds, outfielder Felix Stevens has the potential for immense power. He really came on strong the second half in the Dominican Summer League, hammering five dingers over the last month. As with so many others on this list, he's got a good chance of getting to Eugene with a strong performance in extended spring training.
Young outfielders Ezequiel Pagán and Carlos Pacheco were part of a Mesa team last summer that contended for a playoff spot right up until the last week of the season. Whether they remain there for another run or begin moving up the ladder is something to monitor
Big-armed righties Benjamin Rodriguez, Carlos Ocampo, and Carlos Paula should begin the year in the rotation for Eugene. Whether and how long they stay there is a different story, as the draft picks who arrive early in July typically take precedence.
This is all contingent upon when baseball is able to return to action, assuming it's able to come back at all. Somewhat lost in the larger concerns of the majors is all the developmental time being lost right now. With no opportunity to engage in group workouts and organized professional instruction, these young player are missing valuable experience.
How the Cubs figure this out moving forward will speak volumes of the new pitching and hitting infrastructures they developed this past winter.