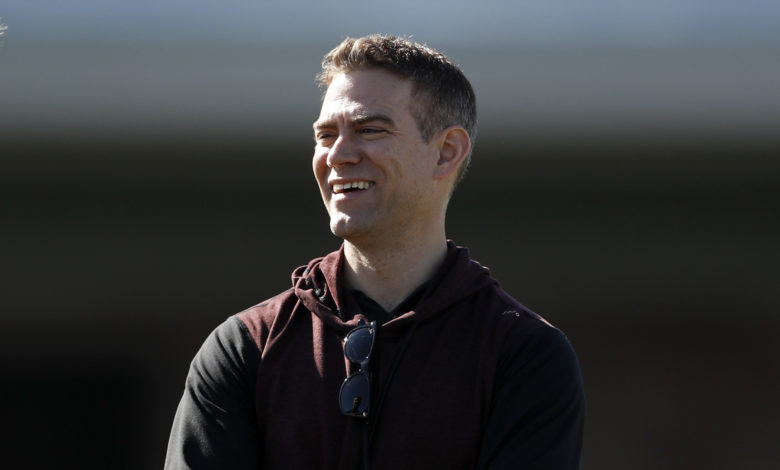 Cubs Could Face Yet Another Underwhelming Winter if 2020 Season Cancelled
Remember when all we could talk about was how the Cubs weren't pursuing even mid-level free agents in what appeared to be an attempt to duck below the salary and reset their competitive balance tax penalties? Those sure were the days. Now we're stuck watching Ian Happ play MLB The Show online and scouring social media for pictures of Kris Bryant's new baby boy. Actually, those are probably more fruitful pursuits in the end.
With baseball's immediate future already bleak and growing more so with each passing day, I figured it was high time to go ahead and piss in this winter's Cheerios as well. More specifically, I made the mistake of wondering what the Cubs' offseason might look like in the event that the 2020 season is canceled. The hope had been that they'd go a little bigger heading into 2021 after successive quiet winters, the most recent of which was presumably meant to position them to reset their penalty status.
Of course, that would have been predicated on them getting under the $208 million threshold in the first place, which they were not on pace to do prior to the shutdown. Even if they had done so, a lost season would make it a moot point. Same for the Red Sox, who moved Mookie Betts and David Price in a huge salary dump meant to help them avoid a third straight overage. That's because, as Alex Speier of the Boston Globe reported, a canceled season would result in simply kicking CBT penalty status down the road by one year.
Update on this: There is no automatic CBT reset if there's no 2020 season. If there is no 2020 season and Sox spend > $210M in 2021, they'd be taxed as a team surpassing the CBT threshold for a third straight season. https://t.co/fmyhhsXsab

— Alex Speier (@alexspeier) March 30, 2020
No teams would pay penalties, so the Cubs would not be dinged for trending to go over in 2020, nor would there be any grace afforded. That means the Red Sox, who were almost certainly hoping to splurge heading into 2021, will probably not be willing to go big in the face of potentially maxing out the taxes. The really hilarious twist there is that Betts would still be granted full service time in the event of a cancellation and would become a free agent having never played an actual game for the Dodgers.
For the Cubs, who somewhat inexplicably chose not to swing any significant trades prior to an aborted spring training, that could mean yet another very quiet offseason. That's because they'd still be facing a second overage, which could cost them much more than just potential tax penalties. Because repeat offenders also miss out on revenue sharing from other teams' CBT payments, plus rebates on their own rev-share responsibilities, Cubs ownership would stand to forfeit a significant chunk of change by exceeding the threshold in 2021.
There are, however, myriad other factors at play here. Next season will be the last under the current collective bargaining agreement, which means the penalty structure could be completely reworked in the new deal. Unless, that is, the players are again lambasted as badly as they were in negotiations for the current CBA. There's also the notion that losing billions in total revenue will have teams crying poor when it comes to spending in free agency. Throw in a wave of players that might be more amenable to lower offers after missing out on virtually all of their 2020 salary and you've got all the makings of a depressed market.
Under normal circumstances, the Cubs might have been expected to replace the nearly $50 million in expiring contracts between Jon Lester, Tyler Chatwood, and José Quintana while adding as much as $39 million above the $210 million CBT threshold. Cot's Contracts currently projects the Cubs at $117 million under the threshold for 2021, so the total potential offseason spend is roughly $156 million if we hypothetically assume ownership's willingness to kiss the upper edge of the top penalty level.
That figure is more than the total projected payrolls for 20 teams this season, but it comes with some major caveats that include a host of unknown factors. The first is obviously that it requires some form of the 2020 season to be played and for the Cubs to avoid CBT penalties by the conclusion of said season. One very interesting factor here is that the more abbreviated the season, the greater the Cubs' chances are at catching lightning in a bottle and winning the World Series. Perhaps they'd be more willing to push all-in and say "F— it" in regard to penalties this year with 100 or fewer games.
The next factor to consider is also the one about which we have the least hard information, at least when it comes to public knowledge. Forbes recently estimated the Cubs to be worth $3.2 billion, fourth-highest in MLB, with a $68 million operating income that ranked seventh in the sport. However, budget overages on Wrigley's long-running renovation project totaling as much as $400 million may have cramped ownership's liquidity. Then you factor in the heavy investment in surrounding infrastructure that is almost solely dependent upon in-season traffic — and that's without even considering the impact of stay-at-home orders — and it's not unreasonable to see how ownership could be hemorrhaging cash for a while.
Tom Ricketts has claimed publicly that the renovations were financed largely by selling minority shares of the club to investors like Andrew Berlin, who also owns the South Bend Cubs, but that doesn't necessarily mean they've got tons of cash on hand. Then there's the relationship between Hickory Street Capital, the Ricketts-owned firm responsible for Hotel Zachary and other such real estate developments around the ballpark. Despite initially saying HSC and the Cubs were wholly separate entities, the relationship benefits the Cubs both indirectly and directly.
This past winter's budget consciousness may have been as much about an inability to spend as it was an unwillingness. It was a mix of the two at the very least. An abbreviated or aborted season will be very costly for ownership, particularly if games are played in Arizona with no fans, so it's entirely likely the relative austerity will continue even with the absence of tax penalties. Bear in mind that this part is largely conjecture since the Cubs are privately owned and therefore do not have to share their financials.
Yet another factor in next season's budget is the salary total for arbitration-eligible players, which could be largely dependent upon whether or not a season takes place. While MLB and the players union have agreed to a relaxation of the arbitration rules in the event of a shortened season — since the process is based largely on counting states — a total statistical void might result in players receiving only nominal raises at best. Players will still accrue service time even without a season, but there won't be anything tangible upon which to base arbitration salaries.
Even without any raises being awarded, the Cubs will have at least $42.66 million in salary for six arb-eligible players, none of which is calculated in that $117 million surplus above. Victor Caratini doesn't figure to add too much to that next season and Ian Happ, who should have been arb-eligible in 2021, may not be if he's indeed only credited with the same limited service time he accrued in 2020. It's difficult to assume what happens with all of this sans season, but the minimum is probably $44 million and the max is maybe around $60 million.
Hey, that still leaves the Cubs with something like $57 million, right? That could be at least two top-tier free agents without even hitting the $210 million mark. Sure, it could be…assuming the Cubs "can" spend up to that amount heading into 2021. And assuming they don't work out extensions with any of their pending free agents, all of whom will be one year closer to free agency by then. That dynamic is really wild, too much so to dive into at this juncture in the post, and may end up being the Cubs' de facto free agency route.
Between Bryant, Javy Báez, Anthony Rizzo, and Kyle Schwarber, the Cubs could easily be looking at $80 million or more in average annual value. They've got about $52.1 million in AAV committed to those players right now, so you're really only talking about $28 million or so in AAV being added to the potential 2021 bottom line. Of course, that assumes a highly unlikely scenario in which the Cubs actually work out deals with all of them. Doing so could still leave more than $25 million below the threshold, but that number would be significantly reduced by the desire to leave mid-season flexibility.
When you really get down to it, the moral of the story is that a forfeited season could see the Cubs once more running it back with largely the same core group of position players. Again, though, his whole concept is highly speculative and dependent upon a number of variables that have yet to be determined. It's very much a choose-your-own-adventure book that could yield different outcomes based on which way the winds of change blow of the coming weeks, so this is really just a thought exercise for those of us cooped up with little better to think about.