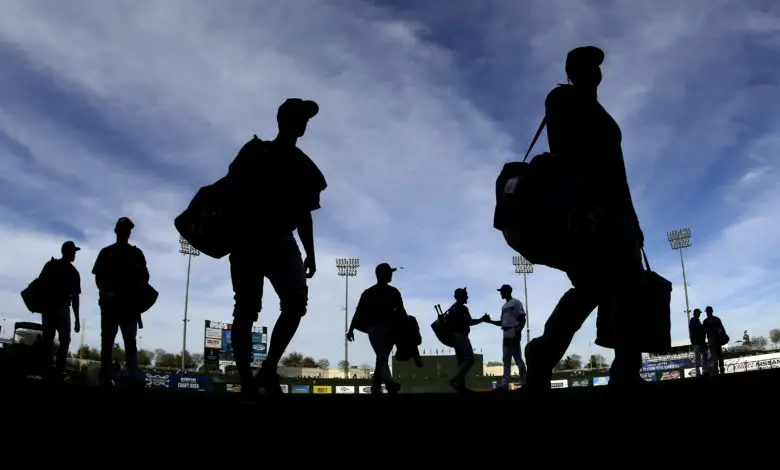 Report: MiLB Expected to Agree to MLB's Proposal for Massive Reduction in Affiliates (Updated)
As first reported by J.J. Cooper of Baseball America, negotiators from Minor League Baseball are expected to agree to terms of a proposed reduction that would see the minors reduced from 160 affiliated teams to 120 moving forward. Both sides have "already found common ground" on many other issues, so this major concession on MiLB's part should pave the way to a new Professional Baseball Agreement.
A conference call between negotiators for both parties is scheduled for Wednesday, at which point this news will become official. Though such drastic terms for a deal first seemed absurd when they were first made public in November, the world has undergone some fairly significant changes in the meantime. Given the potential for a doomsday scenario this summer, finding a way to keep MiLB viable at all may have forced the concessions.
Below are some of the primary facets of MLB's proposal, which would eliminate 25% of all teams and limit both roster sizes and the number of affiliates each parent club can maintain.
The number of minor league clubs affiliated with MLB teams would be cut from 160 to 120, with two current independent teams gaining MLB affiliations. That means 42 current teams — most from the short-season New York-Penn, Appalachian, Northwest, and Pioneer leagues — would no longer be affiliated.
The number of roster spots for minor league systems would be limited to 150-200 players. Since that number is currently uncapped, it could mean up to a nearly 50% reduction for some teams. The Yankees currently employ 285 minor leaguers across eight affiliates, so that's 85-135 fewer players.
All four MiLB classes would remain intact, but would be completely reworked to based on geography. For example, the Triple-A Pacific Coast League in which the Iowa Cubs play would shrink from 16 teams to 10.
The short-season Northwest League in which the Eugene Emeralds play would move to full-season ball.
The draft would be moved from June to August and could see its length halved, from 40 to 20-25 rounds.
Undrafted and newly unaffiliated players would either find spots on indy teams or join the proposed Dream League, a joint MLB-MiLB venture that would serve as something like the G-League in the NBA. While there would be a loose general affiliation, it'd basically be a giant independent league.
MLB teams would be limited to five minor league clubs in the US, with four full-season teams plus one complex-based rookie-league affiliate. The Cubs currently have four full-season affiliates, one short-season, and two rookie-league teams in Mesa.
As for how all of this will affect the Cubs' system, we don't have all the details just yet. No current Cubs affiliates were among the list of teams that would be eliminated as part of the proposal, but that doesn't mean they'd all remain in the organization. In fact, one of the bullets above indicates that two teams would have to be cut or shifted to another parent club.
If they're only allowed four full-season affiliates, it stands to reason that the Emeralds — who would move to full-season under the proposal — would have to seek out a new organization. The Cubs already have South Bend, Myrtle Beach, Tennessee, and Iowa, so losing the Northwest League club seems the most likely possibility. With the Reds potentially losing three teams, including the rookie-level Billings Mustangs, perhaps the Ems can stay in the NL Central.
The Cubs would also have to drop one of their two Arizona Rookie League teams, which might simply result in shifting more of their operations abroad. That's really too bad, since the AZL serves as a way for many young foreign players to acclimate to life in these United States (that's a Reader's Digest joke) as their professional careers get underway. On the other hand, maybe the Cubs could use this as an opportunity for young American players to learn a new culture by playing in the Dominican.
I can't think of any way to address this other than to say it really sucks. If there's a bright side at all, though, perhaps it's that agreeing to terms now will allow MiLB to maintain a little more control over its operations in the future. Dragging this out any further as various teams suffer from the absence of games could mean ceding even more ground to MLB, which already holds more than enough sway as it is.
---
Update: MiLB issued a statement Tuesday afternoon refuting the report that any agreement had been reached.
"Recent articles on the negotiations between MiLB and Major League Baseball (MLB) are largely inaccurate. There have been no agreements on contraction or any other issues. MiLB looks forward to continuing the good faith negotiations with MLB tomorrow as we work toward an agreement that best ensures the future of professional baseball throughout the United States and Canada."