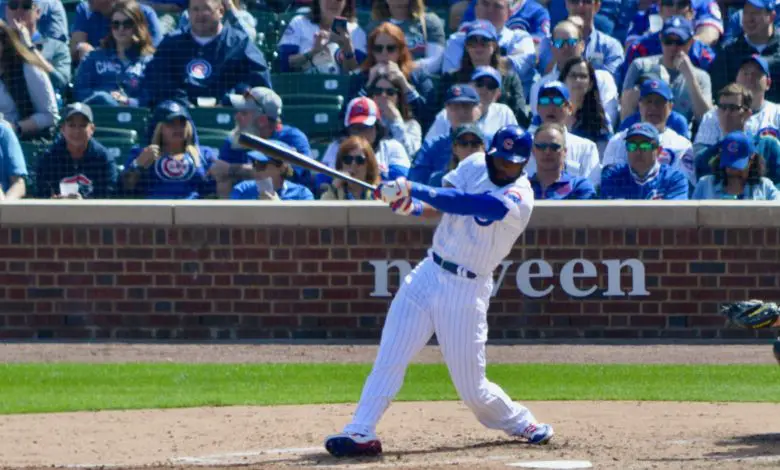 Chicago Cubs Score and Recap (Simulated Game 26): Cubs 7, Phillies 3 – Late Rally Keys Sixth Win in Last Seven Games
The Chicago Cubs (16-10) fell behind early in the opener of their three-game series against the Philadelphia Phillies (17-9), but they wouldn't give up. Javier Baez, Jason Heyward, and others were involved in a late comeback that saw the Cubs take the lead in the 7th and eventually win the game 7-3, via MLB The Show 20.
Kyle Hendricks started for the Cubs against Aaron Nola, and the game was predictably low-scoring at the start. The Cubs didn't even get their first hit of the game until the 4th, which is also when they got their first run. Kyle Schwarber walked against Nola with one out and Victor Caratini moved him to third when Bryce Harper lost a ball in the sun and had it bang off his glove for an error.
David Bote then drilled a single into right field in front of Harper, driving home Schwarber for the 1-0 lead. But the Phillies would come right back against Hendricks the next inning. Nola led off with a single up the middle and second baseman Jean Segura followed with a two-run home run to center field on the very next pitch, putting Philadelphia in front 2-1.
It was Segura again in the 7th against Hendricks, following a Scott Kingery base hit and a Nola sacrifice bunt with a single to left field to make it 3-1. The Cubs offense finally woke up in the bottom of the inning. Ian Miller started the rally with a double down the right field line and scored on an RBI single by Kris Bryant, bringing the Cubs to within 3-2. The Phillies went to left-handed reliever Adam Morgan to replace Nola, matching him up against Jason Heyward.
Heyward, as many will recall, once hit an improbable walk-off grand slam against Morgan at Wrigley Field. The right fielder didn't go deep this time, but he did smash a single into center to put runners on first and second with Báez coming to the plate. Morgan was careful with the Cubs shortstop, pitching him away and off the plate. Báez worked a 3-2 count and finally got a fastball to hit, driving one through a stiff wind in left field and dropping it gently into the basket for a three-run homer.
Nola finished the game with a line of six innings, three earned runs, seven hits, two walks, and six strikeouts. Hendricks went seven with three earned on eight hits and two walks, striking out six.
Heyward and Bryant were back in the thick of another rally in the 8th. After Jason Kipnis pinch-hit and lined to first base, Bryant singled softly to left field. Heyward, facing right-hander Seranthony Dominguez, clubbed one high and deep to right field for a two-run homer. Suddenly, the Cubs were comfortably ahead 7-3.
That comfortable lead was made much less so for the second straight day thanks to the Cubs bullpen. Casey Sadler was called upon to pitch in the 9th and responded by getting the first two outs. Then he allowed an infield single and two free passes to load the bases. With Harper representing the tying run, David Ross reluctantly brought in Craig Kimbrel for the final out.
Harper worked a 3-0 count against Kimbrel, but the closer tossed back-to-back fastballs for called strikes. After several foul balls, Kimbrel finally got Harper swinging on a knuckle-curve to end the game.
Notes: After another big game, Bryant is now hitting .350 on the season. On the flip side, Caratini is now hitting .179 after an 0-for-4 as the first baseman in place of Anthony Rizzo, who had a precautionary day off. Rizzo's back has been bothering him lately … Miller, who pinch-hit and had a key double, is hitting just .142 in his stint with the Cubs. Albert Almora Jr. will likely return from the injured list within a few days.
Key Players:
Bryant – 3-for-4, BB, RBI, 2 R
Heyward – 2-for-5, HR, 2 RBI
Báez – 3-for-5, HR, 3 RBI
Miller – 1-for-1, 2B, R
Segura – 2-for-4, HR, 3 RBI
Harper – 2-for-5, 2B
Winning Pitcher – Hendricks (3-1)
Losing Pitcher – Morgan (0-2)
Save – Kimbrel (11)
Home Runs –Báez (5), Heyward (5), Segura (3)