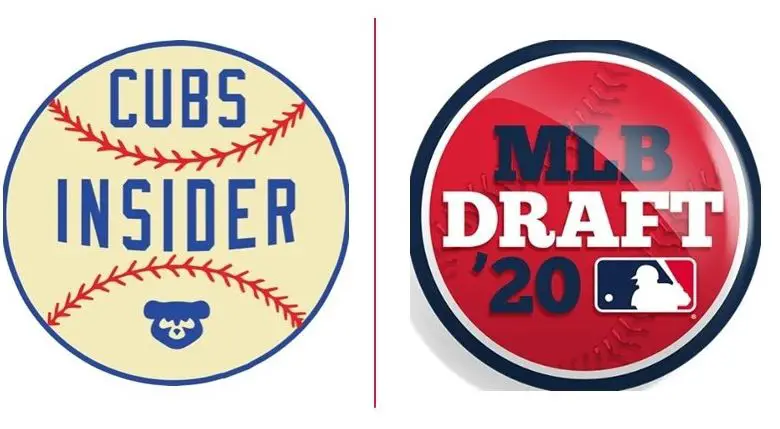 2020 Chicago Cubs Draft Preview No. 3: Could New Scouting VP Dan Kantrovitz Take Prep Power Arm with First Pick?
As Jon Heyman reported earlier this week, the MLB Draft is scheduled to be held virtually on its original date of June 10. We don't know yet whether it'll be cut to 10 rounds or even as few as five, but it'll be at least 30 rounds shorter than usual. That will certainly change teams' strategies, since there's little room for error, but the Cubs were already going to be approaching this draft with a fresh perspective.
In the past under Jason McLeod, the Cubs' top picks were almost exclusively college players who were more advanced, more projectable, and could presumably get to the majors much quicker than high school players. From 2012-19, the Cubs only took one high school player (Albert Almora Jr.) and one junior college player (Brendon Little) with their first pick.
That could all change under Dan Kantrovitz, whose reputation for solid picks with the Cardinals, A's, and Marlins led the Cubs to bring him in to run their scouting and draft. Our draft coverage at Cubs insider has looked at six players the Cubs could take at number 16 as well as some who were moving up from the second round. But with the top of the draft tilting towards college players, several high school prospects could end up falling right into the Cubs' lap.
That includes three prep pitchers who could be top-of-the-rotation starters down the road and might be worth the increased risk involved. The Cubs' issues with developing pitchers have been public knowledge for years, but some of that stems from intentionally selecting safer pitchers with lower ceilings. As part of a more aggressive organizational approach that is now more firmly rooted in analytics, Kantrovitz and his team may look to break from recent tradition.
That could lead them to one of three arms staring right back with their top pick: Mick Abel, Jared Kelley, and Nick Bitsko.
I did not expect to see Abel slide out of the top 10, where he was entrenched for most of the winter. The 6-foot-5 righty from Cedar Mill, Oregon might be the best arm available in terms of his floor and his 190-pound frame still has some room to fill out. That could mean adding velocity to an already impressive fastball.
"He has strong natural proclivity for spinning his breaking stuff, and he'll also flash a really good changeup once in a while," reads the FanGraphs draft report on Abel. "His sitting fastball velocity slipped throughout his showcase summer while Jared Kelley's did not, but Abel was still reaching back for 97 early in outings and the rest of his profile is more complete than other prep arms."
2020 Draft Spotlight – Mick Abel (RHP, OR) PG Grade 10, 97mph FB Velo, 86mph SL, 88mph CH, SL is elite-level at times and showed well. at '19 National Showcase, Currently #7 in our 2020 Draft Player Rankings #PGSpotlight pic.twitter.com/3dRz5VhDlG

— Perfect Game Scout (@PG_Scouting) February 28, 2020
Jared Kelley, another right-hander, has been close to Abel on most boards this winter. Quite a bit different in terms of build at 6-foot-2 and 225 pounds, Kelley has a similar floor. He can pump it to the plate from 94-96 most days, touching upper 90's on occasion. He has advanced feel for a changeup that has some fade to it, but he lacks a a true third pitch because he really hasn't needed one in high school. Expanding his repertoire is key to his future development.
The best prep arm in the 2020 draft class right now?

Meet Jared Kelley. https://t.co/f7omg9SHSl pic.twitter.com/rmbu3KrZcm

— Baseball America (@BaseballAmerica) October 31, 2019
If it was up to me and Nick Bitsko was available at 16, I would take him over everyone I have written about this spring except for Heston Kjerstad, an outfielder from Arkansas. That's a pretty strong statement, but the proof is in Bitsko's projection. The 17-year-old out of Bucks County East High School (Doylestown, Pa.) reclassified and will graduate a year early in order to be draft-eligible.
"Bitsko was up to 96-97 mph at East Coast Pro, with all fastballs in the 92- to 96-mph range," wrote MLB.com's Jonathan Mayo. "He combines it with a hard breaking ball that shows plus shape, thrown in the 78- to 82-mph range to get a lot of swings and misses. While he doesn't throw it as much, he does have solid feel for a changeup. Bitsko isn't pure power, either, showing the ability to throw all three pitches for strikes with a chance for future plus command."
You wanna know the most exciting thing about that scouting report? Those velocity numbers are from a year ago. The young righty may be throwing even harder now and certainly figures to be able to improve upon his stuff moving forward. As you can see in the below clip from the Under Armour All-Amerca Game at Wrigley last summer, his fastball has some zip and his curve has nice shape.
https://twitter.com/BigLeagueEdge/status/1218564293232332800
The odds of all three of these guys falling to 16 is pretty slim, but it's possible that at least one of them drops to the Cubs. It would be really difficult to pass on bringing that kind of talent into the organization , even if you have to wait a few years to see him get to Chicago.