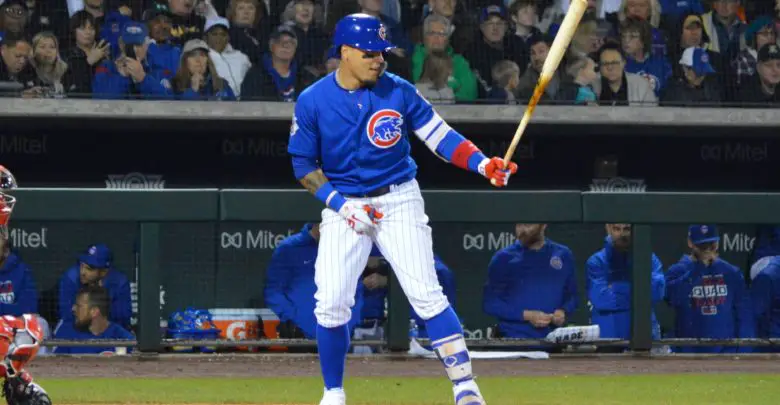 Chicago Cubs Score and Recap (Simulated Game 38): Kershaw Outduels Lester as Dodgers Avoid a Sweep
The Chicago Cubs (25-13) have been slugging their way through the early-season schedule, beating up on both good and bad teams alike. That came to an end on Wednesday, at least briefly. The Los Angeles Dodgers (26-10) were able to save themselves from being swept on their home field with a 5-3 victory over Chicago, via MLB The Show 20.
This game featured a classic pitching matchup, with Clayton Kershaw going against Jon Lester. Kershaw is a future Hall of Famer, while Lester has three World Series rings and may be on the borderline of induction into the Hall by the time his career is over. Both were very good for their respective teams on Wednesday.
The Cubs got on the board first, when Steven Souza Jr. smashed an RBI double into left field to bring Kris Bryant around from first base. Justin Turner tied the game with a solo home run off of Lester with one out in the 5th and Gavin Lux followed Turner with a double. The Dodgers took the lead when Mookie Betts also hit a double, driving home Lux and going up 2-1.
Lester went 5 1/3 innings, surrendering those two runs on eight hits and two walks. He also struck out five batters. Meanwhile, Kershaw went six innings and gave up one armed run on six hits and two walks while fanning eight batters.
The Cubs had a chance to tie the game in the 7th against Blake Treinen. Josh Phegley reached on a throwing error by first baseman Max Muncy, moving all the way to second base with nobody out. Nico Hoerner was hit by a pitch and, after striking out Bryant, Treinen loaded the bases by walking Souza. But Treinen struck out Javier Báez, then Pedro Báez came in to strike out Ian Happ to end the threat.
The Dodgers would add to their lead in the 8th against Alec Mills. With two on and two out, Lux smacked an RBI single just out of the reach of Hoerner and into center field to make it a 3-1 game. Betts then hit a double off the wall in center, driving in two and putting the Dodgers ahead 5-1.
Even trailing by four runs, the Cubs wouldn't give up. Bryant hit a one-out single against Los Angeles reliever Joe Kelly in the 9th, and with two outs Báez took Kelly deep to center field.
Now ahead 5-3 with two outs in the 9th, Dodgers manager Dave Roberts went to his closer, Kenley Jansen, for the final out. The big right-hander was greeted by Ian Happ, who drove a single the opposite way into left field. Suddenly, a home run could tie the game and the Cubs had Kyle Schwarber at the plate. But Schwarber hit a lazy fly ball into right that Betts caught for the final out.
Notes: Bryant was named the April Player of the Month for the National League, hitting .383 with 11 HR and 26 RBI. Kershaw was the Pitcher of the Month, going 4-0 in five starts with a 0.64 ERA. Lux was the Rookie of the Month, hitting .279 with a homer and seven RBI in 68 at-bats … Reliever Brandon Morrow was recalled from Triple-A after the game, having thrown six innings with two hits, two walks, 10 strikeouts, and no runs allowed since returning from the injured list. Casey Sadler was sent down to make room on the roster.
Key Players:
Báez – 3-for-5, 2 2B, HR, 2 RBI
Bryant – 2-for-4, SB, BB, 2 R
Caratini – 2-for-3, BB
Betts – 3-for-5, 2 2B, 3 RBI
Lux – 3-for-5, 2B, 2 R, RBI
Turner – 2-for-5, 2 R, HR, RBI
Winning Pitcher – Kershaw (6-1)
Losing Pitcher – Lester (2-3)
Save – Jansen (11)
Home Runs – Báez (9), Turner (12)