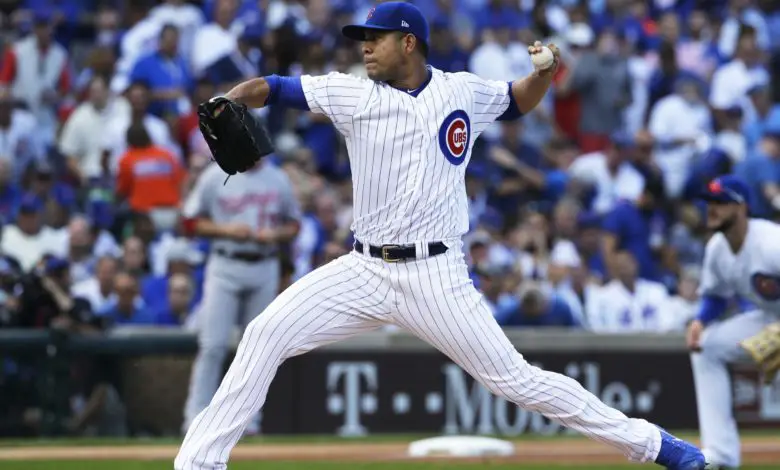 Chicago Cubs Score and Recap (Simulated Game 39): Cubs 4, Nationals 1 – José Quintana Keeps Mowing Them Down
After a loss on Wednesday and an off-day on Thursday, the Chicago Cubs (26-13) returned home to Wrigley Field and got back in the win column against the struggling Washington Nationals (16-21). José Quintana tossed a gem while the Cubs offense jumped all over Stephen Strasburg early, earning a 4-1 victory via MLB The Show 20.
It was a marquee matchup on a Friday afternoon, featuring the 2016 World Series champions and the reigning champion Nationals. Quintana came into the game on an absolute tear, having gone 14 2/3 innings over his last two starts with just one earned run allowed. The left-hander kept it going against Washington, holding the Nats to one earned run on five hits and one walk with five strikeouts over 7 2/3 innings.
Strasburg, who has a history of pitching well at Wrigley, wasn't so fortunate. The Cubs looked primed to break the game open in the 1st inning, loading the bases with nobody out on singles from Kris Bryant and Javier Báez sandwiched around an Anthony Rizzo walk. But Kyle Schwarber and Willson Contreras both struck out and Jason Heyward popped out to waste the opportunity.
The Cubs would get on the board an inning later as Albert Almora Jr. started things off with a single. Quintana attempted to bunt him over to second with one out, but Strasburg's throw to second base sailed into right-center field. That allowed Almora to go to third with Quintana sliding into second.
After Bryant hit a lazy popup and Rizzo walked, Báez hit a sharp single into left field that scored Almora and saw Quintana being easily thrown out at the plate. Regardless, the Cubs led 1-0. They stretched the lead to 4-0 the following frame when Schwarber singled and Willson Contreras followed with a two-run homer to left field. Next up was Heyward, who made it back-to-back with a drive out into deep left-center.
Four runs were all the Cubs would need with Quintana on cruise control until the 8th, when two-out singles by Trea Turner and Adam Eaton put runners at the corners. David Ross pulled Quintana, who was at 111 pitches on the day, to have Kyle Ryan pitch to Juan Soto. The young left fielder smashed a single into center, scoring Turner from third base, but Ryan struck out catcher Kurt Suzuki to keep the score at 4-1.
Craig Kimbrel pitched an efficient and worry-free 9th inning for Chicago, setting the batters down in order with two strikeouts to earn his 16th save of the season.
Notes: On April 27, Quintana entered play with a 6.07 ERA in his first five starts of the season. He has thrown 22 1/3 innings over his last three starts with just two earned runs allowed, lowering his ERA on the season to 3.67 … The Cubs are now 7-1 in the month of May and 10-2 in their last twelve games.
Key Players:
Contreras – 1-for-4, HR, 2 RBI
Heyward – 1-for-4, HR, RBI
Báez – 2-for-4, RBI
Almora – 2-for-4, R
Quintana – 7 2/3 IP, 5 H, 1 BB, 1 ER, 5 K
Soto – 2-for-4, RBI
Turner – 1-for-4, R
Winning Pitcher – Quintana (4-2)
Losing Pitcher – Strasburg (3-3)
Save – Kimbrel (16)
Home Runs – Heyward (8), Contreras (7)