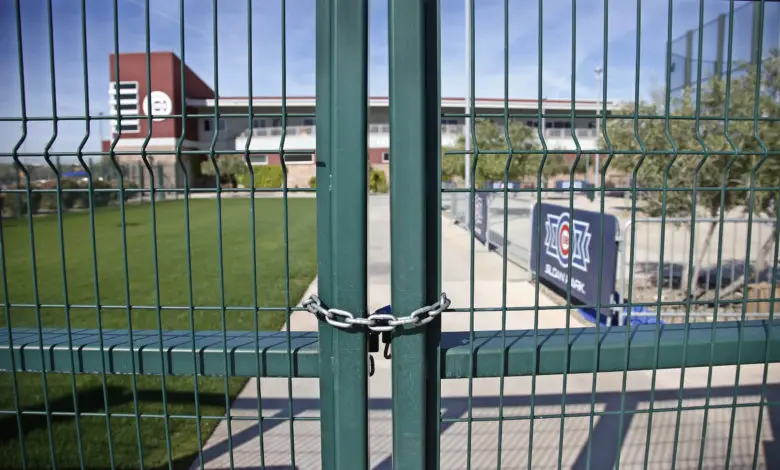 AZ Gov. Says Major Sports Can Resume May 15, MLB Still Has Much to Work Out
Well, the Arizona Plan just got a helluva lot more feasible. In accordance with allowing his state's stay-at-home order to expire, Arizona Governor Doug Ducey has declared that major sports can resume sans fans as of May 15. Anne Ryman of the Arizona Republic tweeted that news, along with several other details of Ducey's plan to reopen the state.
BREAKING: Major League Sports can resume after May 15 in Arizona.

— Anne Ryman (@anneryman) May 12, 2020
Arizona Gov. Doug Ducey adds more details on the return of Major League Sports to Arizona after May 15: "It would be without fans," he said.

— Anne Ryman (@anneryman) May 12, 2020
So this means baseball will be back, right? Not so fast, my friend. While it may mean that Ian Happ can get out to do more than shoot a very nice 69 on a local golf course only to get dusted by a tour pro who carded a 58 — not a typo — there are still several details to be worked out before MLB agrees on a return plan. Even if the union acquiesced to everything in the owners' proposal, it'd take more than three days to get everyone back to their respective camps.
And that's only half the league, since Florida is not an option for the teams that make their spring training homes there. Depending on how things go in Arizona over the next few days and weeks, though, the idea of opening the season there isn't as much of a pipe dream as before.
Now all they've got to do is decide on when to start the season, how to construct the schedules, and, oh yeah, how to pay the players. Jon Heyman reported Tuesday that initial talks between the league and players union focused primarily on health and safety. They apparently broached the topic of money, but did not discuss specifics of a pay cut or the possibility of a revenue-sharing model for this season.
MLB and the players union talked a lot about the most important issue today — health and safety. There was talk about protocols, logistics and especially testing. There was economic talk as well but no proposal about revenue sharing or salary reductions yet.

— Jon Heyman (@JonHeyman) May 12, 2020
Heyman went on to say that MLB feels it can acquire adequate testing to pull off whatever restart plan is eventually followed, which is the first and most important hurdle to clear. Well, other than the money, which is really the big thing here. But if the money is figured out and proper safety precautions are taken, the other logistics will start to fall into place.
That said, it's not going to be easy to coordinate sites given the differences in each state's choices on when and how to reopen. The LA Times reported Tuesday that LA County is expected to extend its stay-at-home order for the next three months, which means at least the end of July. If MLB is hoping to start the regular season in early July, the Dodgers are definitely not playing in their home park.
This is just such a big issue that it's really hard to chew over, even with as many bites of it as I've taken. But don't you worry, Dear Reader, I'm going to keep regurgitating every last bite until I've gotten sick of it.