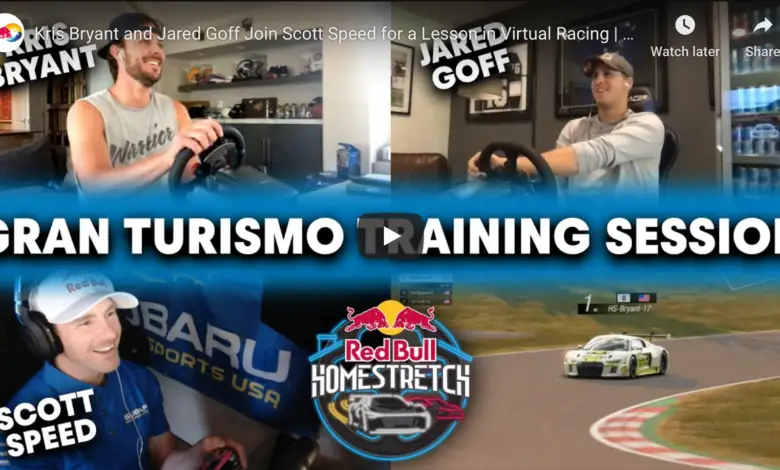 Watch: Kris Bryant Competing with Athletes, Elite Pro Racers in Red Bull Homestretch Virtual Car Racing Series
You may have a wait a while to see Kris Bryant in a Cubs jersey again, but there is still a way to watch him compete. Starting Thursday, May 14 at 11pm CT, you can watch KB as part of Red Bull Homestretch, a "no-holds-barred series of weekly virtual races on Red Bull's Twitch channel, with all battles on the Gran Turismo Sport video game."
Joining Bryant will be motorsports legend Travis Pastrana and LA Rams quarterback Jared Goff, along with several elite professional racecar drivers. Bryant actually visited one of the actual tracks on the circuit, the Red Bull Ring, as part of his European honeymoon, though how much of the knowledge he retained from that trip is questionable. Astute viewers may even notice a crossover with another of his pranks if they study the car he'll be "driving" here. Can you spot it?
For more on the racing series and how to watch, check out some of the social media posts and press release below.
Here's from KB's Instagram:
https://www.instagram.com/p/CAHLRN3HxG4/
Here's a training video with Goff:
And here's Red Bull's Twitch channel:
SANTA MONICA, CALIF., May 12, 2020 – When Red Bull Homestretch tears off the line for the first of six planned races on Thursday, May 14, viewers can anticipate not just another "serious" sim racing series, but one that is actually less about winning races and more about having a good time.
The playful take on the virtual race trend will pit real-world drivers from multiple disciplines – rally, rallycross, IndyCar, motocross and more – against those with no race experience at all, including notable celebrities, musicians, athletes and media personalities. And no top-end racing setups will be used, as Red Bull Homestretch drivers will clash on a much more relatable battlefield, with everyone playing Gran Turismo Sport on PlayStation 4. Driver banter and trash talking are not only allowed, they are strongly encouraged. On-the-fly rule changes and requirements for winning will be thrown at the drivers mid-race, so quick thinking will be key to victory.
Red Bull Homestretch will feature 10 drivers each week, with the majority of the lineup comprised of pros from various race disciplines who would never share a track in the real world. These drivers will be joining from around the globe and include:
Action sports/rallycross/rally phenom Travis Pastrana
9x World Rally Champion and racing legend Sébastien Loeb
IndyCar driver and Indy 500 winnerAlexander Rossi
IndyCar driver James Hinchcliffe
2019 World Rallycross and 2018 Nitro Rallycross champion Timmy Hansen
Off-road driver and 3x Baja 500 winner Bryce Menzies
Motocross/supercross champion Ken Roczen
Former F1, NASCAR, IndyCar and current rallycross driver Scott Speed
Unique aspects of Red Bull Homestretch include:
Wildcard Seat – The pro drivers will be joined by different "racing outsiders" each week.These seats could be filled by a celebrity, musician, athlete or other notable personality. The Wildcard Seat for week 1 will feature two drivers – Los Angeles Rams quarterback Jared Goffand Chicago Cubs third baseman Kris Bryant.
Student Driver Training Session – To level the playing field and give the Wildcard Seat drivers a leg up, racing pro Scott Speed will train them in preparation of the actual race. Goff and Bryant will both get training to prepare for this week's race.
Flexible Rules – On-the-fly rule changes and requirements for winning will be thrown at the drivers mid-race.
Fan Interaction – Fans can vote on tasks and rule changes during the race that the drivers will have to then abide by.
Drivers will take to the virtual track for the first time on Thursday, May 14 at 12:00 p.m. EDT/9:00 a.m. PDT. Tune in to watch live on Twitch.tv/RedBull, Red Bull TV and Red Bull Motorsports YouTube. Details for the subsequent races will be announced at a later date in tandem with participating drivers. For more information, visit www.RedBull.com/Homestretch.