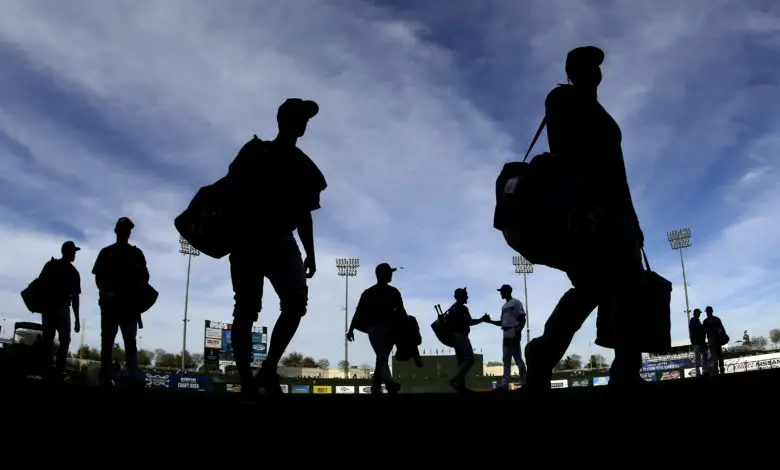 The Rundown: The Death of Minor League Baseball, Boras Says Players Ready to Play, Big Advertisers Bail on Networks
As Major League Baseball began negotiations with the players association on Tuesday about starting an abbreviated season in July, their minor league affiliates were also working on contingency plans. The postponement of play has occurred at a time of friction between MLB and the minor leagues unrelated to COVID-19. Rob Manfred has wanted to eliminate several minor league affiliates since late November, and owners are on board.
I don't know how many of you are feeling these days, but I'm worn down by the business of baseball. The only certainty we have after nine weeks of nothing is that the league is intent on the destruction of its minor leagues.
MLB wants to eliminate 40 affiliate franchises; and
The 2020 first-year player draft will consist of just five rounds.
That's a small recap but one that carries the weight of historical significance. There's no slow death here, as the league and its owners have put a slug in the head of their player development system. There might not even be a memorial service because it's entirely probable there will be no minor league games played this year.
The St. Paul Saints will hold a virtual home opener next week, with the independent minor league baseball club unable to start their defense of the American Association championship due to the virus-related restrictions in place.https://t.co/1Om3ndJaVt

— News 5 WCYB (@news5wcyb) May 14, 2020
Something you may have missed is that the MiLB office in St. Petersburg, FL will be moved into the MLB corporate headquarters in Manhattan as part of the restructuring plan. This is part of the process that ends with the parent league owning all of minor league baseball. The saving grace for major league franchise owners during this pandemic is that news associated with the death of minor league baseball has been upstaged by almost every other sports story.
The two sides had engaged in contentious negotiations for months, but whatever small amount of leverage MiLB appeared to have had — relying largely on a public campaign that focused on saving underdog affiliates – all but disintegrated amid the pandemic. So now MiLB is going away without a hint of a whimper, and when affiliated baseball returns it will likely be in a completely altered form, one forced to bow to Manfred and MLB owners.
Cubs News & Notes
CF – Hack Wilson
2B – Ryne Sandberg
3B – Bryant
RF – Sammy Sosa
1B – Anthony Rizzo
SS – Ernie Banks
LF – Billy Williams
C- Jody Davis
DH – Andre Dawson
Find Your Inner Hero
It ain't pretty right now. We're seeing the highest levels of unemployment since the Great Depression, 42% of job loss considered permanent, and an economic recovery that may take a decade or more in a country that has had as many as 925,000 yearly poverty-related deaths BEFORE the pandemic hit.
America is the wealthiest nation on Earth but also has the widest gap between rich and poor of any industrialized nation.
Apropos of Nothing
If you dig on the music aspect I bring to Cubs Insider, I've started a new website called Spindle & Pit. It's a passion project and very much a work in progress. The blogs are long, averaging about 2,000 words per post. Please stop by and subscribe, the content is free (and for now, no ads), and I post updates two or three times per week.
Odds & Sods
I am in favor of the players in almost any fight against baseball owners. That said, sometimes the way a player presents his case leaves me stupefied and almost angry. I don't begrudge Blake Snell for the tall coin he takes home. I just wonder what his point price is for "risking his life." Also, let's put a cap on the amount of "Bro's" you can use in one train of thought, please and thank you.
#Rays Snell says he's it's not worth risking his life to play this season for reduced pay, and shares other thoughts during a Twitch session on why MLB's plan to start the season is not a good idea https://t.co/wIDwx109jg

— Marc Topkin (@TBTimes_Rays) May 14, 2020
MLB News & Notes
There's hope that the league and the player's union will reach a compromise and come to an agreement to start the season.
MLB agent Scott Boras said that all of his players are "prepared to play right now and are willing to squeeze in as many as 124 regular-season games through October" under the condition that they "will not accept a penny less than the prorated salaries they agreed to following negotiations with the owners on March 26," per Bob Nightengale of USA Today.
Big advertisers such as GM and PepsiCo are "seeking to walk back spending commitments they made to broadcast and cable networks, a dynamic that is testing the industry's five-decade-old way of doing business," according to Suzanne Vranica of the Wall Street Journal (subscription required).
According to a CNN survey conducted by a market research firm, only 48 percent of the 1,001 respondents believe professional sports leagues should play any games this year, while 47 percent opposed a return.
I missed this on Monday, but Cardinals reliever and MLBPA executive board member Andrew Miller said in an ESPN interview that he's not supportive of a return until player safety is guaranteed.
The league has proposed new safety protocols, including a ban on spitting and high-fives.
Reggie Jackson believes that baseball will return soon.
Cardinals catcher Yadier Molina believes he is an obvious choice to be inducted into the Baseball Hall of Fame.
Catchers can't avoid close contact with players and umpires. How does baseball protect them from contracting COVID-19?
Retired Tigers pitcher Armando Galarraga believes that baseball should recognize his "perfect game" from 2010.
Retired first baseman and DH Prince Fielder could end up being baseball's highest paid player this year. Fielder, who will make $24 million this year in the final year of the contract he signed in 2012 , hasn't played since 2016.
Former Giants and A's starting pitcher Barry Zito performed as The Rhino before his big reveal on FOX's The Masked Singer.
Extra Innings
It's difficult at times to like Trevor Bauer, but the dude is a refreshing breath of air on so many topics, including this one.
Same song and dance from @mlb. Leak a story. Negotiate through the media. Make players out to be the bad guys. Players already agreed to a pay cut. We negotiated. WE HAVE AN AGREEMENT. Now they want to go back on it so they can make more money? GTFO. @AgentRachelLuba is spot on. pic.twitter.com/cHpmVTj6cu

— Trevor Bauer (トレバー・バウアー) (@BauerOutage) May 13, 2020
They Said It
"Bro, y'all gotta understand too, cause y'all gonna be like, 'Bro, Blake, play for the love of the game, man! What's wrong with you, bro? Money should not be a thing.' Bro, I'm risking my life, what do you mean it should not be a thing, it should a hundred percent be a thing. If I'm gonna play I should be getting the money I signed to be getting paid. I should not be getting half of what I'm getting paid because the season's cut in half, on top of a 33% cut of the half that's already there — so I'm really getting, like, 25% — on top of of that, it's getting taxed." – Blake Snell
Thursday Walk Up Song
The Way it Is by Bruce Hornsby & The Range – That disparities and inequalities exist in this nation is unfortunate, and it's not right. The USDA estimated that 11.1% of US households — mostly minorities — struggled to find food in 2018. A 25% increase in poverty due to the pandemic means that nearly 18 million households could be food insecure by the end of this year.