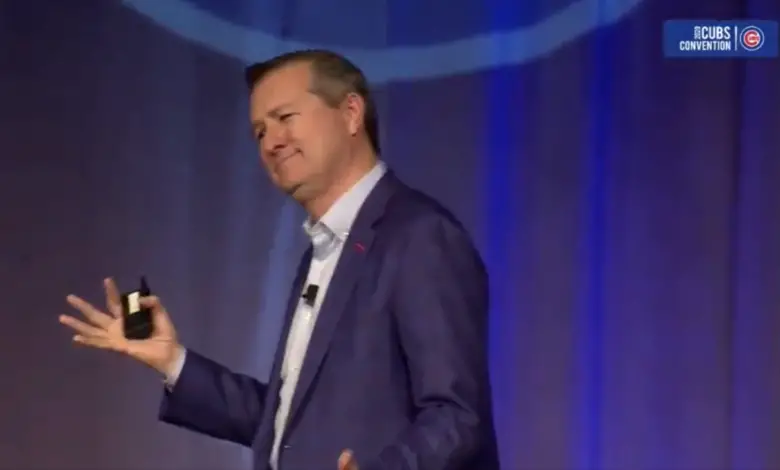 The Rundown: Owners Cry Poor as Baseball Addresses Reboot, Ricketts Has Some Doubts, Live Sports Return, The Last Dance Ends
"You live in a deranged age, more deranged than usual because in spite of great scientific and technological advances, man has not the faintest idea of who he is or what he is doing." – Walker Percy
Live sports came off of its respirator thanks to NASCAR and the PGA, but now that ESPN's The Last Dance has finished, it sure feels like we still have a deep sports void in our lives. Still, yesterday felt like the most normal sports Sunday in almost two months. Though I still think it's a bad idea for baseball to reboot its season, it might be nice, if not completely surreal, to see the Cubs play some meaningful games.
I truly believe that MLB should sit this year out and that the league and union should spend the downtime negotiating a new CBA. It's a much safer play and baseball needs a labor resolution just as much as, if not more than, a resumption of the 2020 season. If a second wave of the novel coronavirus hits, and medical experts seem to be in agreement that it will, it might come just as baseball is starting its postseason. How demoralizing would that be?
Despite a health and safety manifesto that appears to take every possible precaution, it seems to me that baseball is starting to believe its resurrection will lead to some type of national or global healing. There is also a big part of me that says it's inherently wrong to allow millionaires and billionaires to earn while a few states are prohibiting some small businesses from reopening for up to another 150 days. If it's safe for a few thousand athletes, umpiring crews, coaches, and trainers to congregate in the name of professional baseball, why are we allowing small businesses and their employees to starve to death?
If we can come up with safe ways to resume sports, it stands to reason we can create a feasible plan to put ordinary citizens back to work. Are we trusting athletes to practice social distancing in and around the workplace more than we trust John Q. Public? Your answer may be yes, but I don't buy it. The phrase "if we save just one life" loses a lot of its cachet when we say it's okay to assume an increased level of risk for the privilege of watching live baseball, at least in my opinion.
In the meantime, though the number of newly unemployed Americans continues to shrink each week, expect another 20-25 million jobless claims on Thursday morning. Those numbers do not include a decent-sized percentage of workers who have taken pay cuts just to keep their jobs. The return of baseball, combined with the ongoing negotiation of players' salaries, leaves a sour taste in my mouth. It's especially bitter when I walk around my neighborhood — a community that relies heavily on small businesses — only to see a large number of permanent closures.
Baseball needs to do a better job with its public relations when it comes to these types of negotiations, and putting a best foot forward should include the recognition that fans collectively need more than a resumption in play to better navigate their own health and welfare issues. I am particularly concerned with ex-players, ownership, and political officials who publicly chastise players as being overly greedy. We love baseball, but feeding and sheltering our own families is just a little higher on the priority list than the beef the billionaire owners have with paying their players.
I am reminded of a great line from the movie The Right Stuff. "No bucks, no Buck Rogers."
I don't begrudge the money MLB players make because they've earned the right to be paid at the level they are. In fact, at an average salary of just under $5 million per year in an industry that is worth tens of billions annually, players are actually getting the short end of the stick. I also understand you have to eliminate perspective at times because baseball (all professional sports for that matter) is a bubble industry and works in an enclosed financial ecosystem. That said, how healing is it for the general public that baseball owners are crying poor when one of every four employable Americans is left wondering when he or she will receive another paycheck?
Cubs News & Notes
Find Your Inner Hero
William Shuttleworth, aptly named by the way, is a 72-year-old veteran who is walking America coast-to-coast to raise awareness and galvanize a grassroots movement pushing for the support of veterans.
Apropos of Nothing
I am a big fan of Fivethirtyeight.com, but this argument concerning the Michael Jordan–LeBron James debate is a little weak and seems specifically aimed at trying to boost the case for James.
Odds & Sods
We will be seeing this GIF for decades, most often attached to the boomer-derogatory term "Karen."
This one will have staying power. 😂
pic.twitter.com/bqI8GPT3wd

— David Kaplan (@thekapman) May 18, 2020
MLB News & Notes
MLB projections indicate club owners are facing an average loss of $640,000 per game when fans are not allowed to attend.
Reopening baseball will take a great deal more than an agreement on salaries and coronavirus protocols.
Former Yankees and Orioles manager Buck Showalter believes fans are disinclined to side with players over salary discussions.
How close were Jordan and White Sox OF/DH Bo Jackson to being MLB teammates?
Mike Trout says that Max Scherzer is the best pitcher he has ever faced.
For better or worse, minor league baseball will be a whole new ballgame in a post-pandemic world.
In honor of The Last Dance, here are ten baseball stories that would make for fun documentaries.
Out of Left Field
I had to create a new category for Peter Gammons and Jon Heyman. Just for today, I hope.
A hundred years from now, will kids be taught that the fall of American culture began with the closing of Hooters?

— Peter Gammons (@pgammo) May 18, 2020
One thing that struck me about #TheLastDance. Michael Jordan and Derek Jeter are the same person: The burning desire to win, the confidence in competition, the street smarts, smile and sense of humor. 1 difference: Jeter never would let camera follow him a day, much less a year.

— Jon Heyman (@JonHeyman) May 18, 2020
Extra Innings
To me, it's just not baseball if fans can't gather to cheer.
They Said It
"The fact is that for the Cubs about 70 percent of the revenue that comes into our organization comes in on day of game. It comes in through selling tickets. It comes in through selling concessions. It comes in through the ballpark experience." – Tom Ricketts
"I want to apologize for leaving the impression that baseball players shouldn't have the right to bargain to protect their health and safety. I absolutely support that right, and I should have made that more clear." – Illinois Gov. J.B. Pritzker
Monday Walk Up Song
Give Me Back My Hometown by Eric Church. I don't often do country in this section, but this song seems appropriate with baseball set to return, given the ongoing pandemic and current economic climate.