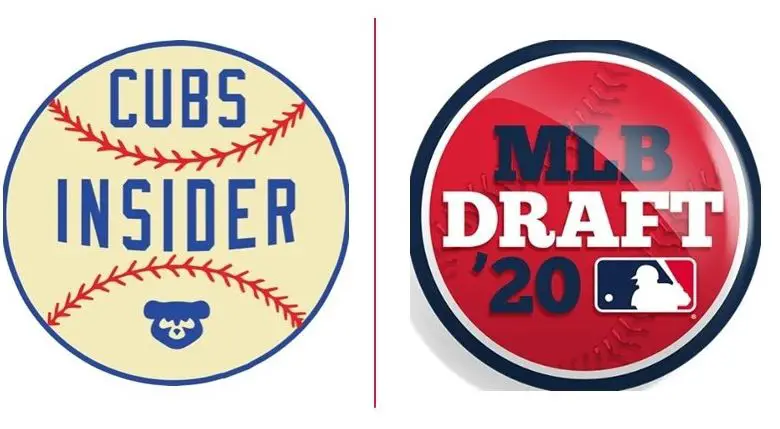 Cubs Insider's Mock Draft Shows Cubs Going for Big Bats (Bonus: Undrafted Free Agency Preview)
We don't know when or if the season will start, but the 2020 MLB Draft is going to take place in less than two weeks. And with just five picks instead of 40, new VP of Scouting Dan Kantrovitz is going to have to nail each selection. There's still plenty of room for error even with a very deep talent pool, but the intense competition to sign undrafted free agents — even though each club can only offer $20,000 bonus — will help with depth.
We've offered a few previews to this point, whether it's looking at the Cubs' top pick, prep arms, or players to target in Round 2 or later, but today you're getting a full mock. I'm going to roll out who the Cubs should be taking, or at least considering, in each of the five rounds and who else they should seek out in free agency when the draft concludes.
Round 1 (16) – Kantrovitz could go a number of ways here, but most of the top college bats should be gone by then. Unless Heston Kjerstad of Arkansas or Garrett Mitchell of UCLA falls, 6-foot-4 high school hitter Tyler Soderstrom should be the obvious choice.
"At the plate, he's really polished with a solid overall approach and makes the kind of loud contact that makes people sit up and take notice when he's taking batting practice," according to MLB Pipeline. "He's a hitter first, but he will get to his power. He might be a tick above average as a runner, especially for a catcher, and has shown he has the athleticism to play third and even the outfield."
In the video below, you can see the nice smooth swing with not a lot of moving parts. There's no high leg kick to tame, just a nice smooth stroke.
Tyler Soderstrom (2020 C, Turlock, CA): Soderstrom showed a consistently balanced swing from the left side with good bat speed and impact off the barrel, driving the ball to all fields and projecting really well for power. #PGNational pic.twitter.com/1XCNU5UOjk

— Perfect Game Scout (@PG_Scouting) June 12, 2019
To be frank, I would also be fine going with the prep pitchers Mick Abel, Nick Bitsko, or Jared Kelley. I could even be talked into prep outfielder Robert Hassell, who has a good hit tool but not much power.
Round 2 (51) – This is going to be the toughest pick in the draft because there will be a lot of guys on the board worthy of the spot. Among the players who stand out is Jake Eder, a southpaw out of Vanderbilt who at one point was ranked in the upper 30's. He has a really good frame at 6-foot-4 and possesses good offspeed stuff.
I also really like the potential of Gage Workman of Arizona State. The third baseman played shortstop all last summer in the Cape Cod League and is an outstanding defender at both spots. Add in that he can switch-hit and hit for power, and he should be in the discussion. Workman also attended the same high school as Cubs prospect Brennen Davis. The versatility on offense and defense is hard to pass so he is our pick.
😱 GAGE WORKMAN MADE AN INCREDIBLE DIVING GRAB 😱#SCtop10

📺: @Pac12Network pic.twitter.com/0n53SELOTS

— Arizona State Sun Devils (@TheSunDevils) March 31, 2018
Round 3 (87) – I'm all about getting a college bat at this spot and Joey Wiemer from Cincinnati and Zach DeLoach from Texas A&M should be available. Wiemer is all tools but DeLoach is a streaky guy who loves to hit with a wooden bat. He was hitting over .400 with a .600+ OBP before the season was shut down, so I'm going with DeLoach here.
Among the very best hitters in the @Official_CCBL this summer has been @AggieBaseball Zach Deloach.

Here he reaches out & quietly singles after high-quality, 9-pitch at-bat

He's in the thick of the batting title race at .346 pic.twitter.com/wbjidkItp0

— College Baseball 365 (@CollegeBSB365) July 30, 2019
Round 4 (117) – If two-way player Casey Schmitt from San Diego State is sitting there at 117, the Cubs should jump all over him. He has some pop at third base and was the closer for San Diego State this past season. It would be interesting to see if the Cubs let them continue as a two-way guy for the time being or if they make the choice for him. I think they would lean reliever as he can already throw in the mid-90's without concentrating on pitching full-time. The Cubs are going to get good value with this selection.
Casey Schmitt posts a 1-2-3 eighth with a pair of K's and we're on to the bottom half of the 8th with a 3-2 lead

Looking for some insurance: Schmitt, Maekawa, Rudick due up#GoAztecs pic.twitter.com/HIlYSeweHo

— San Diego State Baseball (@AztecBaseball) April 21, 2018
Round 5 (147) – Here's a story you may have hear before: The Cubs scout the Louisville Cardinals and see a closer who they envision as a future starter. They have taken two previous Louisville bullpen arms in Riley Thompson and Michael McAvene, both of whom had early success converting to the rotation. Lefty Michael Kirian could be the third member of that group this year.
Undrafted free agents to pursue 
Undrafted free agents are typically diamonds in the rough or maybe late bloomers like pitcher Max Bain. They might be signed based off of one particular talent or tool that fills a gap in the system. Now, however, we're looking at a massive group of players that won't be chosen as part of the drastically shortened draft. That means a great deal of talented players will be looking to pursue their professional career.
The Cubs will surely end up signing a number of those players, but here are five to keep an eye on as the draft approached.
Florida State outfielder Elijah Cabell has prodigious power, with Baseball America quoting scouts saying he was right behind Spencer Torkelson among the hitters in this class. When it comes to hitting for average, however, he's going need to work on that.
Will Klein is a 6-foot-5, 225 pound right handed pitcher from Eastern Illinois. He can throw anywhere from 94 to 99. He does lack experience against elite competition. That can be fixed. He could be a proverbial diamond in the rough.
Jacob Teter out of Florida Southern has the look of a prototypical first baseman at 6-foot-6 and 225 pounds, but he has not produced the pop you'd expect from that big body. However, he has shown the ability to hit for average and control the strike zone with an OBP over .400 every year. The Cubs have not drafted a lot of first baseman, but this guy could be on the list with his potential for power as he matures.
One of the top D-II #mlbdraft prospects in the country, here's a look at a single from Jacob Teter of @MocsBaseball. Smooth LH swing w/ loft, projectable 6-6 frame, high power ceiling. Patient hitter & worked a couple of walks too. Cape All-Star last summer. pic.twitter.com/Ig1zGjfhi6

— Vinnie Cervino (@vcervinoPG) October 17, 2019
Jacksonville's Trent Palmer is a former closer who was transitioning into a starter this spring. He can get it up to 97 mph and had 41 strikeouts in 27.2 innings before the season shut down. He's only 6-foot-1 but he could definitely be worth the gamble with that velocity.
Pitcher Joe Boyle from Notre Dame is 6-foot-7 and can regularly hit 100 with his fastball, which led to him being nearly dominant in the Northwoods League last summer. The issue is that he lacks consistency when it comes to finding the strike zone. That hurts his draft stock and could mean he's available for a song.
This year's draft will look and feel different for a number of reasons, not the least of which is the Cubs' new scouting team. How they're able to navigate the drastic changes in number of picks and the increased importance of UDFAs will set the tone for the organization in 2021 and beyond, so no pressure or anything. Should be an interesting whirlwind of activity, to say the least.