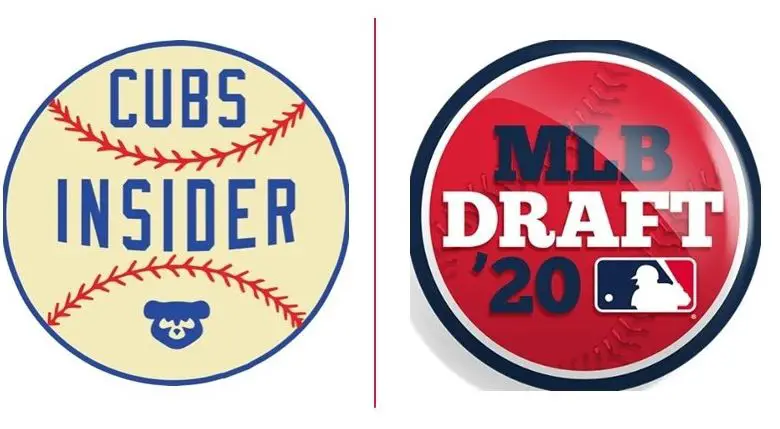 Cubs Insider Draft Day Preview Roundtable Featuring 7 'Expert' Opinions on No. 16 Pick
Major League Baseball will hold its 2020 amateur draft Wednesday and Thursday with the Cubs picking at No. 16 when the action begins at 6pm CT. In a season clouded over by the pandemic stoppage and thrown into further doubt by financial unrest, this is the only light baseball fans have seen in a long time. It might not be as bright as usual, but we'll gladly take what we can get at this point.
Over the last four months, Cubs Insider has previewed several different players and strategies the Cubs could take in the early rounds. We even did a full five-round mock draft two weeks ago. This time we're changing things up just a bit. Rather than tell you who the experts think the Cubs should take, I reached out to several of my fellow writers at CI and a couple over at Bleacher Nation to see who they would like the Cubs to take tonight.
It turned out to be quite the mix of talent, so we've covered our bases quite well. A big thanks goes out to all who participated.
Bryan Smith – Bleacher Nation
The draft prospect I am higher on than the mainstream outlets, and the player I'd love to see in the Cubs system, is Tennessee southpaw Garrett Crochet. I believe that Crochet's all arms-and-legs delivery makes him extremely deceptive, and the fact that he can tunnel a 100 mph fastball and plus slider makes him so difficult. He's from the Chris Sale Prospect School, and I love the upside that presents.
I'm not as worried about the development of the third pitch, his changeup, as he's someone that will be able to lean on a much higher fastball percentage than the average starting pitcher. I will say that this pick would depend on complete confidence in Crochet's medicals, and if that doesn't check out, I'd love adding one of the power bats available, be it Austin Hendrick or Heston Kjerstad."
making his first appearance since needing surgery to realign his jaw just two weeks ago, Garrett Crochet is 4⬆️4⬇️ with a couple of nasty punchouts for the #Vols pic.twitter.com/g5tBZMYF3S

— Marc Whiteman (@MarcWYFFNews4) June 1, 2019
Sean Holland – Cubs Insider
Throughout the Theo Epstein era the Cubs have gotten the best return on college bats. Ian Happ, Kyle Schwarber, and of course Kris Bryant have been huge contributors at the big league level. With that in mind, I would like the Cubs to draft outfielder Heston Kjerstad from the University of Arkansas.
Kjerstad hit 37 homers in 595 career college at-bats and was hitting .446 through 16 games in 2020 before the season was cancelled. With baseballs seeming to return to their pre-juiced form in spring training, power hitting may again become a valuable resource. I feel like this is the safest pick to make in 2020.
Evan Altman – Cubs Insider
Yeah, so, I would like the Cubs to take the player who can have the most impact in the shortest amount of time. Seriously though, my primary interest is in seeing how new VP of scouting Dan Kantrovitz guides this draft and whether we can discern any meaningful differences from what had been an overly conservative strategy under Jason McLeod.
It's entirely possible the Cubs will go for Garrett Mitchell if he's available, which seems like sort of the same plan they've had for the most part. Austin Hendrick is a little more risky because he's a prep hitter, so I like the idea of picking if he falls. But what really excites me is the idea of getting a big, hard-throwing pitcher with that first pick. The Cubs have intentionally avoided those guys in the past, so if Mick Abel or Nick Bitsko are still there at 16 I'd love to see the Cubs take one of them.
Brett Taylor – Bleacher Nation
I understand that the depth in the college pitching ranks is going to make anyone in that second tier that falls to the Cubs very attractive, but I kinda like the idea that several of those top high school bats are going to be there at 16 (largely because of the glut of college pitching, and teams going aggressive on highly-scouted college players this year).
So if Austin Hendrick is there, for example, I'd love to see the Cubs go for it. Yes, loads of risk on a guy like him, but so much upside. Could be a top three bat in the entire draft when all is said and done. I say take the risk.
Austin Hendrick (2020 PA) I will just leave this swing here… just shy of the upper deck at one of the biggest ball parks in MLB! #PGAAC pic.twitter.com/ud45NCDor3

— Jered (@JeredGoodwin3) August 10, 2019
Greg Huss – Cubs Insider/Growing Cubs
It is hard to argue against the Cubs drafting a pitcher in the first round on Wednesday. The draft class is loaded with college arms at the top and while it is easy to be scared off by the Cubs' run at college starters from past years, this year is completely different. I would love to see the Cubs target a guy with plenty of upside coming out of the college ranks. Garrett Crochet, Cade Cavalli, and Bobby Miller all fit that description, but I'm going to go with the latter as my pick here.
The Cubs have targeted Louisville pitchers in recent years and Miller isn't all that different from Riley Thompson and Michael McAvene in a lot of ways. He is a big dude at 6-foot-5 and 220 pounds and features a sinker that runs up in the high 90s, a wipeout slider, and a good looking splitter to boot. With just a bit of tinkering to his mechanics, I think Miller can join Jack Flaherty as Dan Kantrovitz's newest headlining draft pick.
Bobby Miller… Take a bow!

8.0 IP, 1 H, 0 R, 5 K#RoadToOmaha | @LouisvilleBSB pic.twitter.com/PELrAGlCL2

— NCAA Baseball (@NCAABaseball) June 8, 2019
Jimmy Nelligan – Cubs Insider/Growing Cubs
For the Cubs' pick at 16 I like the high-upside arms of Garrett Crochet or Cade Cavalli. Visually, they both look the part of a top of the rotation arm with a power fastball that could touch triple digits and a power slider that projects to be above average. They both have a feel for a changeup, but they are both going to heavily depend on a fastball slider combo in their pitch sequences.
Personally, I would rate Crochet above Cavalli based on his pure stuff and how quickly he could transition to MLB (Prospect Live's Ralph Lifshitz has said Crochet's stuff could be used in a major league bullpen this season). There are some concerns for Crochet's health due to shoulder soreness he suffered during his first start for Tennessee, which could help him drop to the Cubs at 16, but there is also a chance neither Cavalli or Crochet would be available If that is the case, I see them taking outfielder Garrett Mitchell who has been connected to the Cubs as of late."
As for me…
I'm not really picky this year and I don't have one specific player I really like that the Cubs could actually get. The pick is high enough that they are going to get a player who could help in relatively short order and be an everyday guy for a long time. Because the strength of this draft is college pitching, the Cubs can still get good pitching in the third and fourth rounds. Therefore, I think they should go find themselves a big bat.
The issue at this stage of the draft is that the biggest potential lies in prep hitters. There will be some college players with higher floors, but it's going to be a tricky selection. As such, my pick changes by the hour and I will probably want to go with someone else right after this is published. Then I'll make another choice during Wednesday night's live airing of The Rant.
For now, I will take Austin Hendrick. The power potential is just too hard to pass up. He could be a level-a-year guy for a couple of years, but once he gets his approach and pitch recognition skills down, things could click pretty quickly for him. If Hendrick is gone, I would go with outfielder Garrett Mitchell from UCLA next followed by Tyler Soderstrom, a high school bat.
The Growing Cubs Podcast will be taking over a special edition of The Rant tonight during the draft, so check out the CI YouTube page as they carry us through the Cubs' pick and provide some analysis. I will pop on to discuss who the Cubs actually take and how it impacts the system, along with where they fit on an updated prospect list.