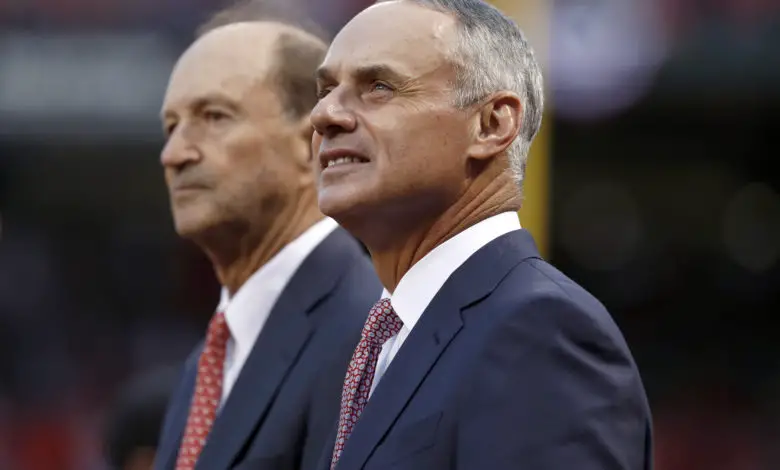 Rob Manfred Reverses Course on Confidence in 2020 Season, MLBPA 'Disgusted' by Perceived Threats
Another day, another round of sniping between Major League Baseball and the players union. After telling ESPN last Wednesday that he was 100% certain there would be baseball this year, Rob Manfred expressed doubt while appearing on the same network's ironically named "The Return of Sports" special Monday. It's no coincidence that this came after the league and players pushed themselves away from the bargaining table over the weekend.
"I'm not confident," the commissioner told Mike Greenberg. "I think there's real risk, and as long as there's no dialogue, that real risk is gonna continue."
Here's the thing, though, Manfred: Your claim that there needs to be dialogue is just empty rhetoric aimed at helping the owners at whose behest you serve to save a little face. It also appears to be a very clear stall tactic, as owners are not about to okay a season that pays players their full prorated salaries over more than 56 games or so.
"The owners are 100 percent committed to getting baseball back on the field," Manfred said. "Unfortunately, I can't tell you that I'm 100 percent certain that's gonna happen."
This statement isn't necessarily untrue, it's just not telling the whole truth. The owners are committed to getting back on their own terms, which include ending the season by September 27 in order to maintain their existing playoff broadcast deals. They could start the season in late July and get 50-some games in over two months, which means starting spring training around the July 4 weekend.
The league's offers have been based around a payroll target of around $1.5 billion or less and, while they've shifted some of the numbers around, they haven't deviated much from that. Apparently unaware that people outside their circle can figure out the basic math, they continue to accuse the players — who've meaningfully reduced their own asks — of operating in bad faith.
As such, the players decided it would be futile to continue with any negotiations and just told the league to go ahead and set the season length and report dates. Like a paper bully finally challenged to a fight, MLB hid behind more foolish claims meant to cast players as the bad guys. Interestingly enough, this all comes when owners' claims of operating barely-profitable businesses were followed by news of a new billion-dollar deal with Turner Sports.
Manfred's latest comments were met with predictable ire from the MLB Players Association, with Executive Director Tony Clark perpetuating the public war of words.
Major League Baseball Players Association Executive Director Tony Clark today released the following statement: pic.twitter.com/ibyOqB93WC

— MLBPA Communications (@MLBPA_News) June 15, 2020
Players are disgusted that after Rob Manfred unequivocally told Players and fans that there would '100%' be a 2020 season, he has decided to go back on his word and is now threatening to cancel the entire season. Any implication that the Players Association has somehow delayed progress on health and safety protocols is completely false, as Rob has recently acknowledged the parties are 'very, very close.' This latest threat is just one more indication that Major League Baseball has been negotiating in bad faith since the beginning. This has always been about extracting additional pay cuts from Players and this is just another day and another bad faith tactic in their ongoing campaign.
I've already gone on record as saying I believe there'll be a season and to tell you the truth, Manfred's comments don't shake my faith all that much. This feels more like a ploy than anything else, since he's got the power to impose the terms of a season and is simply buying time before doing just that. It's still too early to announce an early July report date for a rebooted spring training, so it's just a matter of waiting.
Sniping in the media isn't going to make anything happen and the players, galvanized by a distaste for the league office, have stated their case pretty clearly. At this point it feels like Manfred will just wait another week or so and then announce a season of 50-some games. Not that baseball will be able to undo the damage it's done to itself over the last few weeks, but at least we stop talking about what a mess this has all been.
Then maybe we can talk about how MLB desperately needs to get new leadership in place prior to the negotiation of the next CBA.