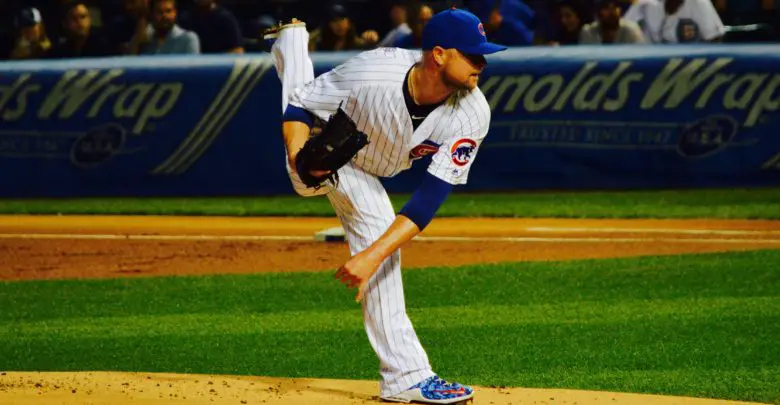 Chicago Cubs Score and Recap (Simulated Game 77): Cubs 2, Red Sox 0 – Jon Lester Throws Gem Against Former Team
The Chicago Cubs (52-25) continued their streak of red-hot baseball on Saturday against the Boston Red Sox (31-46), and this time- it was a former Red Sox star leading the way. Jon Lester pitched brilliantly, dominating Boston over eight innings and coming up with a key hit to lift the Cubs to a 2-0 victory, via MLB The Show 20.
The 36-year-old, who won two World Series championships with the Sox before winning his third with the Cubs in 2016, tossed a major throwback game. Lester allowed just two hits and two walks with eight strikeouts over his eight shutout innings. Both hits came in the 3rd, when pitcher Eduardo Rodríguez and outfielder Alex Verdugo knocked back-to-back singles with two outs.
Other than that, however, Boston never really put together any sort of rally. Rodríguez pitched well and did his part, but it wasn't enough. The Cubs got to him in the 2nd when Albert Almora Jr. starting the inning with a walk. Nico Hoerner drilled a changeup into the gap in right-center for an RBI double, putting the Cubs ahead 1-0.
Next up was Lester, who took a first-pitch fastball from Rodríguez into left field.
Lester's double put the Cubs ahead 2-0, which he was able to make stand up. It didn't matter, however, thanks to the big left-hander's ascendant performance. With Lester running out of gas toward the end of his performance, David Ross went to Craig Kimbrel to close the game out.
Kimbrel, another former Red Sox pitcher, allowed no 9th-inning drama. He put the Boston hitters down in order, striking out one and closing out his league-best 30th save. The win is the Cubs' seventh straight and they haven't lost since before their trip to London.
Key Players:
Lester – 8 IP, 2 H, 2 BB, 0 ER, 8 K; 1-for-3, 2B, RBI
Hoerner – 1-for-3, 2B, RBI
Almora – 1-for-2, BB, 2B, RBI
Rodríguez – 6 IP, 5 H, 3 BB, 2 ER, 5 K; 1-for-2
Winning Pitcher – Lester (6-5)
Losing Pitcher – Rodríguez (6-5)
Save – Kimbrel (30)
Home Runs – None