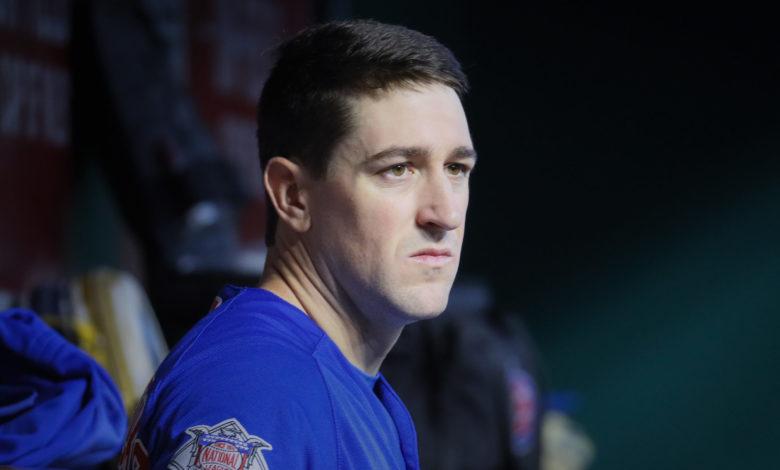 Chicago Cubs Score and Recap (Simulated Game 79): Cubs 15, Reds 0 – Kyle Hendricks Blanks Reds, Blasts One of Half-Dozen Homers
After taking Monday off, the Chicago Cubs (54-25) came ready to play on Tuesday against the Cincinnati Reds (49-30), looking to push their winning streak to nine games. They were successful, jumping all over the Reds early and taking a lopsided 15-0 win behind Kyle Hendricks.
After a moderately slow start to the season, Hendricks is really starting to turn things around. He went seven shutout innings in this one and even hit his first career home run. The scoring started in the 2nd, with Ian Happ hitting a single to center field, stealing second base, and scoring on an triple by Jason Heyward to effectively win the game.
The Cubs really broke it open in the 3rd, scoring five runs on Cincinnati starter Anthony DeSclafani. Javier Báez hit a one-out single and was replaced on the bases by Happ after a fielder's choice groundout. Willson Contreras smashed a double to score Happ and put the Cubs ahead 2-0, then Heyward followed with a two-run homer.
Nico Hoerner then hit a solo shot to make it 5-0, bringing up Hendricks with nobody on base.
Of course, the Cubs weren't done scoring. Heyward hit another home run in the 4th, this time a three-run shot that put them ahead 11-0. Contreras hit a solo homer in the 6th to make it 12-0, and Happ capped everything with a three-run home run in the 9th after having pitched the bottom of the 8th.
Victor Caratini pitched the bottom of the 9th with a 15-0 lead and, like Happ the inning prior, set the Reds down in order.
Notes: After the game, the Cubs announced that reliever Dillon Maples was being sent back to Triple-A Iowa. In his place, right-hander Brock Stewart would be added to the big league roster. Stewart had been working as a starter with Iowa, throwing 82 1/3 innings with 70 strikeouts and a 2.19 ERA. He will pitch out of the bullpen for now, according to Ross.
Key Players:
Happ 2-for-4, HR, 4 R, 4 RBI; 1 IP, 0 H, 0 BB, 0 ER, 0 K
Caratini – 1-for-1, R; 1 IP, 0 H, 0 BB, 0 ER, 2 K
Heyward – 3-for-4, 2 HR, 6 RBI
Hendricks – 7 IP, 6 H, 0 BB, 0 ER, 6 K; 1-for-3, HR, RBI
Contreras – 2-for-3, HR, 3 RBI
Votto – 2-for-4
Winning Pitcher – Hendricks (8-4)
Losing Pitcher – DeSclafani (5-8)
Save – None
Home Runs – Happ (19), Heyward 2 (14), Contreras (14), Hoerner (6), Hendricks (1)