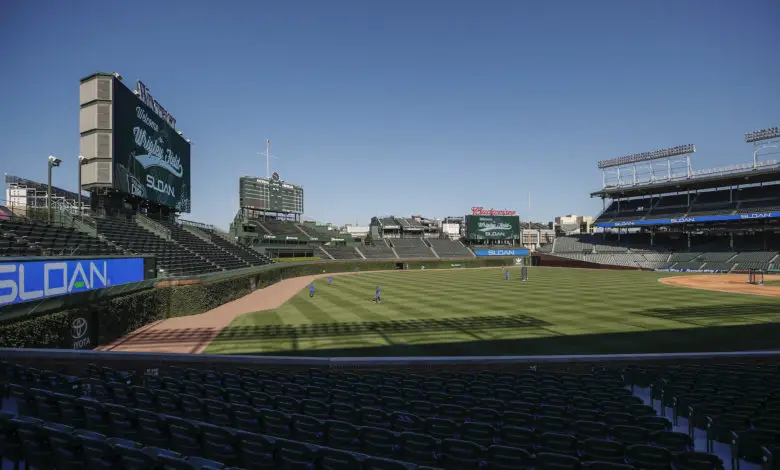 Former Top Prospect Brett Jackson Part of Company Helping Cubs Understand Weather's Effect on Ball
Brett Jackson was supposed to have been a star outfielder for the Cubs, but it turns out that he may still be able to help his former team make outs in a very different way. A first-round pick in 2009, the former Cal Bear was viewed by many as the top prospect in the system ahead of Chris Archer. Jackson absolutely tore it up through A-ball and his production remained strong in 2010 and '11 at Double- and Triple-A as he developed into a potential five-tool monster.
Jackson was called up to the Cubs on August 5, 2012 to inject a little energy into a hapless team that was 19 games under at the time (43-62). Unfortunately, things didn't work out entirely according to expectation. Jackson slashed .175/.303/.342 with four homers — the first of which came in Cincinnati with yours truly in attendance — and the Cubs fell on their collective face with a 61-101 record.
That's when they were actually trying to suck, so the last-place finish was all part of the plan. Jackson, however, was never able to replicate his early success and was traded to Arizona in 2014 after struggling badly at the plate upon returning to the upper minors. He eventually make it back to the bigs, going hitless in five plate appearances with the Diamondbacks, then spent time in the Giants organization before calling it quits in 2015.
Five years later, Jackson may yet play a role in the Cubs' success as the director of operations for Weather Applied Metrics, a company his father helped to develop. According to an AP report, the tech outfit recently landed a contract with Marquee Sports Network to develop graphics that show the effect of weather on the flight of balls for games at Wrigley Field this season.
They do this with computational fluid dynamics, which uses software to model how the flow of gas or liquids impacts objects. In the Cubs' case, it will simulates wind tunnels with information gathered by weather stations that will be installed at Wrigley by the end of next week. This concept isn't new at all and has been a mainstay in several other sports for decades, primarily racing competitions in which reducing wind or water resistance by even the tiniest fractions can yield victory.
Okay, but how does that help in baseball? I mean, everyone knows that the wind will blow the ball in or out and side to side, so it may seem superfluous to have some nerds measuring it. Maybe so, but the Red Sox broadcasts used it last year and another anonymous MLB team is entering its third season of a deal, so they clearly believe there are competitive advantages to be gained.
"The biggest thing that they're doing with it is they're positioning their outfielders," John Farley, chief technology officer for Weather Applied Metrics, told the AP. "Their thing to us was if you can get us 20 extra outs a year this is well worth whatever it costs because they can factor in that they can win x number of games because of that.
"But we think we're getting them many more than 20 outs a year."
Twenty outs amounts to less than half of 1% of the outs a team records over the course of a season, but not all outs are created equal. Jason Heyward setting up just two steps back and to his left might allow him to catch a ball that would have gone for a run-scoring double or put him at a better angle to throw out the tying run at home.
What I find most interesting is the notion that Weather Applied Metrics is setting up contracts with NESN and Marquee rather than the organizations themselves. While it'd be fun to examine some of the more conspiratorial implications of those deals, it could simply be a matter of avoiding any accusations that a team is using external technology to gain an advantage during games.
Not that the folks at WAM care one way or the other why they're paid.
"In our meetings with Major League Baseball, they seem to be directing us toward the broadcast (side) at first and then it'll go from there," Farley said. "But they do know about this one team that is using it and doesn't want it on their broadcast, and we just, you know, we're a company selling stuff and we're happy to sell to people who buy."
I wouldn't expect to hear much more on this from the Cubs' side of the fence, but you should be able to get a look at the graphics once the season starts up. Well, if the season starts up. And as long as you're not an Xfinity subscriber in Chicagoland. Carriage gripes aside, the most important takeaway here is that B-Jax is back, baby!